Part of the difficulty of interviewing Debra L. Bromson is exactly the reason why her story appears here in Modern Counsel. Currently an assistant general counsel at the AAA Club Alliance, she has spent her entire career interacting with other attorneys, and it is those individuals she focuses on when telling "her story." Indeed, by the end of her interview, she has recommended at least eleven lawyers who she believes deserve to have their own stories told. But Bromson doesn't merely recommend talent. She documents people's careers, their widening skill sets, recent additions to their families, and what good friends they have been along the way.
Bromson doesn't so much provide a narrative journey as she does identify the links in the chain of her career that have been especially meaningful—and those are all people.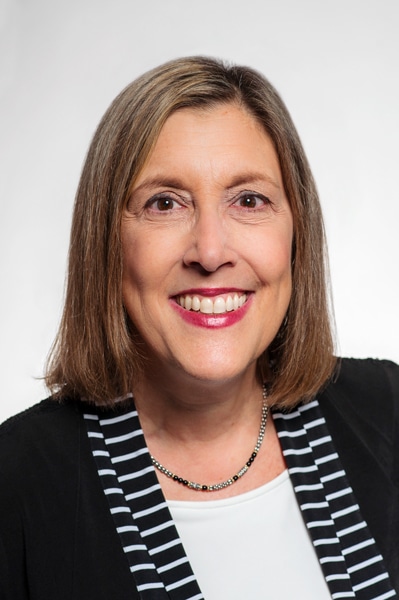 Expertise By Accident
Bromson has cultivated strong IT and privacy experience over the course of her career, but it wasn't her initial area of interest. While attending Georgetown Law, she so impressed Professor Martin D. Ginsberg—the late husband of recently departed Supreme Court Justice Ruth Bader Ginsburg and, at the time, the lead professor of taxation at Georgetown—that he petitioned NYU to allow Bromson to pursue her LLM in tax law.
Today, though, the AGC happily lends a hand on legal matters related to data privacy and security (including insurance cybersecurity), tech contracts, websites and social media, product development, the management of records for public and government affairs, and more. In actuality, the areas Bromson hasn't helped out on might be a shorter list.
The AGC's IT and tech specialty, an area that put her on the cutting edge of internet and technological privacy issues for decades, was born from less than ideal circumstances. When she accepted an associate position at a law firm, she thought she was coming in to do corporate law, with the possibility of related work on corporate tax issues. But that was not the case.
"The things they had me focus on were the things the other corporate lawyers (all men) didn't do," Bromson says. "This was mostly working with healthcare companies such as nursing homes, and they needed tech contracts. Very few people were doing this at the time."
This would form the basis of a new chapter for Bromson: She went on to become an in-house counsel for Dow Jones and helped get the company's services online in a time when "online" was a new concept.
She then went to work in healthcare, initially focusing on pharmaceutical products and clinical trials. When the HIPAA privacy policy was released, she was put in charge of data privacy and helped launch the International Pharmaceutical Privacy Consortium. Later, after transitioning to a different pharmaceutical company, Bromson became the data privacy officer.
But as Bromson explains, her jobs weren't given to her solely because of her experience—they were sometimes the result of a friend, colleague, or networking opportunity. Bromson wound up in one job, she says, because she called a colleague looking for their former partner's new phone number, and her colleague then said that they were looking to hire someone. Bromson applied for the position and was hired.
But it's clear in the way that she speaks about her friends and coworkers that it's not some master plan. Bromson is just the kind of person who likes to build connections—the kind of person who still keeps in touch with her college roommate decades later.
Speaking of Privacy
"One of the things I sometimes say to other privacy attorneys is that for a very long time, privacy was an area dominated by women," Bromson says. The legal profession has been dominated by men for so long that it's hard to imagine any specialty area becoming more equitable, especially one—like privacy—whose importance has grown exponentially. But Bromson has seen it happen—and shown that it is true.
The AGC's trailblazing career has been recognized by numerous organizations that have called on her to speak on privacy matters, including the Privacy & Security Forum, International Association of Privacy Professionals, Bloomberg Law, and numerous privacy- and health-related conferences. Bromson is an active member of the International Association of Privacy Professionals and the Association of Corporate Counsel (ACC) and was previously a secretary of the ACC Health Law Network. The AGC is also a board member of the DMAX Foundation, a charitable organization that provides mental health support for college students.
Bromson is also responsible for some of the new blood on the panels she speaks on. "Any time I meet someone who I think might be a fit, I ask if we can bring them in," she says, pointing to the times when she has provided green lawyers a chance to address George Washington Law students and alumni. "I try to provide support to younger attorneys, especially those who are working in privacy," she says. "My answer is usually, 'Okay, let me help you find some contacts or find a position.'"
With decades of law experience under her belt, it would seem fitting for Bromson to sit back and relax, but if the difference is between going home early or making one more phone call on behalf of a new friend or colleague, she feels there is no choice. There is only, "Let me help you."
***
Blank Rome LLP:
"Debra is a pleasure to work with. In addition to her in-depth knowledge of privacy issues and other top-notch legal skills, including her diligence, thorough and well-reasoned analysis, and attention to detail, she is a wonderful person who always goes the extra mile for the people she is working with and the project she is working on."
–Charles S. Marion, Partner