In the late 1990s, as the country transitioned into the information age, an exaggerated speculation of internet-based companies generated a stock market bubble that ultimately created the dot-com bust. Still, Christian Callens, who had recently stepped in as the CFO of a wireless data company, looks back at it as one of the best times of his professional life.
Callens can still remember the day he sat down with Mel Goldman, the founder and CEO of Diverse Networks, during a negotiation with a big prospective client. Coming from private practice, his job was always to ensure that his clients understood the risks. But after Callens presented the liabilities of the deal, the CEO looked at him and said, "Christian, you're thinking like a lawyer again."
Goldman didn't want ivory tower advice. He wanted help quantifying and weighing the risks against the benefits so he could make an informed decision in that moment. He understood that would require a shift in the young CFO's mindset.
Callens was raised by two small business owners in the suburbs of New Orleans, Louisiana. His dad was an independent consultant for a large oil company, and his mom owned a women's boutique. After studying government at the University of Texas, he returned to New Orleans to attend law school at Tulane University.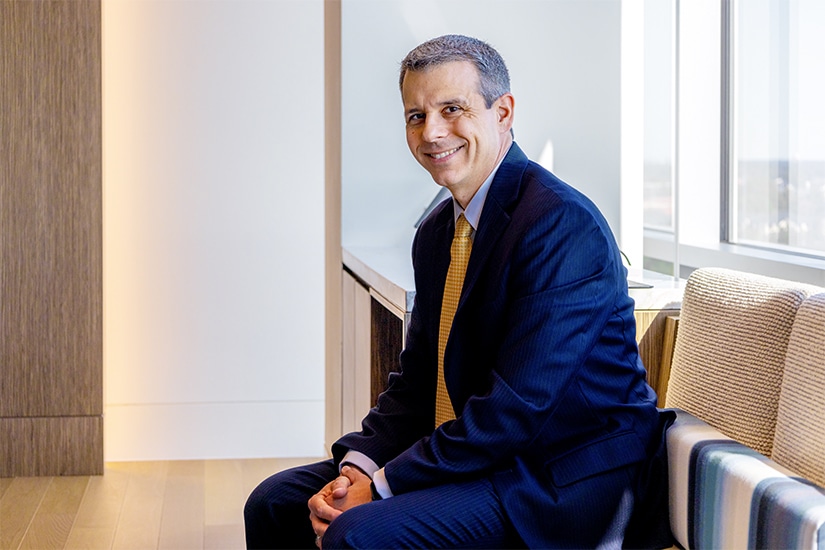 The summer after his first year of law school, Callens clerked for the New Orleans City Attorney's Office during a very high-profile litigation. It should have been exciting, but Callens was bored out of his mind. What intrigued him much more was the transactional work. After clerking for Judge Minor Wisdom on the Fifth Circuit Court of Appeals, he moved back to Houston with his wife and kids to practice at Mayer Brown. A year later, he joined Skadden as the first lawyer hired for its new corporate practice group in Houston.
At some point during his first years at Skadden, the client turnover of private practice began to feel anticlimactic. Callens aspired to do more. "I had this desire," he says. "If I'm going to do these deals, wouldn't it be great to help select the deal and then execute on the business plan for it?" With that in mind, Callens began looking to see what opportunities were out there.
A few years and a few venture capitalist investments for Diverse Networks later, Goldman invited Callens to join Diverse Networks as its general counsel. Founded in the 1990s, the company began by operating wireless data networks for Palm, which was manufacturing the first mobile devices with wireless internet. As the first lawyer at Diverse Networks, Callens worked closely with Goldman to grow the company, eventually moving into the CFO role to help run the business.
After four years at Diverse Networks, Callens rejoined Skadden with a fresh set of eyes to help build a corporate finance practice in Houston. While there, he was introduced to the Houston Pro Bono Joint Initiative (HPBJI), a group that helps engage law firms and corporate law departments in pro bono work, and another organization that paired lawyers with start-up nonprofits needing legal assistance.
Through these pro bono cases, Callens again had an opportunity to work with a different type of entrepreneur, those seeking to build a "business" that would achieve their charitable mission. As of November 2021, he has been involved with the HBPJI for more than fifteen years.
Even though Callens was happy at Skadden, he missed the days of building a business. But he wasn't going to leave for just any opportunity. "It's the age-old adage that wherever you're going, [you should] run to it," he says. "Don't just run away from where you are, because if it's not something you're really excited about, you're going to be just as unhappy."
Callens spent nine years waiting patiently for the right fit until Insperity, a company he drove past every day on his way to work and one that focuses on the small businesses that is part of his DNA, began hiring for the position he currently holds.
In 2014, Callens became the first lawyer with traditional M&A/corporate finance experience to join the legal team at Insperity, which provides HR services to small and midsize businesses. Just a few weeks into his new role as the managing counsel of the transactions and corporate law division, an activist firm came through.
"Suddenly, I'm working side by side with the general counsel on an hourly basis and interacting with the CEO and CFO—all things I expected to happen, but not at that level of intensity and importance a couple of weeks into the job," he recalls. The situation would prove to be a crucial learning experience and a crucial component of Callens's success when a leading activist firm, Starboard Value, came to Insperity a year later.
Once Callens took the lead of the transactions group, he noticed that many salespeople were asking the legal department to explain Insperity's contracts to their prospective clients. "My view was that if legal is involved in the sales process, the process hasn't gone as smoothly as we'd like. We're encouraging prospects to hand their HR functions over to Insperity. That takes a lot of trust, but we're losing credibility if our sales team cannot discuss the contract with the C-level executives of these businesses."
Callens also knew that this process was not sustainable given the growth projections for the sales organization. At the same time, the company was accelerating its strategy toward its midmarket clients—companies with 150 employees or more that often had their own counsel and asked more questions. Callens's solution was to train the new business consultants who were focused on this target market to understand and be able to discuss the company's contract from a business perspective.
"Before we made these changes, every single midmarket client was a huge negotiation," Callens says. "Now I find out about most midmarket deals when I get internal emails announcing that they signed a new client." His team has been expanding this approach to the rest of the sales organization.
As a company, Insperity has made significant strides to eliminate manual processes. In his quest for efficiency, the managing counsel's goal is to implement a contract life cycle management (CLM) system. The system will help further reduce the involvement of the legal department in the day-to-day sales process and maintain timely transactions.
Thinking less like a lawyer and more like a businessman is what has led Callens on his career path from CFO to private practice and now to Insperity. To this day, his former CEO's advice remains at the forefront of his mind as he leads his team and helps Insperity make the best choices possible.
---
DLA Piper:
"I've worked with Christian for over a decade, and he possess the invaluable trait of always distilling down legal issues into business practical strategic advice."
–J.A. Glaccum, Partner