Serving as both the vice president of development and corporate counsel for affordable housing firm Woda Cooper Companies may seem like it'd be a difficult balancing act, but for Chelsea Arlantico, multitasking was a skill she honed early in life. Arlantico competed as a figure skater from her elementary school days all the way up until she left for college.
All the hard work that went into early morning practices and competitions, all the time management required of the diligent student, helped create a disposition that seems to thrive in not just taking on a new role but learning new industries, often at the same time. "All of the life skills I learned in figure skating—and trying to balance that competitive schedule while going to school—has transferred over through law school and now into my career," Arlantico says.
For the People
Arlantico's passion has always landed on the side of the public good. Her first role out of law school was with the Peace Corps Office of the Inspector General. The learning curve was steep, but the attorney credits a willing and helpful team for helping her grow quickly.
"Acquiring the knowledge and developing the background at the Peace Corps gave me the confidence and push to enter Woda Cooper without hesitation," Arlantico says. "I knew I would have to learn on the job in both real estate development work and the transactional legal work that I do."
While Woda Cooper is a for-profit entity, its work remains very much in the interests that have motivated Arlantico's career. "Affordable housing is extremely important to the health and well-being of families and individuals," the VP explains. "With rising costs of living nationwide, it's imperative we provide affordable, safe, and sanitary housing opportunities for everyone. I was really drawn to the mission of the company."
If there are ever moments where the attorney needs extra motivation, she says a ground breaking or grand opening for any of Woda Cooper's projects provides it in spades. The chance to hear from future or current residents speaking about the experiences they've had and the effect that affordable housing can and will have on their lives is fuel for even the most challenging days.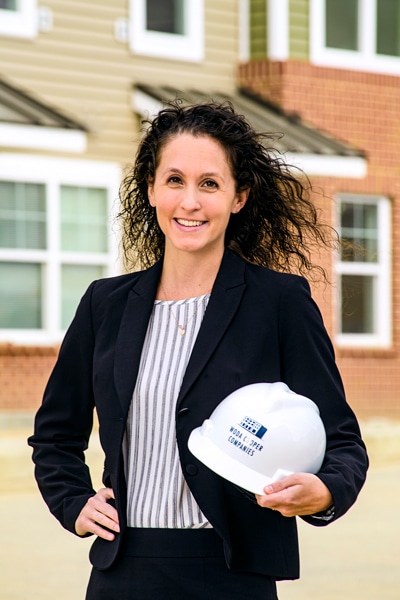 A Sixteen-State Learning Curve
Those challenges are routine for one trying to master two completely new disciplines concurrently. Woda Cooper works in sixteen different states. Arlantico covers real estate development primarily for Maryland and Virginia, but her transactional legal work knows no bounds.
"I write and review the sale and purchase contracts and leases for commercial spaces in all of the states we work in," the VP says. "Given the number of development teams Woda Cooper has spread around the country, it's imperative to maintain positive relationships, as it's the only way to ensure the successful outcomes that we work toward each day."
Arlantico has added yet another responsibility to her wide-ranging roles. She partners with Woda Cooper's human resources team and manages a small unemployment team. The lessons she learned from the Peace Corps about working with a strong team continue to play out at her present employer. Handling unemployment cases means reaching out to employees across different departments all over the company, and to deliver on strict deadlines, it's imperative to work in concert.
Real estate work at Woda Cooper isn't merely about finding spaces and building. The competitive world of affordable housing requires applying for tax credits from state housing agencies for funds to help build properties. The small miracle of being awarded those funds is just the beginning.
"The low-income housing tax credit program operates on a strict timeline, requiring us to quickly secure, build, and make a property fully operational," Arlantico explains. "Any delay in construction puts you at risk of not meeting that deadline."
New Challenges, New Projects
The COVID-19 pandemic put Woda Cooper's strict deadline adherence to the absolute test. With state and federal agencies navigating the pandemic at inopportune times and constantly having to monitor and ensure construction teams were both safe and fully authorized to work, the ever-changing pandemic regulations that were different in every county, let alone state, mandated precision from Woda Cooper's three-person in-house legal team and real estate development professionals.
Arlantico's latest project is of a structure new for Woda Cooper's Virginia development team entirely—and one that is on the rise within the affordable housing development community. A large-scale, hybrid-funded project has meant running two deals like one, effectively.
"We're on the front end of figuring out how to get both projects permitted and approved together, all while working with various funding sources. This has been a great learning experience for everyone involved, and I am thankful for the team we have working on this project," the lawyer says. Construction is slated to begin later this year.
The lessons from Arlantico's career thus far are numerous: the courage to knowingly take on a role that will require significant growth, developing the flexibility to role with the punches, and the truly great work one can do for the community while at a pro-profit institution. Arlantico's life may have started on ice, but she's now helping provide stable ground for families of all kinds.
***
Reno & Cavanaugh, PLLC:
"Chelsea is an excellent addition to the Woda Cooper Companies team. She is task oriented and committed to getting the job done in an efficient and effective manner."
–Efrem Levy, Member
***
"It is an honor to be an integral part of the legal network for the stellar Woda Cooper Companies, as led by attorney Chelsea Arlantico. We compliment Chelsea on this well-deserved recognition."
–Keith J. Pappas, Attorney at Law (PA and WV), Morgantown, West Virginia