When comparing teaching to practicing law, some people might see only differences. Brendan Gardiner, however, chooses to focus on the similarities between his former field and his current one.
"What struck me when I started law school were the parallels between teaching and the law," Gardiner explains. "Both are built on the same foundational elements: an intellectual curiosity to learn something new, a desire to deconstruct complex issues, and an ability to communicate those issues in a clear and engaging way."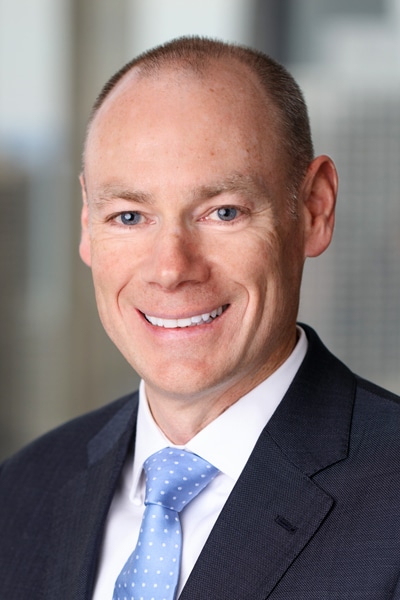 Gardiner readily translated his teaching experience to his work as an attorney when he shifted career directions over two decades ago. Today, as chief litigation and regulatory counsel and director of insurance at multinational nutritional and agricultural processing corporation Archer Daniels Midland (ADM), he continues to rely on that same skill set—along with the extensive legal expertise that he has since acquired—to lead a global team while balancing the two sides of his role.
Gardiner first learned the value of education from his parents, hardworking Irish immigrants. "As was common among young men who grew up in his circumstances, my father's formal education ended before high school," he says. "Despite this, he was one of the smartest people I've known. I learned early to value a formal education, but not to view it as a proxy for intelligence."
With his parents' support, he left his home state of Massachusetts to attend the University of Notre Dame. After graduating, he spent time teaching and coaching at two different high schools while contemplating law school. "Teaching, as most people know, is challenging," he says of the experience. "But there's nothing better than inspiring a young person and watching them find their passion."
With two years of teaching under his belt, Gardiner returned to Notre Dame to study law. He served as a judicial clerk his first year out of law school before joining Chicago law firm Sidley Austin in 2001. At the firm, he focused on securities and commercial litigation as well as internal investigations—a practice that gave him deeper insight into how corporations function.
"I learned early to value a formal education, but not to view it as a proxy for intelligence."
Gardiner left Sidley after several years to go in-house at global manufacturing company Caterpillar. In addition to handling a wide variety of legal issues for the company and its US subsidiaries, he led a legal team in Europe for three years. "Both personally and professionally, the experience of living and working overseas was probably the most rewarding of my career," he says.
In late 2016, a chief litigation and regulatory counsel opening at ADM attracted Gardiner's attention. He recognized an opportunity to play a significant part in the general counsel's ongoing efforts to reimagine the company's legal department.
Upon landing the role, Gardiner consolidated and standardized ADM's dispute management processes and curated a panel of outside counsel firms. Furthermore, he strengthened the relationships between litigators and colleagues in other legal and business areas in order to increase the team's understanding of internal client needs.
"My initial focus coming in was to build a litigation program commensurate with the scope and sophistication of ADM's business," Gardiner says  "After about eight months, my role expanded when I was asked to assume responsibility for ADM's insurance and risk management group. It placed me outside my comfort zone, but it's been a great learning opportunity."
Gardiner leveraged his litigation instincts to get up to speed on the insurance program structure. In addition to bringing a legal eye to insurance, he gained a new vantage point to take back to the litigation team. "The two roles have proven to be much more complementary than I anticipated," he admits. "A lot of my time is spent fostering connections between the two groups and bringing into the litigation space the same sense of issue anticipation that we see in the insurance space."
Gardiner's colleagues outside ADM have also recognized his abilities. "Brendan really understands his clients' business and their perspectives and objectives," says Daniel Laytin, partner at Kirkland & Ellis. "He is among the best I've ever seen in translating that knowledge into litigation strategy and ultimately in our case, mediation strategy. Under his leadership, he and his team were true partners in advocating for our client."
"My approach to leadership draws on two fundamentals that I learned as a teacher. One is that every classroom needs a leader, and two is that being the teacher doesn't automatically make you the leader."
Given the demanding nature of his dual role, Gardiner is grateful to have the support of his team members in both legal and insurance. When it comes to leading each team, he concentrates on establishing a clear mission and empowering his colleagues to achieve it. "My approach to leadership draws on two fundamentals that I learned as a teacher," he says. "One is that every classroom needs a leader, and two is that being the teacher doesn't automatically make you the leader."
His educator mentality motivates Gardiner to show up for his team members, regardless of their location. Working remotely amid the COVID-19 pandemic has made it easier than ever for him to remain in close contact with global colleagues. "It's allowed us to bring the team together in a way that I never would have envisioned pre-pandemic," he says.
Gardiner hopes to maintain that collaborative atmosphere moving forward. He plans to continue improving the legal and insurance functions at ADM by increasing the company's use of data to anticipate issues.
"Since 2017, we've put together a talented and diverse team and developed a culture of teamwork and collegiality," Gardiner says. "I'm proud of the foundation that we've built." And like any good teacher, he knows that a strong foundation is only the beginning.
---
Expertise Spotlight
Renowned for our experience in complex litigation and arbitration, our clients rely on us to anticipate their needs and outperform their expectations. We believe the best litigation results—whether achieved in court or across the bargaining table—occur when the lawyers are fully prepared to try the case through verdict. Our focus on trial readiness drives successful and more cost-efficient results for clients, as critical issues are identified early and then used to maximum advantage in the litigation and negotiation processes.
We represent clients in trial and appellate courts at the federal and state level, before administrative tribunals, and in arbitrations and other dispute resolution proceedings. We also represent clients in connection with proceedings involving government agencies, such as the U.S. Department of Justice, the U.S. Securities and Exchange Commission, the Financial Industry Regulatory Authority, the U.S. Federal Trade Commission, the U.S. Department of Labor, the Internal Revenue Service and all fifty state Offices of Attorneys General.
We have tried cases successfully to verdict or judgment in virtually every business segment and substantive area, including antitrust & competition, class action, mass tort & toxic tort, consumer fraud, ERISA / benefits, insurance coverage, international arbitration, product liability, and securities & shareholder litigation.
***
Greenberg Traurig, LLP:
"As Chief Litigation & Regulatory Counsel at ADM, Brendan has exceptional legal experience that makes him a prudent thinker in his industry. He always offers thoughtful, strategic insight in our litigation matters where we have worked together. It is always a pleasure working with Brendan and our friends at ADM."
–Cliff Merrell, Shareholder
***
Marsh:
"Wearing the hats of Chief Litigation & Regulatory Counsel and Director of Insurance, Brendan's reach extends across many complex aspects of risk management, providing he and team the ability to directly develop and execute forward-thinking, holistic strategies to address ADM's ever-evolving global risks."
–Paul Graziano, US Business Development Leader