When Shellie Hammock joined Forward Air in 2013, she had more than eight years of experience in private practice as a corporate and securities attorney, representing companies in a wide range of industries. Transitioning from a law firm to in-house counsel at Forward, a transportation and logistics company that provides services across the United States and in Canada, meant she had to learn a lot of things all at once. Now deputy general counsel, Shellie recalls her early days with Forward. "When I joined Forward, I knew I would have to adjust to managing matters that were outside of my law firm wheelhouse. To provide the right level of service to my new clients, I needed to focus my attention on all legal and business matters brought to me, regardless of size or complexity."
Hammock had extensive experience with mergers and acquisitions and securities matters when she joined Forward, but she was excited for the opportunity to contribute broadly across the organization. "I really enjoy working as an in-house counsel because it challenges me to be flexible and stretch beyond my past experience to provide on-point, timely guidance to the business team," says Hammock. While at Forward, she's had the opportunity to negotiate contracts, supervise litigation matters, manage the company's real estate portfolio, oversee the customs and trade compliance group, and develop the company's privacy compliance program.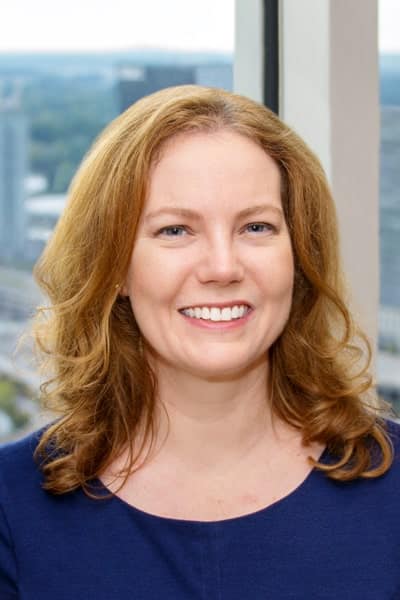 There has been plenty of M&A work at Forward as well. During Hammock's seven-year tenure with Forward, the company has closed thirteen acquisition deals, through which the company expanded its intermodal segment and established a new final-mile delivery service. That number is impressive enough on its own, but when Hammock was first hired, she was the only person at the company with extensive outside legal experience in M&A work—so her expertise was key to closing those deals.
Throughout her career, Hammock says, her goal has been to be impactful, and her leadership is grounded in what she refers to as "effectiveness through service." While this sounds simple, it really requires a multifaceted approach that includes responsiveness, willingness to engage in conversations that extend beyond legal, flexibility to consider alternative solutions, business acumen, and listening. This service-first mentality means anticipating what business partners need and when they will need it—and developing the relationships that allow open and honest communication.
"Making time to build relationships with all stakeholders and taking an interest in the overall business allows me to provide the most value as inside counsel," Hammock says. Learning where compromises can be made and understanding the needs of the various constituencies helps her create better and more efficient solutions for her business team. When business owners can meet and exceed their goals, the enterprise succeeds.
In Hammock's wide-ranging negotiating experience, she's found that she can add value to the deal if she is able to build rapport with all parties because, she says, "that rapport can fuel productive negotiations and streamline the overall process, saving the company time and money during and after the deal."
And Hammock's service-first approach goes beyond her professional career. "I am a beneficiary of the investment by and sacrifice of others—my parents, advisors, and mentors. I have been afforded opportunities and experiences that would not have been possible without those investments and sacrifices. So I feel a responsibility to pay it forward." To that end, she serves on the alumni board of directors for her alma mater, Furman University, and participates in the local Furman Alumni Network (FAN) in Atlanta. Hammock also volunteers at the Atlanta Community Food Bank and serves as a team captain for the annual PurpleStride Atlanta 5K run/walk, which raises money for pancreatic cancer research.
Hammock says she looks forward to growing as a multifaceted attorney and business leader and contributing to her community. "My goal is to be effective by providing the best service that I can. Professionally, this means doing my part to help the company reach its strategic goals. Personally, it means giving others the same investments that benefited me."
***
Carlton Fields:
"We have been working with Shellie since she joined Forward Air. Shellie is extremely knowledgeable, dedicated, and responsive. She has a deep understanding of her industry which she brings to bear in order to help Forward Air achieve its business goals."
–James Walker IV and Terresa Tarpley, Shareholders