At thirty-nine, U. S. Steel Assistant General Counsel for Corporate Scotland "Scot" Duncan may technically be considered an older millennial. But he learned about his first role at the storied company the old-fashioned way: through a friend and former colleague.
Duncan joined Jones Day straight out of law school in 2009 as a corporate lawyer, specializing in mergers and acquisitions. While grateful for the many opportunities the firm gave him, he was intrigued by the idea of going in-house when he learned about the opportunity from a former coworker.
He started his new chapter in January 2016, and the move proved to be an excellent one. Today, Duncan enjoys a wide range of responsibilities and takes part in U. S. Steel's larger vision and financial strategy.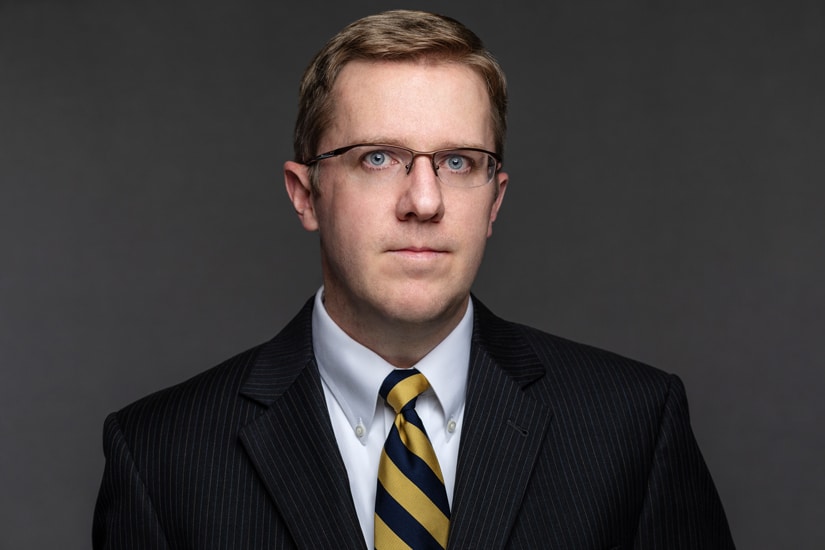 "There is no average day," he says. "I might go in with an expectation of what my day looks like, but it can pivot quickly. You have to be nimble."
Duncan's long list of accomplishments at U. S. Steel includes two promotions and playing a major role in a 2019 transaction in which U. S. Steel purchased a 49.9 percent ownership interest in Arkansas-based Big River Steel.
"U. S. Steel is an iconic company with an incredible history, and Big River Steel is one of the newest and most technologically advanced steel mills in North America. We see it as the 'best of both,' combining our complementary capabilities," he says. "It's an exciting move for us from a strategic perspective. That investment also included a call option, which gives us the chance to buy out the remaining 50.1 percent at our election within the next three years."
"It's neat to be part of [U. S. Steel's] history and keep it going for another 120 years."
He is also proud of his capital markets work at U. S. Steel.
"We've done multiple offerings for several billion dollars in the five years I've been here," he says. "I had no prior background in capital markets work, whether it's debt or equity securities financing. It's something I learned on the fly, and it's a type of work I really enjoy."
Duncan, a former military kid who moved a lot when he was younger, also likes working for a company that has been central to the history of his adopted city of Pittsburgh. Many of his colleagues are second-, third-, and fourth-generation U. S. Steel employees.
"It's neat to be part of that history and keep it going for another 120 years," he says.
As someone who graduated from law school in the middle of a recession, Duncan has plenty of advice for new graduates navigating the start of their careers in the wake of COVID-19. He saw many classmates—even some of the highest achievers—struggle to find jobs, have offers deferred, and take on fellowships for a fraction of what they normally would have been paid.
"I was one of the fortunate few, because Jones Day didn't lower our salaries," he says. "We started on time, and that's something I'll always appreciate. It's simply the way they treated people."
"If you're in school, pay attention to the things you can control . . . Eventually, things fall into place with patient persistence."
He advises students entering a world altered by COVID-19 to remain positive and leverage their network and connections.
"If you're in school, pay attention to the things you can control," he says. "Focus on your grades. Focus on your studies and pound the pavement. If you need to send out a hundred résumés, do it, but be thoughtful about it. A mass email blast is not useful. Take the time and make the effort to reach out to alumni and your network. Eventually, things fall into place with patient persistence."
He advises law school graduates in particular to stay open-minded about the type of law they want to practice and their career trajectories. At one point in his career, for example, Duncan thought he wanted to be a securities litigator. Prior to law school, Duncan worked for a consulting firm in Boston that specialized in financial, statistical, and economic analysis of complex litigation matters, including securities litigation.
The more he learned about the "combative nature" of litigation, however, the more he realized it wouldn't be the path for him. He is glad he opted for corporate law and in-house life at U. S. Steel, where everyone works toward the same goals.
"The best part about being a corporate lawyer is that even though you negotiate hard with the other side and stand your ground on important matters, at the end of the day, everyone is aligned on getting the deal done. At closing, congratulations emails are sent by both sides, and pre-COVID, you had the occasional closing dinner," he says. "I like the collaborative aspect of deal work."