Rozan Simoni had an early lesson in grit that has driven him throughout his fifteen-year career in law. Shortly after law school, he decided to move from his hometown of St. Louis to Scottsdale, Arizona, where he knew no one. Based solely on a job offer, he packed up his car and began the drive.
Exactly a year later, the country entered the worst financial crisis since the Great Depression. Deals dried up, and Simoni found himself at a crossroads. He watched his billable hours drop significantly. Nevertheless, he decided to persevere.
"I had to reinvent myself and learn new areas of law, but never for a second, despite being right out of law school and in debt, did I think about quitting the practice of law," Simoni recalls. "I was convinced that I would succeed." Persevering through a difficult start is what helped him build the foundation for his success. It also taught him to become practical when looking for solutions to complicated issues.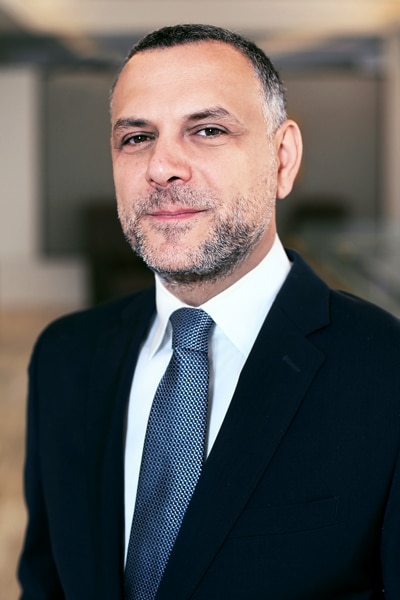 Now, fifteen years later, Simoni is making sure that COFCO International is staying interconnected across borders as the company's general counsel and corporate secretary of North America. COFCO International is a global agribusiness that sources, processes, trades, and distributes agricultural products to the world, with $32 billion in revenue, eleven thousand employees worldwide, and a footprint in six continents. Simoni emphasizes that cultural sensitivity is the key to success in an interconnected, multiflag business.
"Building trust by understanding nuanced approaches based on cultural sensitivities, being sincere, and relying on professionalism makes collaboration across borders easier," he says.
Simoni acknowledges that technical skills are important for a business and M&A lawyer like him. However, understanding different cultures and people is equally important. What works when negotiating in the US may not work in other countries, and acknowledging these differences is what helps drive his success. "Learning to communicate cross-culturally is key to building trust," he explains, "and with trust, you are able to drive the transaction to a close."
Working across borders does bring its challenges, Simoni says. Understanding your audience and their customs is the first thing you must do before taking a seat at the negotiating table.
He recounts a time his team experienced this firsthand. While negotiating face-to-face with a Finish company in Helsinki, his teammates began to argue among themselves in Spanish. Simoni requested a break, took his teammates out of the negotiating room, and had to set forth new rules, including no communicating in front of the counterparty in Spanish. "Our team needs to speak with one voice, and you don't know who on the other side speaks Spanish," he emphasized.
Once his team returned to the negotiating table, they finalized the deal. Later that night, they learned that one of the key executives from the counterparty had lived in Spain and was fluent in Spanish. Simoni's leadership helped his team successfully and professionally negotiate without jeopardizing the deal. He knew that Spanish was a popular language, and it was not surprising that someone else would speak it.
"I am able to solve issues by acting as a bridge between different cultures," he says. "I'm able to understand my audience and why we are negotiating."
"Learning to communicate cross-culturally is key to building trust, and with trust, you are able to drive the transaction to a close."
Regardless of geography, Simoni has adopted a leadership style that centers on genuine relationships. In his experience, authenticity opens doors, instilling trust and confidence in a leader's abilities. "Combine trust and confidence with passion and honesty, and people will work with you and support you," he notes. "You need to build a network of people who are willing to help you succeed and contribute to your ultimate goal. That way, when the going gets tough, you have people in your corner."
Simoni uses the same perseverance he learned early in his career today, along with his multicultural background, when conducting business across the world. He is frequently up early in the morning, calling colleagues located in Europe or Brazil, and in the evening, when Asia opens for business, he interacts with colleagues in Singapore and Beijing. Throughout the day, too, with the help of technology, he holds meetings with colleagues scattered across multiple countries and continents.
It comes as no surprise that Simoni loves to travel. He has been to more than one hundred major cities worldwide and more than fifty countries. Through these travels, he has bettered his understanding of different cultures and helped keep cultural sensitivity at the heart of his business dealings.
Looking back on his career, Simoni reflects on the importance of persistence and a practical approach to problem solving. "What I learned is that grit, in addition to smarts, can help you overcome. That has served me well throughout my fifteen-year career to date."
Let the Sunshine In
Rozan Simoni decided to go in-house with COFCO International because of its mission: to build a global agribusiness that meets the rising demand for food all over the world in a sustainable way. To achieve this mission, he says, "we harness the power of people by embedding a culture of positivity." COFCO calls this culture the Sunshine culture.
Sustaining COFCO's Sunshine culture comes down to the individuals who make up the company. Fittingly, the center of the COFCO logo is the Chinese word "ren," a foundational Confucian virtue that can translate to "humanity." Embedding "ren" in COFCO's logo represents how the business, at its core, combines the concepts of people and harvest—both symbolizing vitality and teamwork.