Roger Assad has been in an enviable position as in-house counsel at Sandvik over the last nearly six years. The Swedish-owned engineering and construction company has 158 years of experience to lean on and celebrated its one hundredth anniversary in the US in 2019. But hiring Assad as the company's chief legal counsel meant putting a lawyer in-house in North America for the first time.
Assad knew that Sandvik had enjoyed a long run of steady success, and he wanted to ensure that he did nothing to impede that progress. "I never want to be the 'Department of 'No' or tell the sales guys 'Forget this transaction.' Instead, it's my goal to say, 'Let's find a way to make it work,'" he explains.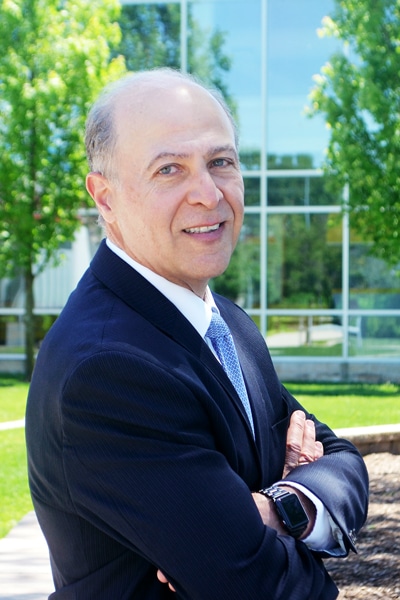 For a company, there are real benefits to having an in-house lawyer who knows the business well, rather than an outside firm that can solve targeted problems but doesn't have insight into overall strategy. "More than outside counsel, you can assess where there are potential pitfalls for a deal and where to pick your fights—and you don't have to win every point," he says.
Sandvik gained a fully formed litigator and legal mind when Assad came on board, and Assad can credit each step of his journey with helping prepare him for his current role.
Assad remembers his days as a summer associate and then as part of the team at the nationally recognized bankruptcy department of Weil, Gotshal & Manges. Weil was and remains an aggressive firm that demands perfection from its associates.
"It was a high-flying firm at the time and still is," he says of Weil. "We routinely worked both days of the weekend, to the point where you'd have a free weekend and wouldn't know what to do with yourself. I don't think that experience was unique, and I know it continues to this day."
In those stressful times, he was grateful for the team around him—especially the woman who would become his wife, Susan Larsen. They have been happily married for twenty-seven years and have four sons.
The grueling hours and scrutiny have served Assad well over the years. "It's invaluable experience to have the discipline and attention to detail and expectation of being perfect that you try to have at a top-flight law firm."
After he moved back to Boston and worked for a few years on the legal end of financing companies seeking to take advantage of the dot-com boom, Assad sharpened his negotiation skills in-house at GAF Materials Corporation. The large roofing materials company was a meticulous contract negotiator and enforcer, Assad says. The company's executives knew the details of their contracts well and expected people to deliver on them.
Looking back, Assad laughs at how aggressive he had to be as a negotiator for GAF, a company that was spending more than $1 billion a year in procurement contracts. "Page one of the negotiating playbook was that the other side has to walk away from the table. Only then do you know you've gotten everything you can. You push to the point where you've broken the deal and you try to put it back together," Assad says. "Anything less than that was not going to be accepted by ownership. It put me in a position to put a stake in the sand as far and as aggressively as possible."
"More than outside counsel, you can assess where there are potential pitfalls for a deal and where to pick your fights—and you don't have to win every point."
The work was challenging, Assad says, but tested him in a way that he appreciates now. "It was difficult, but it definitely made me a better in-house lawyer. I sometimes feel like I need to dial it back from those days."
In 2009, while retail was "on the rocks," as Assad put it, he joined Liz Claiborne, which later became Kate Spade and Company. With the marquee Kate Spade fashion brand, Assad worked on global contracts and deals and navigated a difficult marketplace.
After a few years, when the Sandvik opportunity became available, Assad knew it was the right move. "I learned to do joint ventures and licensing globally, and I felt like I had covered the field," he says. He had worked for both privately held and publicly traded companies, for large law firms, and in industries as diverse as manufacturing and retail. It was time for a greater challenge.
As the company's first in-house counsel, Assad says he encounters a daily juggling act attempting to solve, or at least triage, the daily issues he faces ranging from employment matters to corporate development to contracts. Assad finds himself thinking back to his early years working as outside counsel. He tries to be respectful of his outside counsel, because he knows there are associates working hard on his behalf.
Assad is particularly proud of what Sandvik does and makes as the leading manufacturer of machining tools used in a wide variety of industries and highly engineered industrial materials. And the mining equipment "is the stuff right out of Total Recall," Assad says. The company does it right too, he explains, and is continually ranked highly for its sustainable practices.
"It's never a dull moment," Assad says, "and it tests the skills I've acquired over thirty years."
***
Edgcomb Law Group:
"Roger is smart and strategic in his thinking as well as warm and collegial in his collaboration with us. Working with Roger, representing Sandvik, has been a pleasure and a privilege for us."
–John Edgcomb and Tiffany Hedgpeth, Partners
***
McCarter & English, LLP:
"Roger understands the current and future drivers of Sandvik's business and industry and effectively utilizes legal advisors to stay ahead of legal and regulatory challenges. We greatly value the opportunity to partner with him."
–John McAleese, Partner