"People do the darndest things at work. You will never be bored," says Michaune Tillman, echoing an early supervisor's words of wisdom at the start of her career.
Today, Tillman is the general counsel of Worthington Steel Processing, a part of Worthington Armstrong Venture (WAVE). But at the time, she was advising management on labor and employment issues—and finding partnering with human resources and business leaders to resolve issues incredibly satisfying.
"Oftentimes, the issues that I would tackle placed me in the trenches with leaders of the organization," Tillman says. "Litigation is certainly a practice area where you have an opportunity to exhibit leadership. You are forced to learn the business to effectively defend the company. It also affords you an opportunity to engage with leaders to help them view issues through a different lens, particularly since emotions tend to be high in litigation."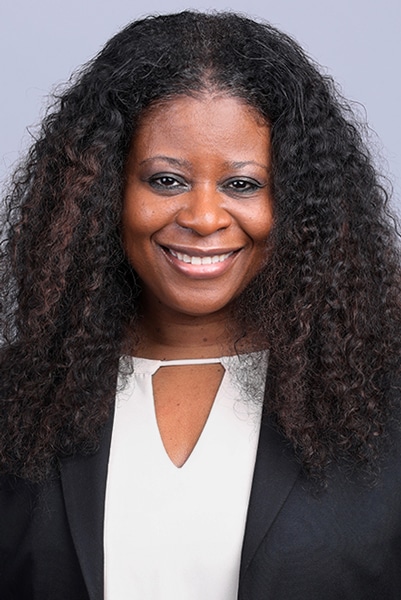 Her first taste of directly advising C-suite executives, however, came when Tillman stepped into the role of interim general counsel at Ricoh Americas Corporation.
"I got the bug," Tillman says. "I definitely saw that I had an opportunity to be on the front lines of strategic decisions. My time in the interim general counsel role allowed me to have a seat at the table to help guide the overall direction of the business.
"That experience also taught me to reach for the stars. From personal experience, I can say that, as women, we must avoid the temptation to second-guess our ambitions. We must allow ourselves to dream big. It is important to be willing to explore the possibilities and be intentional about challenging ourselves by seeking out stretch opportunities. We can't afford to wait for those opportunities to be presented to us."
In 2014, Tillman joined WAVE, a highly successful joint venture formed in 1992 between Worthington Industries and Armstrong World Industries whose products are the gold standard for ceiling solutions. WAVE develops, manufactures, and markets ceiling suspension systems for commercial and residential markets.
As a member of WAVE's executive leadership team, Tillman provided a broad range of strategic and legal support to WAVE's board of directors and senior executives on matters ranging from M&A and other commercial transactions to human resources to compliance and ethics.
In her nearly six years as WAVE's general counsel and vice president of human resources and compliance Tillman used her nearly two decades of experience in conjunction with her business savvy to help drive the company's growth and advance the company's "people-first" culture. In 2020, earning a promotion to general counsel of Worthington Steel Processing—a joint venture between WAVE and United States Steel Corporation that combined the two companies' operations—only reinforced her commitment to furthering these aims.
"One of the special aspects of our company culture is we all have skin in the game," Tillman explains. "That feeling of ownership and accountability impacts our expectations of one another, how we treat our teammates, and the quality of our work. Our employees are proud of the products they manufacture and work hard to exceed customer expectations—and they are keenly aware that how they treat one another and work together is a key factor in achieving this goal."
Speaking of her past efforts to advance diversity initiatives, Tillman notes that she leveraged a well-established rotational program for college graduates, offered by the Worthington Industries side of WAVE, to hire additional diverse talent for various roles at WAVE. With full support from then CEO Charlie Chiappone, Tillman used her networks to recruit talent from new sources.
"He was very clear with me that he wanted to further increase diversity at WAVE in professional roles," Tillman says. "While there are sometimes opportunities to promote diverse talent from within, when it comes to recruiting diverse external talent, you must also be willing to fish in new ponds to catch new fish."
Luckily, the current CEO of WAVE, Douglas Cadle, is equally passionate about diversity and continues to champion this initiative. "He made it our goal that when we have open positions, we must have a diverse candidate slate, with a focus on both gender and ethnicity," she explains. "Implementing new ways of recruiting has really made an impact for us."
According to Tillman, "For any initiative to increase diversity to succeed, there must be engagement from the highest levels of the organization.  The entire leadership team must have input on the development of the initiative and must clearly communicate the importance of the initiative as one voice."
Tillman ensures that the focus on hiring diverse talent continues beyond the acceptance of an offer or onboarding. Tillman continues to mentor and provide resources to those diverse hires, and over the years, she has partnered with other leaders in the organization to provide them with opportunities for advancement, including through stretch assignments. Tillman notes, "It is simply amazing to see what someone is able to accomplish once you've afforded them the opportunity to showcase their talents."
As she reflects on her life's journey, Tillman is happy and grateful for where it has taken her and her career. She knows there is much left to be accomplished, and she is looking forward to whatever challenges lie ahead as she continues to advise senior executives and board members. Quoting her favorite line from the Broadway hit Hamilton, Tillman enthuses, "There's a million things I haven't done, but just you wait . . ."
***
Constangy, Brooks, Smith & Prophete, LLP:
"As general counsel for WAVE, Michaune has unparalleled legal experience that makes her a strategic player in her industry. She has excellent problem-solving and leadership skills."
– Don Prophete, Partner
***
Stradley Ronon Stevens & Young, LLP:
"Michaune is a visionary who leads with integrity. She is collaborative and inclusive in her approach. She brings great value to her CEO and aligns her internal teams with outside partners to achieve business objectives."
– Deborah Hong, Partner