For much of Meli MacCurdy's life, an omnipresent pull toward the west led the native New Yorker to find refuge in the timber-rich Pacific Northwest. MacCurdy, currently the senior legal counsel at Weyerhaeuser Company—a US-based timberland company that owns more than eleven million acres of timberlands and manages an additional fourteen million acres in Canada—jetted off to Seattle after majoring in philosophy and neuroscience at Colgate.
Through an AmeriCorps fellowship, MacCurdy landed a yearlong position with Habitat for Humanity. As fate would have it, she spent the majority of her time working on a project on land donated by Weyerhaeuser.
"I wanted to take a little time off first and get out of academia and do something else," MacCurdy says. Though she has a fond recollection of that time, MacCurdy admits, "I didn't really know much about Weyerhaeuser at the time."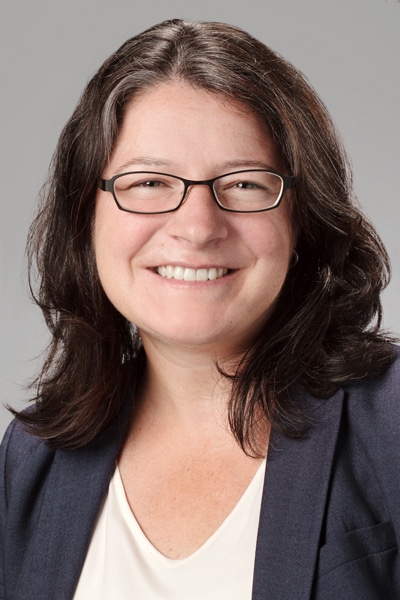 MacCurdy's initial plan was to attend graduate school to continue her studies in an area that combined neuroscience and philosophy. But she ultimately decided to go to law school "based largely on the thought that—instead of necessarily teaching you a discipline—law school teaches you how to think."
After attending Cornell Law, most of her colleagues sought big-law jobs on the East Coast, where the firms tended to "plug you in where they need you." In contrast, it was important for MacCurdy to focus on environmental law and make her way back out west.
Upon graduation, MacCurdy came to learn about Marten Law, a national leader in environmental and energy law based in Seattle. A summer internship there turned into a ten-year career. MacCurdy, who eventually made partner, would go on to spend her entire private practice career with the group.
While working there, MacCurdy learned the ins and outs of environmental policy in the United States. She also worked on high-profile cases, including the Deepwater Horizon oil spill, which is considered to be the largest marine oil spill in the history of the petroleum industry.
"The lawyers there were, and always have been, some of the most intelligent people I have ever had the pleasure of knowing," MacCurdy says. "They are also just really good humans."
As her career progressed, she gained a clearer understanding of her preferred work style. "I learned that what I really enjoy is rolling up my sleeves and getting a firmer contact with the operational level of our clients," MacCurdy says. "But the nature of being at a private law firm is that you are further away from the operations."
Though she never planned on leaving, MacCurdy gained the necessary tools to thrive in an in-house role while at Marten Law. When an opportunity became available to work within Weyerhaeuser's legal team, MacCurdy embraced the challenge.
"I spend every day talking to our clients across the various businesses at our company, working with them on very specific problems," says MacCurdy, highlighting the close contact and collaboration she engages in with her colleagues.
Weyerhaeuser embodies the type of ethics and values that have been important to MacCurdy since she first became intrigued by issues surrounding the environment. Safety, integrity, citizenship, sustainability, and inclusion are the core values of the company, and MacCurdy is consistently amazed by the extent to which Weyerhaeuser lives up to them.
"I've never once encountered someone saying, 'I don't want to follow that rule because it costs too much.' I have uniformly heard people say, 'We want to do the right thing.'"
MacCurdy recalls seeing the company's values on posters all over the place during her interview, but she didn't think much of it at the time. "I thought, OK, that's nice. It's probably just corporate speak," MacCurdy says.
Now, from her insider's vantage point, she reflects, "It's really powerful how much those values really do play out in how our company runs and how our people behave."
Weyerhaeuser was recently recognized—for the eleventh time—as one of the World's Most Ethical Companies by the Ethisphere Institute, and MacCurdy credits her team with "going above and beyond" when it comes to ethics. Frederick Weyerhaeuser, the founder of the company, left the business with a quote that has become the guiding mantra for the entire organization: "This is not for us, nor for our children, but for our grandchildren."
"I've never once encountered someone saying, 'I don't want to follow that rule because it costs too much.' I have uniformly heard people say, 'We want to do the right thing,'" MacCurdy says. "It's actually really satisfying to be in the legal department here, because I just have the opportunity to help people understand what the right thing is—but there's never pushback."
MacCurdy notes that a key to ensuring sustainability is to focus on innovation. "We're 120 years old. Growing trees hasn't changed too much—you put them in the ground, and you wait however many years—but to be the best at what we do, we constantly try to innovate in all manner of ways to really optimize and create value. One of those has been looking at drones."
This new initiative, which MacCurdy says is a highly regulated area, exemplifies some of her most exciting recent work.
"What's been really fun is learning how all of our different businesses have been thinking about and brainstorming ways to use that tool to maximize efficiency," MacCurdy says.
Surrounded by a great team, most of whom share an affinity with the outdoors, has made MacCurdy's transition especially smooth—and her direct contact with various departments throughout the company has made the work all the more rewarding.