At least initially, it seemed like someone at Cornell should have had an educational intervention with Lorna Luebbe. As an undergraduate, Luebbe double majored in geology and economics, which, from the outside, seems to sit somewhere between neuroscience and podiatry and physical education and pastry arts in terms of finding some way to merge two disparate passions into a coherent career.
But following work as a hydrogeologist and a JD from Lewis & Clark Law School, which specializes in environmental law, Luebbe has married her two admitted "nerd loves" into eighteen years of highly effective in-house practice at Washington-headquartered Puget Sound Energy.
The assistant general counsel and director of environmental and program services brings science and reasoning to the eternally gray areas of the law. She also offers up market-supported environmentalist policy so often repudiated as "economically unfeasible" and the passion of a lawyer who has found the perfect intersection of her strengths.
"One of Lorna's great strengths is her ability to think both strategically and tactically. She envisions a clean energy future and is steering the company firmly in that direction while deftly advancing the company's obligations to meet customer demands today," says Erin Anderson, a partner at Van Ness Feldman. "In doing so, she approaches every problem with the goal of finding timely solutions that will also have future value for the utility and its customers."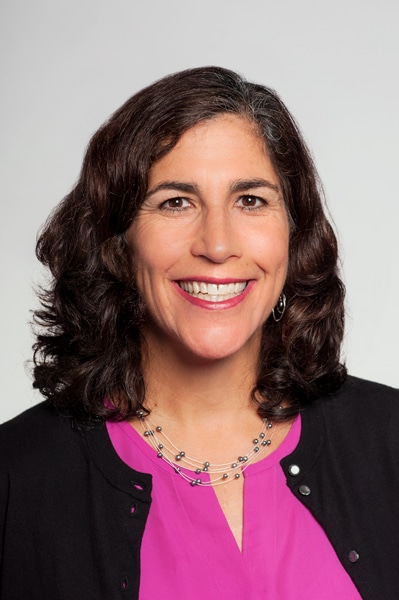 Industry Isn't at Odds with Regulation
"I realize this is kind of nerdy," Luebbe preempts, laughing. "But this one college class kind of changed my life. It was about what happens when markets fail and the economics of regulation. As one example, we studied environmental regulation and how environmental externalities are essentially a 'tragedy of the commons' problem. Whose job is it to pay for that externality and make sure you can prevent some of the problems that could otherwise cause damage to the global commons?" For her law school entrance essay, Luebbe wrote about the need for laws and regulations to combat common environmental economic failures.
To some, it may seem strange to hear an energy lawyer speaking about the need for regulation, but it's here that Luebbe addresses what she considers a great misconception about large industries. "There is a big myth in the world that established industries don't like regulation. Established industries love regulation because it's certainty. How are you supposed to make any kind of wise decisions if you don't understand the rules of your business?"
Subscribe Now
Receive stories like this one in your inbox every two weeks!
Subscribe to the free Modern Counsel newsletter.
The push and pull of partisan policy, Luebbe says, can make that decision-making difficult at times. "The state and federal views on regulation are running in opposite directions at the moment," she explains. "My dad asked me if things would be easier in my industry with the broader federal trend of less regulation right now. I told him the opposite was true. When we roll back federal regulations without a well-researched technical basis for doing so, it undermines the credibility of well-established laws based on science and creates incredible uncertainty."
Luebbe also notes that it is important that federal and state laws work in harmony. Otherwise, too many rapid changes can lead to unintended and less efficient outcomes.
Community Engagement with Minimal (Environmental) Impact
And while market uncertainty is an issue she sees more often these days, Luebbe has helped shepherd several projects that have benefited both Puget Sound Energy and its environmentally minded customer base. She has accomplished these twin aims by finding ways to establish wind turbine farms (sometimes on literal farms) in areas where they are a win-win for the environment and the local communities in which they exist.
"When I think about my work here, the wind projects have definitely been my favorite," Luebbe explains. "Just from a personal standpoint, I happened to be pregnant every time we were developing a wind farm, so when people ask me the general ages of our wind farms, I just think about my own children."
The Wild Horse Wind and Solar Facility in Washington's Kittitas County is an especially important renewable energy project on Luebbe's short list. Privately held land that had been purchased by a foreign buyer for speculative gas and mining purposes had been left generally untended. That had really only attracted the occasional marksman willing to gamble on hunting on private land.
"We worked with the community to make sure this was sited correctly, to make sure we wouldn't impact any bird migratory patterns, and we agreed to rehabilitate some natural springs that had been polluted from ranching runoff." Not only that, but Puget Sound Energy installed trails for the public to use and sponsored a hunting program onsite, all the while producing clean energy.
The Hopkins Ridge Wind Facility and Lower Snake River Wind Facility provided Puget Sound with another opportunity to produce energy on already established private farmland, allowing wheat farmers to continue to tend their land while also receiving royalties from power production. "These are partnerships with farmers who do what they do because they love it, not because it is extremely lucrative," Luebbe explains. "Providing family farms with additional revenue while we provide energy just seems like such a win-win for everyone."
That win-win includes Luebbe herself. She is proud that Puget Sound Energy helped craft and pass Washington State's Clean Energy Transformation Act. "We want to find climate solutions that get real emission reductions and, at the same time, benefit our customers," she explains. "We don't want to give them more challenges than they already have financially. We work hard to balance the commitment to a cleaner grid with keeping costs down."
Don't Worry About the Mom Voice
Lorna Luebbe has found the perfect balance of her passions in her work life, but as a working mother, there is an entirely different balance to consider.
"One of the things I love about working here is that you would be judged more harshly if you did not put your family first," the assistant general counsel says of Puget Sound Energy. "Anyone I work with is going to eventually hear my mom voice talking to one of my kids during a conference call, and I'm not going to be embarrassed about it. Never be embarrassed to get off a call to help your kid or to be who you are."
***
Summit Law Group:
"Lorna does it all. She'll spend the day developing strategies to resolve complex legal issues and will turn around and send you a list of summer camps for your kids later that night."
–Courtney Seim, Real Estate and Environmental Lawyer