"Did you ever see The Wire? It was exactly like that." That's what Lisa Gok says when you ask her about her early days as an assistant United States attorney in the District of Columbia. She's referring to HBO's gritty, critically acclaimed police drama, which gave viewers a look into the world of confidential informants, witness protection, systemic corruption, and electronic surveillance.
Gok spent eight years running wiretaps and flipping witnesses to track drug dealers in the departments of organized crime and public corruption. Operation Money Magic busted international cocaine traffickers who laundered money at car dealerships. Gok put baking powder on the cash in an undercover cop's duffel bag for a touch of realism.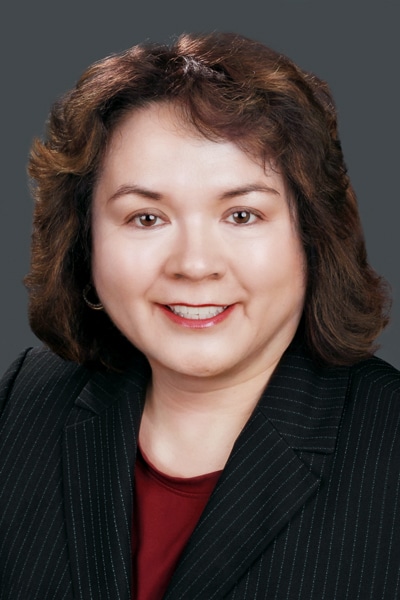 Then there was an eighteen-month investigation called Operation Broken Faith, a sting that uncovered one of the largest instances of police corruption in DC history. Twelve cops, known as the Dirty Dozen, were indicted for accepting bribes to smuggle 135 kilograms of cocaine. Hundreds of hours of audio and video recordings led to multiple convictions.
After eight years in the Justice Department, Gok, a California native, decided it was time for a change of scenery. She accepted a position with the US Securities and Exchange Commission (SEC) in Los Angeles.
As assistant regional director, Gok spent her time fighting internet microcap fraud, preventing Ponzi schemes, protecting investors, and keeping capital markets clean. She handled a $300 million investment scam and helped shut down unscrupulous companies preying on the area's largest black churches, where members were promised returns as high as 20 percent.
In 2005, a former SEC colleague encouraged Gok to transition to an in-house role and leverage her unique experience to help lead companies operating in the financial space. She spent four years as Transamerica's chief compliance officer before leading the litigation and compliance functions for Green Dot and helping the company go public in 2010.
In 2012, she joined Cetera Financial Group (Cetera) as deputy general counsel. Today, she helps the large financial services firm manage litigation and respond to inquiries and investigations from agencies such as the SEC and the Financial Industry Regulatory Authority (FINRA).
As the holding company for five broker-dealers and a network of registered investment advising firms, Cetera is a complex business in a heavily regulated, litigious space. As one of the largest financial firms in the independent space, Cetera has eight thousand financial advisors, 1,700 employees, $260 billion in client assets under administration, and $1.92 billion in annual revenue.
Gok's number one priority is to represent Cetera as her only client. To do so, she leans heavily on her experience at the SEC. "I speak SEC," she says. "I was there, I know how it works, I know how they operate, and I have brought SEC enforcement cases against broker dealers and investment advisers. I can use that information to provide the best and most current information to Cetera and ensure that Cetera is keeping up with the best practices and expectations of the SEC.
"This work keeps me on my toes," she adds. "With two recent Supreme Court cases touching upon our industry, we're at the cutting edge of where the law is." Gok is referring to Kokesh v. SEC (2017) and Liu v. SEC (2020), which narrowed the SEC's ability to seek disgorgement.
While Gok's SEC experience helps her manage regulatory issues, her days at the Department of Justice have helped her conduct important internal investigations. Anytime an individual, insurer, or agency brings a substantial complaint against Cetera, Gok's team gathers information from within.
"I can conduct effective internal investigations as in-house counsel because I learned to spot the truth while interviewing witnesses in the US Attorney's Office," she says. Gok, who estimates she interviewed a thousand witnesses in thirty jury trials, says the skill isn't learned in a textbook—it comes only through experience.
"This work keeps me on my toes. With two recent Supreme Court cases touching upon our industry, we're at the cutting edge of where the law is."
Gok says there are two keys to a solid internal investigation: access and trust. First, you have to know whom to go to for the right information. Second, you have to help them understand that an in-house lawyer is there to do everything she can to represent the company. "You must ask questions, keep digging, and look in unexpected places," she says.
Documentation matters. Targeted email searches help jog employees' memories of conversations and events. During each investigation, Gok saves one question for last. "I always ask each person if there is anything else," she says. "It's a simple, open question, but it often leads to the most critical piece of information."
In a company like Cetera, where employees take on a high volume of work, teamwork and leadership matter. Today, fourteen lawyers and nine paralegals form the company's legal team. Gok learned to mine performance from limited resources at the SEC, where she says she had "no stick and no carrot" to motivate her teams. Instead of big bonuses, she recognized achievement with certificates of appreciation and happy hours.
In those days, it was common for Gok and her colleagues to spend eight hours in trial and another eight hours preparing for trial the next day. The experience taught her to value commitment, passion, and solidarity.
Gok has brought those values to all of her positions, including her leadership role at Cetera, where she leads by example. "I never ask anyone to do something I'm not willing to do," she says. "We all wash the windows here. We pitch in as needed, and we all recognize there's always the chance that an emergency will preempt our carefully scheduled plan for the day."
Although Cetera's legal department is relatively small, Gok looks to hire from within whenever positions open up. This practice has led to better outcomes. Back in 2014, when Cetera was under different ownership, litigation caseloads increased substantially. Gok had a team of loyal employees ready and willing to meet the new challenge head-on. Instead of aiming for errors and omissions deductibles, company lawyers relied on strong paralegals, leveraged a robust case management system, lowered outside counsel fees, removed bottlenecks, and settled many cases.
Each year since, Gok's team has decreased its number of cases. Today, litigation costs are a third of what they were in 2014. This was thanks in part to Gok and her team helping Cetera navigate its previous owner's Chapter 11 filing, reemerge as a privately held company, and secure private equity ownership in 2018. The firm is back in growth mode and was recently ranked fifth on Financial Planning's 2020 Independent Broker Dealer elite list for revenue growth.
Now, the company is recruiting more advisors and looking for new opportunities. As the financial services giant continues to grow, Gok will continue to do what she does—lead an effective legal team that's ready to represent its client zealously and take on any new challenges that come along.
***
Arthur J. Gallagher & Co.:
"As deputy general counsel for Cetera, Lisa has unparalleled legal experience in both the public and private sectors. She is an excellent analytical thinker and a fierce negotiator who is masterful at building strategic relationships that bring immense value to her organization."
–Robert Erzen, Area Senior Vice President
***
Foley & Lardner LLP:
"Lisa leads her team with keen intelligence, enormous insight, and dedication to the company, its stakeholders, and its clients. With impeccable judgment developed during her years at the SEC and DOJ, Lisa provides invaluable guidance to the company as it navigates its course in a highly regulated industry."
–Samuel J. Winer, Partner
***
Saretsky Hart Michaels + Gould PC:
"Lisa Gok is the consummate Deputy General Counsel – uncommonly bright, impeccable learned and instinctive judgment, a breadth and depth of experience, the ability to quickly identify and accurately assess legal and business risks, prescient strategic vision, first class communication skills, and she consistently generates value driven top-notch results."
–Gary Saretsky, Shareholder
***
Winget, Spadafora & Schwartzberg, LLP:
"I have worked with Lisa Gok for almost a decade. She is an insightful, dynamic, and creative attorney. Lisa has an exceptional ability to manage outside counsel, focusing on the desired end result of litigation."
–Luigi Spadafora, Esq., Partner
***
McGuireWoods LLP:
"A proven leader who has built a diverse team, Lisa brings deep business and regulatory experience to issues. Her intelligence, judgment, and creativity have enhanced every matter. We always look forward to working with her."
–Emily Gordy, Partner