Many kids have memories of tiptoeing downstairs to open presents on Christmas Day, but Lara Liss learned at a young age that it's better to give than to receive. Growing up, she accompanied her family to a local nonprofit organization on Christmas Day, where they prepared and served food to dozens of people who were homeless and came to the shelter to celebrate the holiday. It was a lesson on the importance of finding meaning in serving others that made a lasting impact on Liss.
The story doesn't surprise many who know Liss. Life on an Iowa farm gave her many opportunities to help other people. In additional to caring for animals and volunteering at food pantries, she was a volunteer coach for the Special Olympics and worked as a candy striper at her local hospital.
Liss finished her undergraduate studies at Northwestern University before completing a joint degree program in law and public policy at the University of Michigan. For Liss, the path was a natural continuation of her lifelong passion for helping others. "I see law as a service career," she says. "My goal has always been to use the law to help other people."
Subscribe Now
Receive stories like this one in your inbox every two weeks!
Subscribe to the free Modern Counsel newsletter.
Upon graduation, Liss entered the job market armed with her passion for law and public policy and one year of experience working for a social science research company that had contracts with the Centers for Disease Control and Prevention to study childhood immunizations. Her very first job out of college had exposed her to large-scale longitudinal data collection on a national scale to study the barriers to immunization in communities, whether it was cost of vaccinations, religious objections, or other reasons. Her interest in the healthcare sector was growing, and the young lawyer started to see the field's potential.
"Healthcare is the most interesting and challenging puzzle to solve when it comes to public policy. We need better care for individuals, better population health management for chronic conditions like diabetes, and lower costs," Liss says. Once she realized how law and public policy can impact those factors (known among industry experts as the "triple aim"), Liss knew that she had found her calling.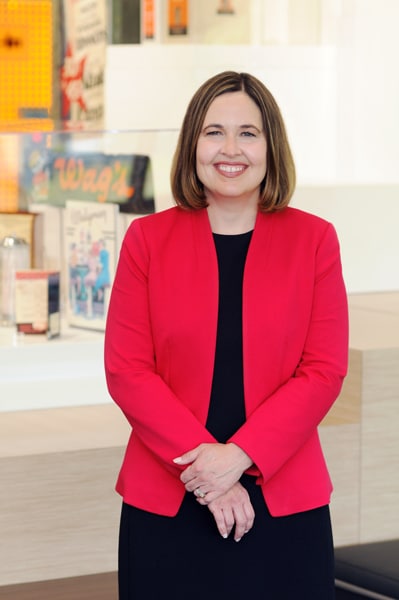 She joined a large law firm with a budding healthcare practice and never looked back. After five years representing clients in the healthcare sector and advising on HIPAA and other healthcare laws, Liss was becoming an expert in government investigations, the early stages of electronic medical records, state laws, and Medicare and Medicaid reimbursements. She was leveraging that expertise to advise clients, but she wanted to be a part of the team on the ground at the business level impacting patients. When an in-house position opened at Abbott Laboratories, Liss jumped at the opportunity.
Not long after Liss joined the multinational business, she was tasked with developing and implementing a global privacy compliance program. In doing so, she learned European privacy law, learned to manage outside counsel, and built and supervised a small team to help her accomplish the important task.
Soon, Liss found herself wanting to return to the front lines of healthcare. She did that by accepting a role as an attorney for Unity Point Health, the health system based in her hometown that includes the hospital where she had volunteered as a candy striper years before. At UnityPoint, Liss had the opportunity to deepen her understanding of privacy law from the perspective of a frontline healthcare provider and also served as an attorney for one of the country's first Accountable Care Organizations on the cutting edge of the transformation from fee-for-service payments to value-based care.
Being on the front lines helped Liss learn to listen to the voice of the patient. Taking calls from patients who didn't understand how and why the health system collected and used their personal data helped shape her approach to privacy law.
"These issues matter because we can use data to improve the lives of patients, but we have to protect patient privacy as we go to maintain their trust and buy-in," she explains. "The responsible use of data can unlock many benefits for our patients and our communities. As I counsel my business team members about responsible data use, I am always thinking about our patients."
As Liss continued to advance in her career, she never lost her desire to leverage the law and shape public policy to improve lives and outcomes in healthcare. In fact, that desire only grew stronger. In 2018, she heard about an opening to lead privacy for Walgreens Boots Alliance. The company's three divisions (USA retail pharmacy, international retail pharmacy, and pharmaceutical wholesale) employ nearly 450,000 people in 18,750 stores and eleven countries.
"We are the regular touchpoint for millions of patients, and that means we can use these touchpoints in compliance with privacy law to generate insights that improve healthcare and make a huge difference in many lives and communities."
That size—and the opportunity it represents—is what attracted Liss to the position. "Nearly four out of five Americans live within five miles of a Walgreens. We are the regular touchpoint for millions of patients, and that means we can use these touchpoints in compliance with privacy law to generate insights that improve healthcare and make a huge difference in many lives and communities.
"For example, we know that when patients take their medications on time as prescribed that they have fewer emergency room visits and better health outcomes for their chronic conditions. Part of our opportunity as a global pharmacy is using data responsibly to understand what barriers patients face in being adherent to their prescribed medications and helping to create programs that effectively address this need."
Making It Work from Home
The unexpected work-from-home transition is what Lara Liss calls the "challenge of 2020." As a vice president at a major corporation, she's had to meet that challenge both as a leader and as a working mom. With three children (ages thirteen, eleven, and nine), Liss knows firsthand how hard it is to juggle competing school schedules, accomplish household tasks, and perform professional obligations without fracturing relationships, missing deadlines, or overloading the Wi-Fi.
Liss found success in her own home by focusing on teamwork and establishing rhythms. She often trades six-hour shifts with her husband, during which one parent focuses only on their full-time job while the other works as a full-time parent. The arrangement works because it lets both adults stay present and focused on the task at hand.
Communication and flexibility are key at home, and Liss says the same is true when it comes to managing a remote legal team whose members are caring for children, elderly parents, and others. She's solicited feedback regarding the optimal time to have team meetings and asks each employee to communicate so they can navigate any unique situation that may arise.
"Our team members are under more stress than ever before," she says. "This is not business as usual. We have to acknowledge that and commit to finding the right path forward together."
As global chief privacy officer, Liss manages a team of seven attorneys and ten compliance professionals embedded with the business team to protect patient and customer data as the company innovates.
It's cutting-edge work in a fast-moving and innovative space. Liss's team monitors "back of store" data from the pharmacy and "front of store" data from other retail purchases. "Now, that information is critical to how our pharmacies operate in a smarter, more insight-driven way and informs how our organization innovates," she says. A robust privacy program composed of procedures, training, auditing, monitoring, and reporting keeps Walgreens Boots Alliance compliant.
Walgreens frequently collaborates with outside counsel who work closely with Liss and have observed her expertise firsthand. "Lara's in-depth understanding of privacy law is paralleled only by her passion. Her defining mark is prioritizing Walgreens customers when guiding the company though innovations in data-driven care," says Vickie B. Ahlers, partner and chair of Baird Holm's privacy and data protection practice. "It's empowering to see Lara putting her philosophies into action."
Partner and Global Chair of Privacy and Security Brian Hengesbaugh of Baker McKenzie also attests to Liss's prowess. "Lara Liss displays an exceptional understanding of domestic and global data privacy and cybersecurity requirements. But it's not just her understanding of the law that sets her apart," he says. "She applies her legal knowledge with a keen sense of business realities and with a great acumen for understanding how people and organizations work. It is this rare combination of all these skills and talents that help her be a great success as a global privacy leader."
As companies develop new wearable gadgets and innovative medical devices leveraging the Internet of Things, Liss sees endless opportunities for data to play a role in lowering costs and improving individuals' trajectories, communities, and outcomes. The responsible use of data is already helping diabetic patients monitor blood sugar levels. Patients with COPD and other chronic conditions can leverage data to help healthcare providers monitor sleep cycles, energy levels, weight, activity, and other important factors.
Walgreens is showcasing the potential of big data through the Walgreens Flu Index, a free online map that tracks flu activity to show the highest activity levels by US market. Walgreens creates the index with aggregated data from prescriptions at retail pharmacy locations nationwide. The tool helps individuals know how hard their community has been hit by the annual flu, which helps audiences like school and hospital administrators plan ahead. Walgreens uses the information to manage its supply chain and direct medication, vaccines, and supplies to where they are most needed.
Liss is both excited and optimistic about the future of her industry and the outlook for women working in privacy law. "Data has come to underpin everything we do in healthcare, and privacy is now a board-level issue," she says. "This is also a great niche for women because we have equity and representation."
When Liss entered privacy law, it was an unknown and undeveloped specialty. Now, two decades later, data privacy is a growing and important field where women enjoy visibility and the chance to make a lasting impact.
"I am inspired by the current leaders in privacy around the globe, which include many women like Dr. Andrea Jelinek, who chairs the European Data Protection Board, Elizabeth Denham, the UK information commissioner, and Helen Dixon, the data protection commissioner for Ireland. In North America, we have regulators like Rebecca Kelly Slaughter who is currently at the Federal Trade Commission and Julie Brill, who led on privacy at the FTC for years and now leads Microsoft's privacy program.
Privacy is a rapidly growing field that is committed to diversity in its leadership. It is an exciting time to be part of this profession as we advocate for the innovation that can come from responsible data use."
***
Expertise Spotlight
Baird Holm Privacy and Data Protection Services
Our attorneys understand that data is at the heart of every business. Whether it's a small family-owned business or a Fortune 200 company, we partner with our clients on the front end to design data privacy and security strategies that are both practical and innovative. When an incident arises, we leverage a practice that spans two decades of experience in conducting white-collar investigations, cyberinvestigations, accounting forensics, and computer forensics as well as responding to hundreds of breach notifications on behalf of clients and insurance carriers. Our team of attorneys responds rapidly to be there for our clients when they need it the most, providing experienced, practical, and strategic advice. We are an integral part of our clients' incident response teams from start to finish. 
Evaluate, Prepare, Respond, Defend, and Enforce
Our team of privacy and data protection attorneys assists clients throughout the life cycle of information, across all industries. Our attorneys:
Assist clients in evaluating their data privacy and security program
Help them identify applicable laws to ensure compliance
Draft policies for the collection, processing, and retention of sensitive information
Assess privacy and security business partners
Prepare for and respond to security incidents
Defend against government investigations and private litigation
Enforce data protection obligations among internal personnel and external service providers
Baird Holm
Located in the heart of downtown Omaha, Nebraska, Baird Holm's integrated team of ninety-three attorneys, licensed in twenty states, is committed to connecting each of its valued clients to the positive outcomes they seek. We are proud to represent public and private companies, individuals, private funds and other investors, financial institutions, governmental entities, and nonprofit organizations. At 147 years old, we constantly innovate and design unique legal solutions that allow our clients to achieve their goals.