Kelly Turner is ready for anything—even if she doesn't know what it is. Throughout her life, and especially over her past fifteen years with Goldman Sachs, the vice president and senior counsel has made a point of embracing the opportunities and challenges that turn things upside down.
Turner began her JD studies at Tulane University Law School in 1992 following her graduation from Louisiana State University. Upon completing her degree, she spent close to ten years in private practice, first working as an associate at Stone Pigman Walther Wittmann and later as an associate at Haynes and Boone.
It was during her tenure at Haynes and Boone that Turner was seconded to Archon, a former subsidiary of Goldman Sachs, she explains. The NYC-based investment bank and financial services company had just established its own middle-market lending platform, which also meant the creation of a new corporate lending team. Turner was tapped to help get that team off the ground.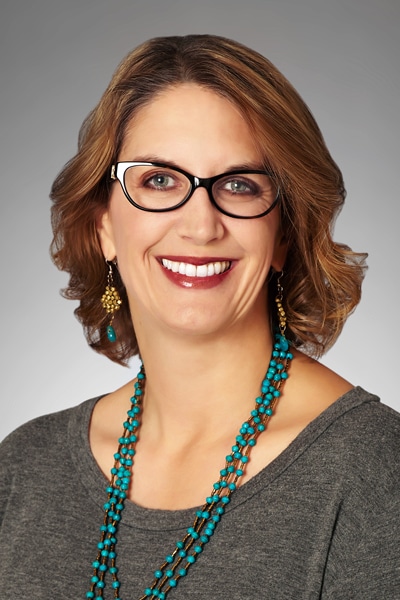 "I really liked that work," Turner recalls. "In fact, I liked it so much that I interviewed for a full-time role. And though I wasn't selected for that position, they basically created a role so that I could still come on board."
In her newly minted role, Turner was responsible for overseeing a wide range of corporate contracts, "which I had never done before," she points out with a laugh. "As a real estate and then a corporate finance lawyer, I had never negotiated a technology contract in my life."
That willingness to step outside her comfort zone and take on the unknown has been a hallmark of her professional career, Turner believes, but it is also one of the philosophies that has most profoundly informed her life as a whole.
"It's great to have one area that you can focus on and do really well in, but you still have to be willing to do more and continue learning," she stresses. "I've moved from New Orleans to Dallas, from real estate to corporate finance and back again. My husband and I have adopted two children, which requires you to do and think about things that may not be normal or particularly comfortable for you.
"But I think that's what keeps things interesting," Turner continues. "Life would be pretty boring if we weren't always learning and trying new things."
But in her first few years at Goldman Sachs, Turner's knack for adapting to the unfamiliar was put to the ultimate test.
"In 2008, when the financial crisis hit, Goldman became a bank basically overnight," the VP explains. "All of a sudden, we were subject to entirely new rules and regulations. There were also a lot of new laws and policies implemented as a result of the financial crisis, and we had just two years to ensure that our existing portfolio as well as our new portfolio were compliant with those rules."
But the legal team tasked with elucidating those new rules and regulations was itself in a moment of flux, Turner says, since Archon had merged with Goldman's legal department soon after the financial crisis.
"I happened to be on adoption leave at the time," Turner notes, "so it was a little crazy coming back to work. We were all thinking the same things: what does it mean to work here now? Do we even do our same jobs?"
But the uncertainty lasted only a brief time, Turner says. Very quickly, she and the other members of Goldman's legal team successfully managed both the company's legacy assets and its newer assets in a manner that complied with all the new guidelines.
Turner's swift yet measured response to this crisis is characteristic of her level-headed approach to her work. As Bruce D. Saber, a partner at DLA Piper, notes, "Kelly is an incisive and creative lawyer who provides thoughtful and calm leadership. Her legal talent, management style, and commitment to the community make her a singular counsel, client, and friend."
"I never really know what's coming until it's actually here."
Today, Turner supports a number of different teams working on real estate acquisitions, dispositions, lending, and asset management. And even though it's been more than a decade since the 2008 turmoil, the work still keeps her on her toes.
"But I don't think I would enjoy this work if I were always working on cookie-cutter deals," she says. "I get to work with incredibly smart and creative people on all sorts of different products and deals, in many different jurisdictions. That's what makes life here at Goldman so interesting."
Matthew Kidd, a partner at Gibson, Dunn & Crutcher with whom Turner frequently works, echoes her statements about the breadth of her practice. "I've worked with Kelly on everything from management agreements in France and Italy, leases in Latin America, and municipal bankruptcies here in the US," Kidd says. "She's always collaborative and a true partner, something that's a real asset for an outside counsel to have on the client side."
In the fifteen years since Turner joined Goldman Sachs, the company has experienced wide-scale growth, expanding into new markets, building out its portfolio of financial services, and bringing thousands of new employees into its global offices. But those same years have also seen a period of steady growth and development in Turner's work outside of Goldman.
"I've been on the board of the Dallas–Fort Worth chapter of the ACC for about ten years now," Turner says of her tenure as president and now second vice president of the Association of Corporate Counsel, a leading bar association dedicated to connecting and informing in-house counsel working in the United States and across the world. "When I first joined the board, we had maybe five hundred members. Now, we're at more than a thousand."
Many professional legal organizations—and even many events organized by individual companies and firms—do not focus on the topics that are most relevant to in-house counsel, Turner explains. Or if they do highlight those issues, they provide detailed, in-depth information on just one topic.
The Dallas–Fort Worth chapter of the Association of Corporate Counsel, on the other hand, has made a name for itself as the premier organization in the area for both networking and highly relevant programming.
"We host monthly CLEs [continuing legal education] on topical issues relevant to in-house counsel," Turner says. "We also have a couple of larger events every year, including a forum with notable speakers and an all-day symposium where attendees can focus on whatever topics and ideas they'd like, from litigation and compliance to transactional matters and ethics.
"And our members get real value out of these experiences. They have to; otherwise it wouldn't be worthwhile for them to take time out of their day to come," Turner points out. "I am just so proud of the organization and the top-notch opportunities we've been able to provide to our colleagues in the area."
Family Matters
Years ago, when Kelly Turner and her husband were beginning to think about adopting, she had only vaguely heard of Texas-based nonprofit Tapestry Family Ministries. But over the past decade, Turner's parenting approach has become inextricably interwoven with that organization's mission.
"Tapestry was founded to help adoptive and foster parents in parenting what we call 'kids from hard places,'" Turner explains. "Even kids who are adopted at birth have some trauma because they've been separated from their birth families.
"Parenting those kids is a little different than parenting kids who have always lived with their biological families," the senior counsel continues. "You can't do time-outs for a child who's been abandoned, for example."
According to Turner, Tapestry provides a number of services aimed at helping parents as well as local babysitters become "trauma-competent caregivers," from support groups to an annual conference centered on key parenting challenges and issues. Turner serves on the board of directors for the organization—a board that is composed almost entirely of adoptive parents—while her husband volunteers as host of both the annual Tapestry conference and a podcast on parenting children from hard places.
At this point, Turner says, "Tapestry is really a family affair for us. We're all very passionate about it—we parent all of our children, even our biological son, the same way because what trauma competent parenting really does is facilitate attachment and build connections within your family."