Growing up, Kate Kelly had two main passions—law and music. She realized in college that the latter, which she enjoyed, might not be the best career path, so she decided on law school. It turned out to be a good choice: after earning her BA from Yale University she went on to get a JD from Columbia Law School, and notes that she "loved every minute of it."
That doesn't mean, however, that she immediately knew what type of lawyer she'd become. "At first, I thought I wanted to be a litigator, appearing in court like you often see on TV," she says. But while doing a summer internship, she became familiar with the corporate side of things and discovered that she not only liked helping clients find resolutions to problems, but also enjoyed figuring out how puzzle pieces could fit together for a transaction.
She was hired as an associate at the New York City headquarters of the firm Davis Polk & Wardwell, specializing in securities law—where she discovered the importance of partnering with a client to understand the business, along with the ways in which various factors can affect a company.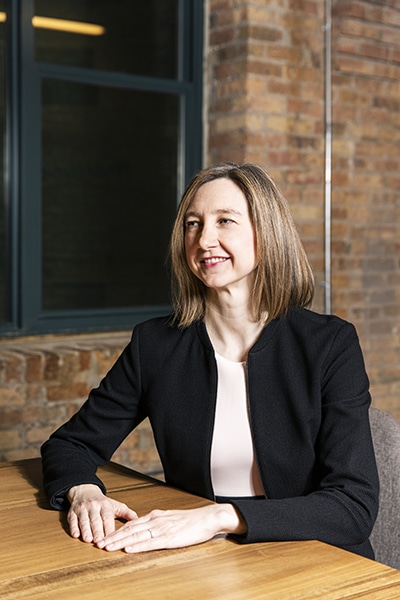 "That's where I found a real interest and passion," she says. "I realized I enjoyed having a close partnership with the business and that's the reason I started looking at in-house roles. I wanted to find a position where I could be passionate about what the company does and advance a mission."
In 2005 Kelly found what she was looking for, joining the team at the biopharmaceutical company Bristol-Myers Squibb. She worked first in the office of the corporate secretary before rising to lead the corporate governance and securities group in 2011 and being named corporate secretary in 2015. Today she is vice president, associate general counsel, and corporate secretary.
"I really love the company's mission," she says. "Coming to work every day, knowing that I am helping patients and seeing the direct impact our work has on patients' lives, is inspiring. It's nice to feel that I'm making a difference."
Kelly has seen some dramatic changes at Bristol-Myers Squibb during her tenure: within her first two years with the company, the CEO and general counsel were both fired overnight and she saw her boss rise to general counsel. It was then that Kelly moved from the corporate governance space to doing the company's securities and disclosure work.
"This was a sweet spot for me, given my background and my passion for helping clients disclose issues appropriately," she says.
In 2008, she adopted the responsibilities of a chief disclosure officer of the company—she led the disclosure function, sat in audit committee meetings, and presented to the CEO and CFO on disclosure decisions. Three years later, Kelly added the responsibility of corporate governance as well, joining the work she had done when she first joined the company with her disclosure work.
"At that point, I was able to really build out my team," she says. "There were a number of benefits to uniting those two areas under one person, including closing any gap between how we communicate with shareholders on the governance side versus on the investor relations side and in our financial disclosures."
The board approved Kelly to become corporate secretary in 2015 and since then, she's been much more involved in core areas that affect the board. "We've had some great opportunities over the last couple of years to enhance those discussions and take a hard look at key issues facing the board and management," she says. "The corporate governance world is advancing in ways that put a spotlight on the board, and our shareholder engagement program has significantly expanded over the last few years."
The past year has brought its own challenges as Bristol-Myers Squibb acquired Celgene in a $74 billion transaction. That process began in 2018, when the Bristol-Myers Squibb board made the decision to explore acquiring Celgene. That fall, Kelly was brought in to facilitate the financing aspects of the acquisition.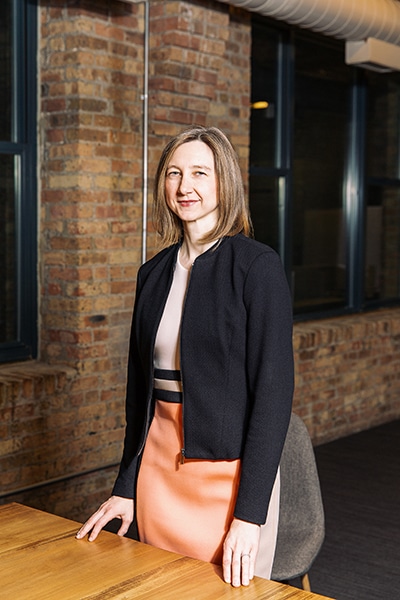 "As a multibillion-dollar transaction, we had to make sure we could pay for it with cash plus equity and line up all the financing commitments in advance," she said. The Bristol-Myers Squibb board approved the deal, but when the announcement was made in January 2019 it sent shockwaves through the industry—and the company itself.
"People were excited, but we had very strict limitations on when and how we could talk about the deal based on securities laws and other regulations," Kelly says. "I was on a SWAT team of a few core lawyers who fielded questions and put together easy-to-understand guidance, complete with illustrations, so people could easily grasp the rules of the road for the foreseeable future."
Kelly's colleagues admire her energy, among other attributes. "Kate's passion for her work is surpassed only by her commitment to helping patients prevail over serious diseases," says Sophia Hudson, capital markets partner at Kirkland & Ellis LLP. "Kate leads Bristol Myers Squibb's corporate governance and securities teams with an eye toward ensuring that BMS is best-positioned to deliver for patients. Her unwavering commitment to mission critical was never more apparent than in our work together on Bristol Myers Squibb's merger with Celgene, a monumental effort to bring innovative medicines to patients around the world."
The transaction was complex, and made even more complicated by the fact that not long after the planned merger was announced, one BMS shareholder publicly announced its opposition to the transaction and its intention to try to convince other investors to scuttle the deal. Despite the difficulties, Kelly says that it was an "incredible experience to have lived through." She's proud that BMS was successful in the end.
"There's nothing like working alongside a trusted team of people when there's a critical matter," Kelly says. "Being able to successfully navigate to this point, there's a lot of excitement and energy directed toward the future of our combined company."
***
Expertise Spotlight
Kirkland & Ellis LLP is one of the world's leading law firms, with more than 2,700 lawyers practicing M&A, private equity, and other complex corporate transactions, litigation, arbitration, white collar and government disputes, restructuring, and intellectual property matters from fifteen offices in the United States, Europe and Asia.
As a leading adviser to some of the world's largest public companies and their directors and officers, Kirkland is well-equipped to advise on the entire spectrum of corporate and securities matters. We integrate top attorneys from our M&A, litigation, executive compensation, securities litigation, government investigations, and crisis management teams with experience in public company advisory and governance, shareholder activism, fiduciary duties, shareholder relations, disclosure, and compliance issues to adeptly guide clients to desirable outcomes. This cross-disciplinary approach combines best practices and practical judgment to withstand today's heightened regulatory scrutiny and litigation risk.
We also represent clients in a wide variety of securities offerings, including investment-grade, high-yield and convertible debt offerings; private placements of equity and convertible securities; initial public offerings; and follow-on and secondary equity offerings. Kirkland advised on two of the top ten largest corporate bond deals of 2019, including Bristol-Myers Squibb's $19 billion bond offering to finance its $90 billion acquisition of Celgene, the largest biopharmaceutical transaction of all time.