Jason and Adel Sander are living proof of the idea that we are better together. A senior counsel at LyondellBasell Industries, a global chemical company known for its polypropylene and polyethylene technologies, Jason Sander is highly experienced in both legal matters and chemical engineering. Likewise, Adel Sander has flourished as assistant general counsel at Ascend Performance Materials, a leading producer of leading-edge chemicals, plastics, and fibers, because of her vision, determination, and singular passion for corporate legal work.
However, both Jason and Adel recognize that their individual skills and talents are only part of the secret behind their success. The couple recently gave Modern Counsel a look into how their marriage of the minds has helped lead them to personal and professional bliss.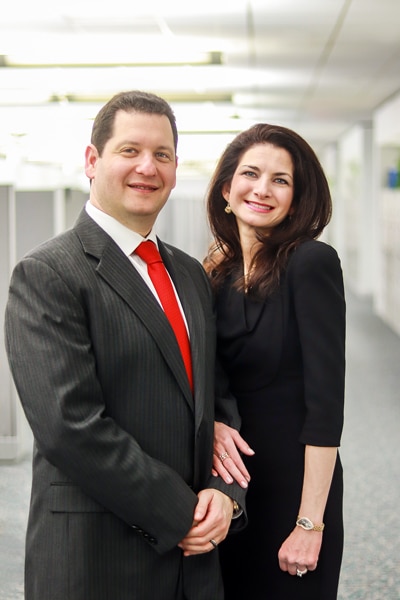 Can each of you give an overview of what got you to where you are today? Were there any particularly valuable experiences that stand out from your respective career journeys? 
Adel: I'll let Jason go first.
Jason: Thank you, my love. I started off my adventure in law as a chemical engineering major at Rutgers University. While in school, I worked over the summer for Total SA in Guangzhou, China. It was exciting work and a terrific experience, but also hot, dusty, and got me to think about alternative paths. I explored several options until I stumbled upon intellectual property law. Eager to learn more, I called all of the solo patent lawyers in the local phone book (this was the early 2000s). After finding one willing to hire me and having a good, air-conditioned experience, I settled on going to law school.
At the University of Houston, I received a fantastic education and an opportunity to become involved with the Houston Intellectual Property Law Association (HIPLA). HIPLA gave me a lot of contacts as well as a lot of experience in politics and leadership. Fast-forward about fifteen years, and I am current president-elect of the organization and will become president as of April 2020. But I'm getting ahead of myself and would be remiss not to mention a big moment early in my career when I met my lovely wife as a second-year associate at Gardere [now Foley Gardere Wynne Sewell].
Adel: My husband is a hopeless romantic; he always says the nicest things about me. I would say that my career journey was something that I had envisioned for a long time. Ever since I can remember, this is what I wanted to do: to be an attorney. I started out as a commercial litigator at several different firms, which then morphed into commercial litigation and labor and employment practices. All the while, my goal was to ultimately move to an in-house role, and now, I am exactly where I wanted to be. On top of that, at Ascend, I work for someone who is just the greatest boss in the entire world.
Sounds like you've both been very fortunate, both to have found each other and to have gained some really great experience.
Jason: We really have.
And at this point in your respective career journeys, what kind of work are you each engaged in?
Adel: Ascend has experienced tremendous growth since I started. We started out in the US and have now expanded into Europe and Asia. And we are still constantly looking for new opportunities. With the corporate growth, my role has expanded proportionately. 
Jason: At LyondellBasell, I handle the intellectual property issues for the company's North American polymers and compounding divisions. I'm charged with not only the patent strategy but also the IP litigation, licensing, copyright, and trade secret issues originating out of those groups. A lot of intellectual property lawyers get boxed into IP prosecution or litigation, but I'm lucky enough to have a really broad array of intellectual property work—and to leverage my undergraduate degree.
There's also overlap between what I do and what Adel does, and we leverage each other. She is a very experienced litigator, and it's extremely helpful to bounce ideas off of her when dealing with litigation issues. She is also very well versed in employment law and in how HR works, which is helpful on a personal level for career planning.
What are some of the other advantages to working in the same industry?
Adel: We've got double the contacts—I found the position at Ascend, in part, because of a connection that Jason had through HIPLA—and he is always there to help me understand the science behind the business.
Jason: Together, we've done it all—we've worked at the largest companies, the largest law firms, and some smaller law firms. We've seen a lot, collectively, so we can use each other as a sounding board. A lot of couples do that, of course, but when your partner has a deep understanding of exactly what you're going through, you not only have a friend to talk to but also a trusted advisor.
Adel: You're certainly not afraid to tell me the truth. Having Jason as my life partner has truly been a gift. He is always there to cheer me on, to support me, and to push me when I need it. I really do attribute my ability to fulfill my lifelong dream of becoming an in-house counsel to Jason's support.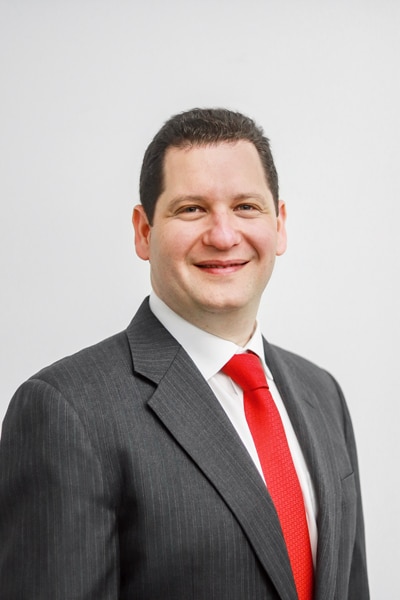 How about challenges? Are there any particular difficulties that you face because you work in such similar roles?
Jason: We face the same work problems, of course—long hours, the pressure of finding reliable childcare. And being in similar industries, we both struggle a bit when the chemical industry isn't doing so well and bonuses get a little lower.
We bridge those gaps by sharing responsibilities and trying to bring a base level of understanding and respect for those situations and each other's career needs. When I needed to fly out to Bolivia to negotiate a license, Adel immediately understood that it was an opportunity not to be missed and stepped up to allow me to go. And vice versa when she needed to travel to Boston for a major mediation. And we've both been lucky to have really understanding bosses and companies that give us the flexibility we need to live our lives—to wait for the plumber, or to attend a parent-teacher conference, or to work from home on occasion.
Adel: Yes, I really appreciate how amazing and understanding my boss is. I feel extremely lucky to have a supervisor like that.