"When you say, 'I work for the company that makes Oreos,' there's a smile on everybody's face," says Mondelēz International Executive Vice President of Corporate and Legal Affairs and General Counsel Gerd Pleuhs. "There's nothing not to like about working for a company that provokes that."
Pleuhs joined the multinational company in 1985. He lauds the organization for providing him with plentiful challenges and opportunities over the years that have kept him professionally and personally engaged. Today, his responsibilities include overseeing Mondelēz's corporate and legal affairs function, which includes the company's environmental, social, and corporate governance (ESG) efforts. His department leads a team of almost 450 people worldwide, and he describes his leadership style as results driven and cooperative.
"The company that is now Mondelēz has been reinventing itself over the years, and quite rapidly," he says. "It was a perfect match between me and the company. Mondelēz has allowed me to have career experiences that I find difficult to see that other companies would have given to me, so that's why I've stayed for such a long time."
Pleuhs has had several career highlights during his years at Mondelēz. For one, he negotiated the deal for the company's acquisition of Lefèvre Utile (LU), which made Mondelēz a major player in the biscuit category. He developed and led the effort to transfer Mondelēz's coffee assets into a joint venture, which he describes as one of the company's most strategically and financially successful moves in recent years. Additionally, he was part of the team that worked to acquire the famed chocolate company Cadbury.
"Cadbury was one of the biggest acquisitions at that time to be involved in, which was marvelous," he says. "It was a once-in-a-lifetime experience. For a lawyer, there was nothing not to like. It was very challenging, very demanding, and very interesting."
Pleuhs also molded his department into its present-day form. He was acting solely as the general counsel when he became responsible for the corporate and legal affairs team.
"There are a lot of complementary skill sets in the two employee populations," he says. "As a department, we've made a difference. The moment we got together, we really helped shape the company in a very meaningful way, not only internally but externally, because if you think about Mondelēz now, it is well-known around the world in the media and investor community."
Most significantly, Pleuhs was part of the four-person team that conceived Mondelēz's new company purpose: "empower people to snack right."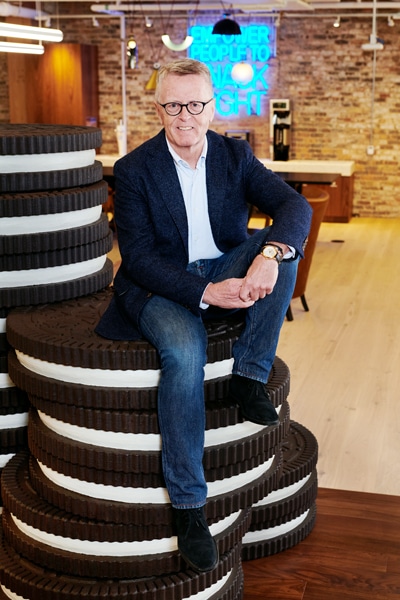 "Snacking has become a very acceptable behavior," he says. "It is ingrained in people's everyday habits. Working for a company where we not only make delicious snacks but also help you snack right is just a very nice thing."
Indeed, Pleuhs has come a long way professionally since 1985. He's become deeply embedded in the business over the years in ways that have established him as not just legal counsel but also as a valuable partner to the business. He's been involved in a variety of matters, including difficult sales negotiations and other intense situations.
"In my early days, I participated in agency meetings when we did particularly relevant promotions for the brands," he says. "I was very closely involved and managed to shape the message that we conveyed to the outside. My approach has not changed over the years, as I always combine the corporate and legal affairs aspects with a business lens and search for results that satisfy marketing or sales opportunities and functional compliance."
When it comes to career success, Pleuhs believes in embracing change and even getting ahead of change when possible. He notes that he and his department developed online tools to facilitate a global connection among employees, including several fully virtual meetings connecting corporate and legal affairs colleagues all around the globe, long before COVID-19 upended the way many companies work today.
"Everybody likes the word 'change,'" he says. "But for many, 'Change is great as long as it doesn't happen to me.'"
He adds, "Very often in recent years, changes always meant restructuring, head count reduction, and doing more with less. I'm not saying that we didn't have to go through those things. We did. But we also brought change to people for different reasons—to stay ahead of the game—in a way that is actually fun, where they feel engaged and feel they can shape the change. This always triggers more commitment to making that change happen."
His advice to organizations that want to implement change is to involve their people and refrain from always trying to implement it from the top down.
"If you really want to make change happen, don't impose it on the organization unless it's really needed," he says. "Invite people and take them with you. It may take a little bit longer, but the success rate is higher."