Everything was happening exactly as planned. Dan Opperman—six foot one, 160 pounds, and selected eighth overall in the 1987 Major League Baseball draft by the Los Angeles Dodgers, seven men down from first overall pick Ken Griffey Jr.—was on his way. As a newly minted high school graduate, Opperman was throwing fastballs at speeds only tolerated on certain sections of the German Autobahn. "Since I was fourteen, I really never thought I would have to worry about anything but playing baseball," Opperman remembers.
The pitcher got off the chartered plane in Great Falls, Montana, where the Dodgers sent their rookies to develop; he spoke at a press conference, headed to the ball field, changed, and started playing catch. "I felt a pop, and a month later, I was having my first surgery."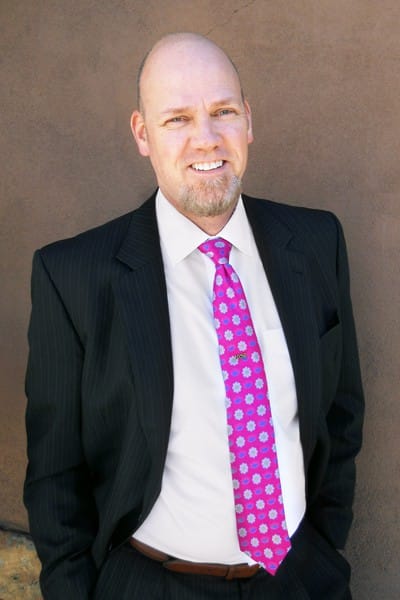 Opperman was living every professional athlete's worst-case scenario. Repeated elbow reconstructions and repeated rehabilitation efforts were undertaken before the young pitcher got a chance to play in the majors. Opperman was forced to retire from baseball in 1993, exiting a career that never really got to begin. An understandable few years of anger and resentment followed. "But the sun just kept coming up," Opperman jokes. "And so I figured that I should get on with my life."
Opperman's story isn't about what could have been. It's about what he has accomplished. The chief legal officer at the New Mexico Finance Authority has found another way to compete, pivoting to a successful legal career, raising two daughters with his wife Lisa (whom Opperman credits with helping pull him out of his post–Major League Baseball heartbreak), and successfully battling prostate cancer along the way.
Finding a Reason to Compete
Having been drafted straight out of high school, Opperman had no college experience and no degree. But his wife was an office administrator for a small New Mexico law firm, and as Opperman worked toward obtaining his undergraduate degree, he grew close with the attorneys there and decided that a future in law might be right for him. He applied to law school and was accepted, though not without a serious caveat.
"They brought in all the students who had been accepted so we could meet with some of the law professors," Opperman remembers. "There was one I remember quite well who told me that because of my background as a pro athlete, I should 'seriously consider' not enrolling because I was unlikely to be successful. He didn't know anything about me or what I had been through. He had just tagged me as a 'dumb jock.'"
The fire had returned. "When I look back, I would like to thank that professor because it gave me a reason to compete again," the CLO says. "It was both for me and, honestly, to simply make a point of proving that professor wrong."
You Can't Strike Everyone Out
Opperman's former life has informed his legal practice as much as any of his law school classes did. "I can honestly relate everything I do on a daily basis to the lessons I learned through playing baseball and organized sports," Opperman explains. "As a pitcher, I learned early that you can't strike everyone out. You have to rely on the rest of your team to get the job done. I don't think practicing law is any different."
The CLO speaks highly of Legal and Compliance Counsel Bryan Otero ("an outstanding lawyer with general counsel experience, and my right-hand man"), whom Opperman hired at the New Mexico Finance Authority. "I've tried to build a small group together in a way that builds on all those principles I learned growing up, not just with Bryan but across the organization as well," Opperman says. "The biggest thing I've learned is that you don't have to be everything to everyone; surround yourself with great people that you can trust and count on."
The Home Team Advantage
That practice has served Opperman well not only in the boardroom, but at home. When Opperman was unexpectedly diagnosed with prostate cancer, his own home team—his wife Lisa and two daughters, Gaby and Abby—was there, ready, as always, to compete. "If my wife and kids were concerned, I sure never knew it," Opperman says. "I'd like to think they've built off of my confidence and, in turn, I've built off theirs." That confidence, Opperman says, comes back to a familiar word. "I know this might sound silly, but my mind-set was, unfortunately, and always is, to win. I really don't know another way, and I don't think there's another option.  Compete every day."
Opperman's tumor was successfully removed in July 2019. The lawyer says that early detection of his prostate cancer, which played a huge part in the successful surgery, can be traced to Lisa's insistence on regular medical checkups. "I took the same approach to the surgery that I take when looking through a legal or compliance issue," Opperman explains. "I just wanted to get the facts and let those dictate where we would go from there. It wasn't worth wasting time worrying about something that was a maybe."
In the CLO's case, the facts are simple. A young major league prospect who could throw fastballs at ninety-six miles an hour had his career cut short. He responded by embarking on a twenty-year law career that has not been defined by his losses but informed by them. "It's very easy to draw upon your successes, but I'd rather draw from my failures," Opperman says. "All of those surgeries, the patience and perseverance to continue to forge ahead. It's helped me mature and continue to learn as an attorney."
***
Sutin, Thayer & Browne:
Dan's effective leadership solving complex legal issues raises everyone's game. We are honored to partner with Dan and New Mexico Finance Authority in their mission to provide innovative financing to build a better New Mexico.
–Suzanne Wood Bruckner, Shareholder