From early on in her life, Corina Davis wanted to do something meaningful. She decided becoming a lawyer was a great way to make that happen.
While earning her law degree, Davis worked at several nonprofits but realized that wasn't the right fit for her. After graduating, she found she enjoyed IP litigation, particularly the creative aspects of copyrights and trademarks.
Davis worked for firms in New York and Los Angeles before settling in the Bay Area in 2012. Right before her move, a recruiter presented her with an opportunity at a small start-up called Redbubble. A marketplace geared toward helping artists sell their designs on high-quality merchandise, the company was looking for their first lawyer in their Bay Area office.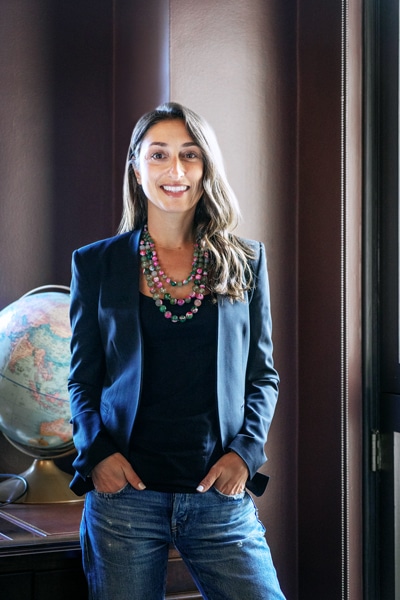 "They wanted someone who could help with IP because they were starting to grow, and with that growth came a host of new issues," she explains. "Redbubble had started to get takedown notices alleging that users were putting up content that was infringing on IP rights."
The way that Redubble works is that artists upload their original art to the online marketplace. Redbubble then connects these artists both to third-party manufacturers—who print their art on 140-plus products, including T-shirts, stickers, pillows, phone cases, and shower curtains—and to customers looking for products that uniquely speak to them. Content that infringes upon the IP rights of others flies in the face of the company's commitment to independent artists creating their own art—the same commitment that birthed the idea of the marketplace.
When Davis assumed the in-house counsel role for the company in 2012, she knew she needed to tackle this problem right away.
"I felt I had come full circle because the mission here is about helping artists turn their passions into profits," she explains. "I am impacting people's lives, but in a different way than I had expected I would."
Today, the Redbubble Group (which includes the Redbubble marketplace and their recently acquired sister site, TeePublic), represents a community of more than a million independent artists worldwide. Davis serves as the Group's executive vice president of business development and chief legal officer, leading the company's San Francisco office.
Her work intersects heavily with the idea that federal laws for tech companies must evolve and continue to be reinterpreted and applied in new ways. That way, they can react to current times instead of sticking to what has traditionally been done.
"This is an incredibly exciting field because it's at the intersection of what's happening in the digital age with creativity, art and design, and freedom of speech mixed together with the intellectual excitement of cutting-edge law," Davis says.
When she joined the start-up, Davis was Redbubble's first woman on the executive team. In addition to her work building out an effective IP policy, she advised the board on executive matters, helped with employment issues, educated others on data privacy laws, and consulted on the company's diversity and inclusion committee.
"I felt I had come full circle because the mission here is about helping artists turn their passions into profits. I am impacting people's lives, but in a different way than I had expected I would."
"I immediately dove right into helping my CEO with all legal issues that arose and advised on business issues as well. I built out the legal team and a marketplace integrity team, helped the company go public on the ASX in 2016, and worked on the acquisition of TeePublic. Now we have close to three hundred employees in Australia, San Francisco, New York, and Berlin," Davis says. "I currently oversee our legal team, marketplace integrity team, fraud team, partnerships team, artist community team, and some of our new market work."
Davis also helped launch a partner program that enables artists to create fan art in celebration of their pop culture passions in a way that simultaneously inspires rights holders and creates unique products for consumers. Today, there are close to sixty partnerships, with many more coming in the future.
For example, the Redbubble Group has partnered with Cartoon Network and Turner Broadcasting on the show Rick and Morty. "Artists and designers on Redbubble and TeePublic love this show because it's a pop culture phenomenon whose messages resonate with a lot of people," Davis says. The artist communities on Redbubble's platforms created "their own adaptations" based on characters and ideas from the show.
"These new designs were up on the marketplaces soon after each episode aired, cutting out the wait time you normally see with the traditional retail model. The artists' creativity, paired with the flexibility of our marketplace, is why fans love to come to Redbubble and TeePublic to find the products that celebrate their favorite fandoms."
The Redbubble Group's partner program not only gives artists the freedom to create, but also allows rights holders to see what fans of their shows are really interested in. Oftentimes, rights holders are surprised by what the artists and fans are drawn to. Rights holders have told Redbubble that the marketplace gives them a new lens through which they can see their fans, which is valuable to their planning efforts.
The legal team Davis leads tries to take an approach that goes above and beyond what the law requires to ensure that the Redbubble and TeePublic ecosystems continue thriving.
"We believe one of the most important principles of our IP policies has to do with the collaboration between parties," Davis notes. "It's unfortunate, but historically, IP laws have practically pitted marketplaces against rights holders. One of the best things that could happen in the world of IP is that marketplaces like Redbubble and TeePublic, which have expertise in technology and data that is complementary to the expertise of the rights holders, have the opportunity to work side by side with rights holders to fight the fraud together and prevent it from happening, rather than fighting each other."