Everyone has seen the ad campaigns and marketing blitzes featuring cuddly animals and crystal-clear streams, just as everyone's heard buzzwords and phrases like "low carbon footprint" and "fair trade." All too often, corporations attempt to atone for past environmental sins by promoting small and disingenuous sustainability measures. While many companies feel the pressure to greenwash—to exaggerate environmental claims—organizations that implement an honest and effective sustainability program can create a significant competitive advantage.
Genstar Capital believes a robust environmental, social, and corporate governance (ESG) policy is increasingly important in today's marketplace. Based in San Francisco and founded in 1988, Genstar is a private equity firm with approximately $19 billion in assets under management in four primary verticals: financial services, industrials, software, and healthcare. A strong ESG helps Genstar mitigate risk while maximizing long-term financial returns.
Carolyn Greenwalt, Genstar's chief compliance officer, joined the company in 2019 after working as an attorney adviser at the US Securities and Exchange Commission (SEC). She says the policy has been good for Genstar's bottom line. "We buy companies that are doing well, create more value, and then sell them. When we can deliver a business with a strong ESG profile, everyone involved wins," she explains.
The ESG was born when Genstar made itself a signatory of the United Nations-backed Principles of Responsible Investment in 2015. The company's commitment to responsible investment has changed the way its employees scrutinize potential deals.
Greenwalt and her colleagues take every prospective investment through a diligence phase with a third-party ESG consultant who helps look at tailored factors, including data privacy and security, worker health and safety, and environmental management. Genstar's deal team works with the consultants to review the target company's policies, public presence, social media, contracts, and other factors before generating an ESG risk profile.
Next, individuals armed with the report interview the target company's management team to get more nuanced details and to identify relevant risks and opportunities. Finally, the team makes recommendations to improve the company's performance related to ESG matters.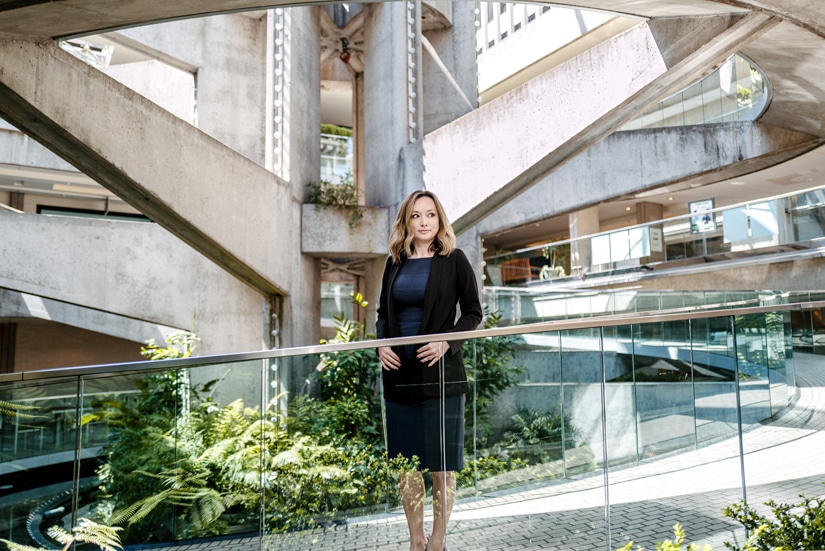 A negative ESG finding uncovered in diligence isn't an automatic disqualifier. "Sometimes we find things that we can address and remedy. Improving a company's ESG profile is one way Genstar can add value before the sale," Greenwalt says.
Recently, Genstar's third-party ESG partner returned a report with several red flags concerning ethics and compliance. After identifying the risk prior to signing, Genstar asked the company to prioritize several remedies, which included an ethics and compliance program with robust training, an anonymous reporting hotline, and data privacy improvements. Genstar later sold the company for a profit.
ESG is just one of many areas Greenwalt handles at Genstar. As the firm's sole in-house attorney, she's also involved in compliance, employment, corporate governance, litigation, and all other legal matters. To find success, she must stay on top of numerous regulatory, financial, and legal factors. Fortunately, as her colleagues attest, juggling her duties poses no problem for the gifted attorney.
"Carolyn's talent, dedication to excellence, and diverse background make her uniquely equipped to tackle Genstar's most important legal, regulatory, and business issues," says Marian Fowler, partner in the investment funds group of Kirkland & Ellis. "Carolyn is a superstar and an absolute joy for Kirkland to work with."
Greenwalt constantly monitors headlines, SEC maneuvers, global markets, industry trends, and competitor activities to keep Genstar protected. When she read headlines about insider trading, she combed through internal disclosures and documents regarding investment decisions and double-checked the firm's restricted list. When the COVID-19 pandemic hit, she ensured Genstar's business continuity plan was ready to go as mandated by the SEC before pivoting to strengthen an informal work-at-home policy.
"We buy companies that are doing well, create more value, and then sell them. When we can deliver a business with a strong ESG profile, everyone involved wins."
Of course, Greenwalt's time working inside the SEC taught her many lessons that she's using at Genstar, but she says her biggest takeaway from the agency was something more personal. "My wonderful colleagues and impressive leaders at the SEC taught me that strength and compassion go hand in hand." There, Greenwalt learned from honest and kind leaders who were willing to teach, equip, and empower her as she advanced in her career.
In some ways, the experience contrasts with several discouraging events from earlier in Greenwalt's academic and professional career. The first-generation college student and daughter of a Korean immigrant often felt dismissed, unappreciated, unseen, or undervalued. But simple advice from US Magistrate Judge Maria-Elena James set her on a new path.
"Be yourself," Greenwalt recalls hearing. "That was her advice. And those two words are important. It's the best advice I've ever received."
That advice, together with her experience at the SEC, gave Greenwalt the permission she needed to conduct herself with excellence, integrity, and kindness. "I like to do good work and be nice to people along the way," she says. She looks for others who share her approach and says she was drawn to Genstar because the firm promotes collaboration and authenticity.
Since joining Genstar in 2019, Greenwalt has not only excelled in her role but also contributed to a positive company culture. For instance, she has started an annual women's affinity event and promoted regular "coffee chats" with the finance team. By spearheading social activities, she's helping others, including fellow women in the workplace, thrive as they do good work together. At Genstar Capital, Greenwalt has found success by simply being herself.