Timothy Johnson raised his right hand triumphantly as he walked out of the Columbia County Justice and Detention Facility. After more than a year, Arkansas had dropped its case against Johnson. He was a free man. Brice White was among the many people who celebrated the good news.
Today, White is corporate counsel of global litigation and investigations at Tyson Foods, but he took a nontraditional route to the role. Before going in-house, he spent three-plus years litigating federal crimes as an assistant US attorney. Prior to his prosecutor days, he opened his own firm to defend underrepresented people in southern Arkansas, where he's from. Johnson was one of his first clients.
White graduated from the University of Arkansas School of Law, got licensed in multiple states, and took a job at a boutique firm, Sellers & Associates in Jackson, Mississippi, with the dream of one day hanging his own shingle in the tristate area. Four years later, he turned that dream into a reality by returning to Arkansas and opening the Law Offices of Brice R. White.
A decade before starting his own firm, White spent a summer volunteering at a mentoring program his father offered at a local community college. There, he met Johnson, who years later would be accused of murdering a man shot during a fight at a college party. White was convinced of Johnson's innocence. "There was no doubt in my mind," he says. "And I wanted to help this young man because people like him deserve good representation that they don't always get."
Although Johnson's defense was strong and the evidence pointed to other possible suspects, the state remained aggressive. White plotted a solid defense and laid a good foundation. In 2015, when he joined the US Attorney's office, he recruited respected attorney Lott Rolfe IV to take over on Johnson's behalf.
Johnson eventually pled to a terroristic threat charge offered to him in the middle of trial. He was released that same day with a sentence of time served and the opportunity for future expungement of the charge. Although White was pleased to see Johnson released, he still points to this case as an example of how individuals can end up with criminal records due to unfair charges and the accompanying risk that leads many to plea agreements.
For White, who has a history of promoting diversity, the case was important for several reasons. "Fairness and justice are the basis of our legal system. Everyone is entitled to those things," he explains. Further, White wanted to provide a strong defense for Johnson, whose status as a gay black man was used against him in witnesses' statements.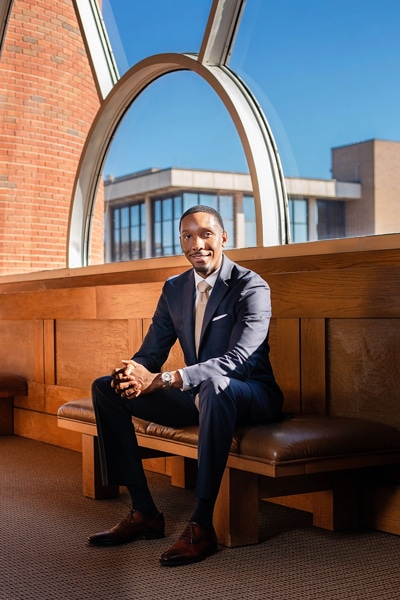 The pursuit of fairness and justice, coupled with the importance of diversity and inclusion, continued to motivate White during his time in the US Attorney's office. In Fayetteville, White served on the diversity committee and prosecuted federal white-collar crimes. He also worked as lead counsel in Organized Crime Drug Enforcement Task Force investigations. White was known as a very good trial attorney with an ability to simplify complex issues and connect with jurors.
In 2018, White joined Tyson Foods to litigate commercial matters and conduct investigations regarding possible violations of internal policies and procedures as well as state and federal laws. A year later, he started developing and implementing important data privacy actions to keep the business compliant with various international and state laws.
As White interacts with his peers in other companies and observes those in his own department, he notices that his background sets him apart. "I didn't take the normal path to the in-house role," he says. "I didn't go to a top-twenty law school, and I don't have the big firm pedigree. But I've made my unusual experience an asset."
Thanks to his time as a federal prosecutor, White conducts excellent internal investigations. Thanks to his experience representing clients in rural Arkansas, he can relate to Tyson's blue-collar employees. Even in his focus on privacy, White credits his ability to adapt and learn different areas of the law to his unique legal background and his desire to continue growing as an attorney.
Perhaps most notably, White's background as a Black attorney advocating for underrepresented clients has made him a strong voice for diversity in corporate America. He says diverse thought and diverse leaders give Tyson a competitive edge by helping the company connect with its customers. "I've had good opportunities in my career. Some of those were undoubtedly assisted by my network and relationships I've build over the years, but more so, they were earned," he says. "And now that I'm at the table, I have to use my influence to give those same opportunities to people of color. It's no doubt we have the legal acumen. We just need the opportunities."
In the day-to-day, White finds many ways to add value as he eyes compliance and works with internal audit. "Most people assume investigations are always meant to uncover illegal activity, but good corporate investigations can increase efficiencies," he says. Some of White's investigations have ensured that Tyson follows processes and procedures for capital investments. This accuracy reduces financial waste.
White represented clients and prosecuted crimes because he wanted to make an impact. He believes effective in-house lawyers also contribute to the greater good. Whether utilizing the litigation and trial skills he garnered in private practice or the investigative skills he further developed at the US Attorney's office, he helps Tyson thrive, and Tyson helps feed the world. The company has 140,000 employees and facilities in one hundred communities. Each year, Tyson donates cash and food to fight hunger and food insecurity in the United States. Many of these efforts reach the rural communities, similar to the community White identifies with and cares most about—and he's proud to know he's played a significant role in making that happen.
***
Quattlebaum, Grooms & Tull PLLC:
"Brice distinguishes himself from many clients by his savvy trial acumen. He identifies the obstacles to persuasion and thinks creatively about how to overcome them. He is a great asset to the trial team."
–Steven W. Quattlebaum, Founding Partner