As assistant general counsel for Cornerstone Building Brands, Brady Iandiorio knows the importance of making the legal and business units work in tandem.
"For me, the idea is what lawyers should be doing—we should be responsive, good at communicating, agile, business-minded, and understand the actual business," he says. "All of that allows us to protect assets and be aggressive moving forward."
At Cornerstone, Iandiorio works to make the entire in-house team a more complementary unit while working efficiently with outside counsel members. And while this tactic seems second nature to him now, it's not a path that was automatically forged for him.
Iandiorio first started in the construction industry as a teenager in high school. He continued in the business even after graduating from college, owning his own construction company that did interior carpentry.
About a year in, the carpenter he was apprenticing with told Iandiorio that this was probably something he didn't want to be doing for the rest of his life because of the physical toll it can take on a person's body. So Iandiorio looked for another option.
"I went and lived in Hawaii for two years, and during that time, my oldest brother went to law school. He strongly suggested I not go to law school," he remembers, laughing.
Thankfully, that was a piece of advice he didn't take. After leaving Hawaii, Iandiorio took the LSAT and ended up going to the University of Oregon Law School.
"I didn't necessarily know what I wanted to do; I was interested in the intellectual part of it, but vaguely thought litigation and being in front of a jury and arguing cases would be interesting," he explains. "But I didn't realize you wouldn't really be trying that many cases."
After graduating, Iandiorio landed his first job in Denver at a small construction defect firm that defended general contractors in homeowner lawsuits. That lasted four years, followed by a couple of years at a "do everything" law firm.
An opportunity came up to become in-house general counsel at Environmental StoneWorks, a manufacturing company that specialized in stone veneer products. Iandiorio's construction background was well suited for the job. He worked closely with the CEO for five years, and as the only in-house counsel, he loved every minute of it.
"It was a really amazing experience because I realized very quickly that I was there to assist them and help push the business forward, bringing them some extra value," he says. "I didn't know much about finance, profit and loss, or the internal workings of a business, so it was a kind of an MBA-on-the-fly experience."
The company was then acquired by Cornerstone Building Brands. Based in Cary, North Carolina, the $4.8 billion metal building components manufacturer formed out of a merger between NCI Building Systems and Ply Gem Building Products. Iandiorio was named Cornerstone's assistant general counsel, transitioning from being his own legal "team" to joining an actual legal team.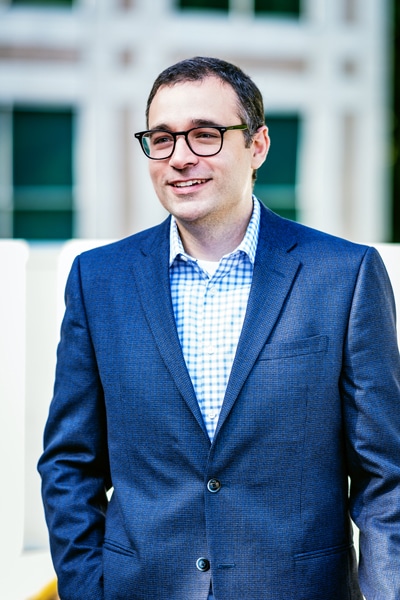 "It's been a lot of conversations about how we can bring together the two different ways of doing things previously and create a new way of moving forward that we can all get behind," he notes. "With COVID-19, there's fewer people to do more work, so no one has time to think about structure and process and how we want to handle things."
He knows that operating separately is not going to keep the company strong or improve the work overall, so he's been working with the legal team to ensure that the future of the operation is robust.
"While we are busy, doing the everyday things is not really providing value to the business units," Iandiorio explains. "We can manage litigation, we can review contracts, we can answer legal questions. But the way we provide value is by getting to know the businesses and understanding what they are working on and why they are working on it—and then helping them mitigate any risks along the way."
Iandiorio's goal is to ensure he understands how each business unit operates so he can provide better advice on how they can achieve their goals, whether through operations or growth.
He accomplishes that by actually going to the plants, seeing how the product is made, talking with installers in the field, and getting a firsthand look at everything. For example, he visited a windows plant shortly after the acquisition to understand the manufacturing process and get a feel for how the windows business operated.
"Once you know that, you can understand what's needed in a contract or if there's an HR problem or a safety issue," Iandiorio explains. "You're more intimately involved. And the more you know about your business units and how they run, the more value you can provide them."
In many ways, adding value in this way combines Iandiorio's two passions. It doesn't just strengthen the legal team; it works to build a better business.
***
Adams and Reese LLP:
"After inheriting a nationwide docket for a big Cornerstone brand, in short order, Brady had his arms around the challenges and strategy. He is a pleasure to work with—a thoughtful and practical decision-maker."
–David Toney, Litigation Practice Group Leader and Construction Team Leader
***
Cook Brown, LLP:
"Brady takes a very collaborative and thoughtful approach to addressing challenging legal issues. As outside employment law counsel, we thoroughly enjoy being part of his team to solve complex problems facing employers today."
–Lisa V. Ryan, Partner