An appreciation for diversity drives Beth Kotran, region general counsel and secretary for Ferrero North America, in both her personal and professional lives.
The award-winning attorney has long recognized the value of garnering experiences and insights from disparate sources. As an undergraduate at Skidmore College, she double majored in government and music. "I started playing flute in elementary school and quickly fell in love with it," she says.
But as graduation neared, she found herself facing a decision—become a professional musician? Or have a stable career?
She chose the latter and subsequently enrolled in the Dickinson School of Law at Penn State. "I'd always been interested in government and politics, even before I started high school," she says. "I was drawn to the idea of defending or protecting things and enjoyed arguing positions."
Kotran focused on the creative side of law, including trademarks, copyright, and other intellectual property. She served as senior editor of the Dickinson Law Review and took first place in the American Society of Composers, Authors, and Publishers (ASCAP) Nathan Burkan Memorial Competition. She also worked as a summer associate for Amster Rothstein & Ebenstein, a boutique firm specializing in intellectual property law, and later launched her career there as an associate. Kotran next had a short stint with Goodwin Procter, a Global 50 firm, followed by nearly nine years with Cadbury Adams USA, which produces chewing gums, mints, and similar products.
As her career progressed, she consistently prioritized opportunity over compensation, seeking out chances to learn. Her work at Cadbury started with the beverage business, which at the time included famous beverage brands such as Snapple, Stewart's root beer, Yoo-Hoo, and Orangina. "Most of my work was focused on the legal aspects of advertising, promotions, and marketing. A year into my employment with Cadbury, the company acquired the gum and mints brands from Pfizer."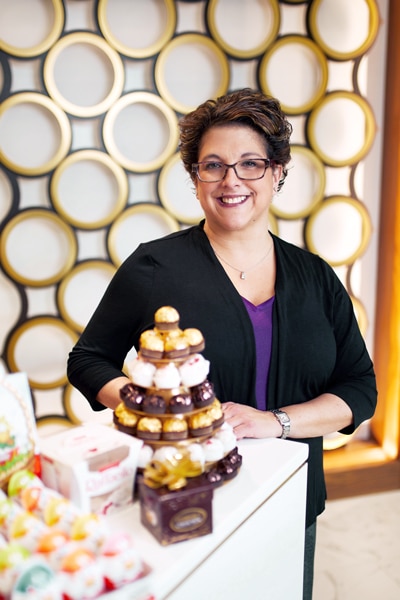 She describes the time period at Cadbury as "a competitive era for chewing gum with Cadbury and Wrigley fighting for share in the gum market." This led to battles at retail, on television, and in other advertising, well before the era of social media, influencers, and behavioral advertising. This experience, together with the other general areas of law that Kotran learned about under great mentorship at Cadbury, paid off when she joined Ferrero in 2010.
Being owned by a European parent creates the need to understand, for example, the difference in legal practices. "North American contracts are precise and comprehensive. But in Europe, situations that aren't spelled out in the contract can often be resolved using their codified civil law.
"While Ferrero had been a player in the US marketplace since the late 1990s, developing and establishing large-scale awareness of the company and its products, namely, Nutella hazelnut spread, Tic Tac mints, and Ferrero Rocher fine chocolates, created a bit of a learning curve for US consumers," she says. "In Europe, Ferrero products are widely recognized as premium products; in the US and Canada, Ferrero products are less common, creating a need to 'explain' to consumers that its chocolates are unique and made with the highest level of quality and care."
Kotran notes that prior to Ferrero's growth, she was its only lawyer in the US. In 2017, Ferrero acquired Midwest chocolate manufacturer and retailer Fannie May Confections. In 2018, the company acquired the chocolate brand portfolio from Nestle, which includes such iconic favorites as Butterfinger, Baby Ruth, Crunch, and other chocolate confections.
When these acquisitions took place, several domestic manufacturing locations were included as a result, which was a first for the company and led to US-based warehouses to store the growing inventory of products. The company also had to deal with e-commerce, technology contracts, credit-card payment processing due to the retail aspect of the business, privacy regulations, supply chain and logistics, and advertising and marketing throughout the US, Canada, and Puerto Rico, Kotran adds.
Merging or acquiring companies is a complex process, but Kotran sees it as an opportunity to broaden her own knowledge. "It's often like a treasure hunt. You discover things that are new and interesting—and things that others may not have identified."
"As a consumer packaged-goods company, we need people from the same generations and backgrounds as our consumers . . . Companies need to adapt and develop new ways of thinking."
Kotran and her team take an active part in Ferrero's advertising and marketing programs. "Very often, a legal staff is known as the 'no' department, but we like to come up with unique ways to address issues," she says. "It demonstrates that we want to work with them to get them to 'yes' and at the same time, also helps us point them in the direction of compliance."
For example, the execution of a promotional program might be too complex for its allotted developmental time frame. The legal team could suggest trimming some elements without diluting the overall effect.
That kind of input is a side benefit of using in-house attorneys, and Kotran has preferred that option throughout her career. "In private practice, you resolve a particular issue and move on without seeing how your efforts have impacted the overall picture. But as in-house counsel, you can follow a project from conception to its appearance on store shelves or in TV commercials," she says. "You see the results of your work, and your clients see you as a key business partner."
"Beth is not only an excellent lawyer but also a great asset to her company because she makes decisions that advance the business goals of the company in a judicious and practical way. She is professional, poised, and a living and breathing example of Ferrero's global commitment to their customers through innovation and the highest standards of quality," explains Daniel R. Guadalupe, cochair of Norris McLaughlin's litigation practice and outside counsel for Ferrero North America.
"This will forever change how companies view the workplace"
"As with most companies, there was some hesitancy around what it would look like to have an entire office of people working from home," Beth Kotran says. "Then the pandemic hit, and our management team soon learned that you can, indeed, run a company without having everyone sitting in an office. This will forever change how companies view the workplace.
"One downside is that people can't easily meet to brainstorm or to ask questions. But overall, Ferrero has been focused on its people. We are all encouraged to stay safe and take care of our families. The way in which our company president, head of human resources, and COVID committee have managed the pandemic has been very well perceived and appreciated by our employees. It is one of the things that makes me proud to work for Ferrero."
As her legal responsibilities grew, Kotran realized she needed more legal firepower than one person could provide and successfully pitched growing the team. "After all, the legal department supports every part of the company and is involved in practically every intersection and interaction among them."
Kotran's current legal staff includes five attorneys in the US and one in Canada as well as a paralegal. Typically, each attorney is responsible for specific brands and certain specialized areas, such as sales and supply chain, as well as coordinating with the company's centers of competence based in the European headquarters.
"When I hire an attorney, I need someone who can handle what we're already doing but can bring something extra to the job. Specific experience in e-commerce or retail sales, for example," Kotran says. "It expands the department's knowledge base and helps us to be properly staffed in anticipation of the company's needs and growth agenda."
Another hiring priority is greater diversity. "Having a good mix of backgrounds and experiences leads to diversity of thought, and that's an important factor when building a department and a company overall. There are now four different generations in the workforce, and they all have different points of view, come from different backgrounds, and have different cultural foundations," Kotran says.
"As a consumer packaged-goods company, we need people from the same generations and backgrounds as our consumers. For example, a marketing team composed solely of men may not understand the needs and desires of mothers with young children. Companies need to adapt and develop new ways of thinking."
Ferrero provides numerous growth and development opportunities, but Kotran supplements them with her own contributions for her legal team, which won an In-House Impact Award from the New Jersey Law Journal's 2020 Professional Legal Excellence Awards. "It's not easy to go from the law firm setting to becoming an in-house lawyer. Working with the members of my team to help them recognize the differences and helping them with risk assessments and other necessary in-house skills helps them become better lawyers and businesspeople.
"It's important as a manager and leader to know when you should allow someone to work independently on a project," Kotran continues. "Of course, it's always possible that something may go wrong, but that becomes another learning opportunity. Lawyers are not infallible. We are interpreters of the law, and interpretations can differ. In the end, they become better lawyers, and the company benefits as well."
In reflecting on her varied career, Kotran has no regrets. "I became a lawyer to apply the law, not to become wealthy," she says. "It's always been important to me to work for a company that offers products I feel good about and has strong ethical beliefs as a core value. I've had amazing experiences working in-house, and I've learned a lot."