When Andrew Hansbrough joined Flowserve Corporation as director and senior counsel of litigation in January 2019, he didn't waste any time. He immediately got to work, making essential contributions that have improved the way the company operates.
One area he has substantially changed is bankruptcies and distressed customers. As a midsized, publicly traded company manufacturing valves, pumps, and seals, Flowserve does significant business across the world with a large customer base. That has occasionally led to complicated bankruptcy proceedings involving customers and end users.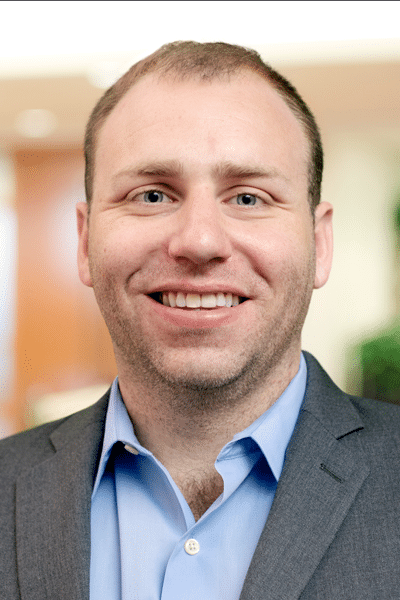 "Though Flowserve has positioned itself well in various markets in the world and is making great strides in consolidating its operations and becoming more of a single enterprise," Hansbrough says, "because of its size, history of acquisitions, and various sites, identifying all relevant stakeholders and getting necessary information from a legal standpoint can be challenging."
For example, one client could owe money to multiple Flowserve subsidiaries or sites, but each may only know what debt it was owed. Flowserve's finance and credit department had started addressing that issue when Hansbrough's legal team joined them and helped implement a system where information is available at an enterprise level and stakeholders can be more readily identified.
"Now I can log in and see, at any given time, how much is owed by a specific customer," Hansbrough says. "As part of that, we can be more proactive in identifying potential distressed customers or end users and take into account the same at an enterprise level."
Even more important from a legal standpoint, the new system allows Hansbrough to offer more effective advice.
"Instead of waiting to see the bankruptcy filing, we're talking about it two, three, sometimes even six months in advance and planning for the same," he says. "That's been my big project, and now it works seamlessly."
It's exactly the kind of challenge that made Hansbrough want to become a lawyer.
"I always knew I wanted to be an attorney," he shares. "I like helping people solve complex problems. Law school seemed like a natural next step after college and working for a year."
After graduating from the University of Virginia Law School, Hansbrough clerked for Judge Thomas B. Russell of the United States District Court for the Western District of Kentucky before landing a job at litigation boutique firm Lynn Tillotson Pinker & Cox (now Lynn Pinker Hurst & Schwegmann). The job gave him an early opportunity to work on a trial.
"It was unique circumstances that allowed me to do that," he explains. "We had some partners who were unavailable at the time, and the client trusted me. That was really helpful as a young attorney, to take depositions and work trials early—something people at that level normally aren't able to do. When you see trials early on in your career and participate in them, it changes how you manage and look at cases."
He enjoyed his work at the firm, but the job at Flowserve offered new opportunities and challenges. The timing was also right, as Hansbrough was about to become a father for the first time.
"As long as you have competency in your ability to think through problems and dive into information, you can, with the help of outside counsel, digest these complex issues."
"It helps complement my skills as an attorney because it's a completely different skill set when you're actively making the high-level decisions, as opposed to being down in the trenches and doing every little thing that needs to be done," Hansbrough notes. "I enjoy the business standpoint—examining, 'OK, how much are we going to recover from this? What's the benefit to pursuing this? What's the downside?' You don't do that as much in private practice, as you are more often than not already in litigation."
At Flowserve, Hansbrough focuses on business litigation and products liability litigation. He describes the litigation department as a fairly small, well-oiled machine whose members work well together.
"To contribute to a team atmosphere, I've developed, particularly on the pumps and valves side, very good working relationships with those divisional counsel and business stakeholders," he says. "I have the benefit of being looped in early when there's a potential dispute so that when it hits my desk, it isn't completely foreign. And vice versa, if a potential dispute comes to my attention, I'm involving the divisional counsel."
One big adjustment Hansbrough has faced at Flowserve has been handling cases in jurisdictions all over the world, including in Pakistan, India, China, Hong Kong, and Italy. Much like managing a $30 million arbitration, that might have intimidated him initially, but he's grown comfortable handling it. He's learned that many of the principles he uses in his work are universal.
"As long as you have competency in your ability to think through problems and dive into information, you can, with the help of outside counsel, digest these complex issues, even though there will be aspects of China or India law that are unique," he concludes. "You can still contribute to the overall strategy of the case and understand risk assessment."
That kind of thinking has made Hansbrough a success at Flowserve.
***
Tillotson Law:
"Tillotson Law is proud to join in recognizing our friend and client Andrew Hansbrough. Andrew's trial experience, tenacity, and creativity makes him one of our favorite in-house lawyers to work with."
–Jeff Tillotson and Jon Patton