Growing up, Tshneka Tate was a dedicated fan of football and basketball, thrilling at the sights of soaring touchdown passes, long runs, wild dunks, and no-look passes. She dreamed of one day becoming a lawyer in professional sports, and in 2000 she did just that, joining NASCAR as an assistant licensing counsel. The pavement and checkered flags of the racetrack might seem worlds away from the parquet floors, fresh-mown fields, and play clocks of her youth, but Tate was sold when she attended her first race a month after she was hired.
"You think about the things that make an athlete an athlete—the stamina, the strength, and endurance—all of those things you have to have to drive this car at 180 miles per hour, for three hours," says Tate, until recently the vice president and senior assistant general counsel for NASCAR Media Ventures. "There's no locker-room break. There's no halftime."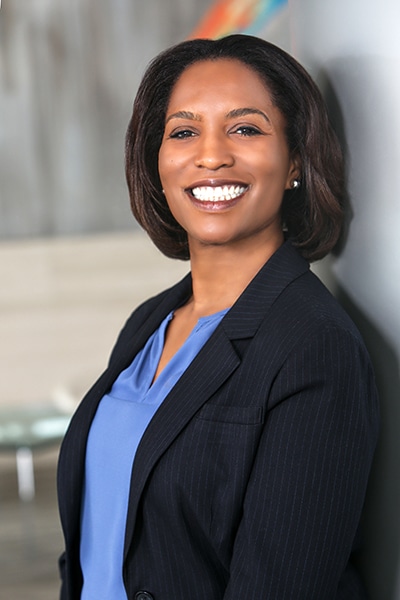 And certainly, Tate isn't the only one hooked on car racing. NASCAR has grown from a regional sport to one with an international following, and along the way its media exposure has expanded to website content, live streaming, and social media. As head of its media legal team, Tate had a lot to do with that.
The digital transformation has been a long time coming. The year that Tate started, Turner Sports bought NASCAR's digital rights, and at that point there really wasn't much to do in that arena because Turner handled everything, including NASCAR's website. The situation began to change, however, when live sports were streamed on the internet and then social media exploded. That's when NASCAR itself decided to make a change for its industry.
In 2011, Tate led negotiations that resulted in the company regaining control of its digital rights two years later. She also handled negotiations in 2012 for the renewal of NASCAR's broadcast agreement with FOX Sports, which covers several top-tier races, including the Daytona 500. All told, she's negotiated broadcast deals for NASCAR races in more than 150 countries.
In recognition of her work at NASCAR, Tate was named vice president in 2014. It was a notable accomplishment and one that actually came as a big surprise because, unbeknownst to her, the then deputy general counsel (now general counsel) had pushed for her promotion. "I was very proud of that vote of confidence from her and the company," she says.
Tate was also NASCAR's first African American female officer. She's proud of the distinction, and she hopes it helps pave the way for other women of color at the executive level.  Two other senior attorneys on NASCAR's team are also African American women. Tate says, "I think that speaks well to the diversity of our department as well as the continued efforts to increase diversity at my company."
A Charlotte, North Carolina native, Tate grew up in a family that impressed upon her the value of education. Her mother's advice was always to "get a good education so that you can choose a job you love to do." After graduating from the University of Pennsylvania, she obtained her JD from Florida State University College of Law. Her first job as an attorney was in the Maryland Office of the Attorney General, part of her initial five-year plan to focus on antitrust matters while developing connections in the sporting world.
That plan was disrupted, though, when NASCAR invited Tate to apply for a junior attorney position. She started as counsel for the business's licensing and sponsorship departments before being promoted to work for the media side, and she eventually built her group within the legal department to nine. Some have worked together for more than ten years, and Tate considers the retention rate one of the legal department's best accomplishments. Together, she and her team have a deep understanding of what the company wants. "Everyone works really hard and helps each other out," she says. "It is important to me that everyone feels valued and values each other. "
The most consuming part of her job? Protecting NASCAR's digital presence. "We want to make sure we maintain the integrity and value of that content," she says.
Some pro sports are strict about what is posted on social media, but NASCAR is different, and Tate acknowledges that not all unregulated content is bad. "Do we want to really take down a grandmother's NASCAR fan page?" she says. "Probably not."
NASCAR also wants to see its drivers and their personalities out there on Instagram and Twitter to help promote the sport. And the legal team works with the digital and social media teams to assist in NASCAR's efforts. "We want to see drivers and teams support," Tate says. "We want to see the tracks push out content. And we want to push out content to support each of them. It works better when everyone works together."
Tate looks forward to NASCAR's continued expansion and the protection of its digital presence as new technologies and social platforms arise. And while she has yet to be in a car going 180 miles per hour, she has attended some of the big races, always choosing a spot in the pit so that she's a part of the action.
Editor's Note: After nineteen years with NASCAR, Tshneka Tate left the company in April to pursue one of her lifelong dreams of traveling the world.