Todd Hanna likes to think of his real legal career starting when he went in-house in 2005, not his private practice days. After achieving his dream of scoring a high-profile gig in a notable Rhode Island firm, Hanna says he quickly realized he wasn't meant for the law firm track. "What I learned is that I wanted to practice business in addition to law," Hanna says, now vice president and general counsel at tax compliance and regulatory reporting software company Sovos. "I wanted to have a voice in strategy, sales, office culture, and branding, and it's just not possible to have that wide of an impact in a firm setting."
Since coming to Sovos in 2016, Hanna says a combination of multiple acquisitions with organic growth have essentially doubled the size of the company, which has provided unique challenges. "In one sense, it's obviously great news that Sovos is growing like wildfire," Hanna says, "But it's also one of the biggest challenges for the company: in growing so fast, how do the infrastructure and the business enablement functions scale to that kind of growth?"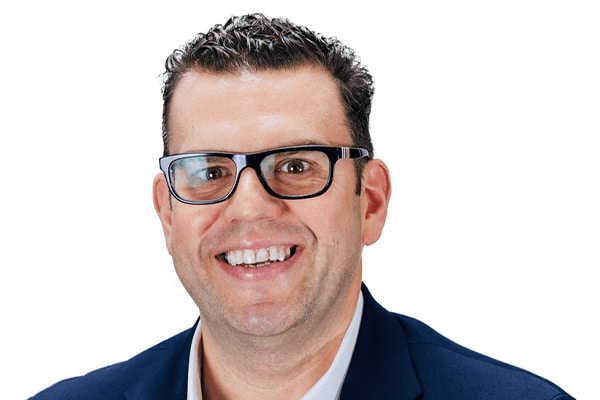 In the case of the legal department, it was clear that the scale of growth was outpacing the department's ability to operate anything more than reactively. "We lacked staffing vision and were hiring more resources only when something was fundamentally broken or in the absolute worst-case scenario," Hanna says. And there was a larger issue impacting the business capacity of the department.
"Our five attorneys and two legal assistants had no clear division of labor as to who did what," Hanna says. "Our internal clients never knew for sure who was doing their work or when they'd hear from us, which was frustrating for them." Those challenges had created tension between legal and sales, an already delicate working relationship in most companies.
So the Sovos legal department took it upon themselves to reinvent their department into a more modern in-house legal function. "We focused on creating visibility, predictability, and data and measurement for reporting," Hanna says. "Every other unit of business operates with performance standards, objectives, and data to measure their performance, but traditionally, legal gets a free pass not to provide historical data or future forecasting." With that gap in mind, Hanna's team began rolling out what he considers his "holy trinity" of key performance indicators: volume, grade, and customer satisfaction.
"Remarkably, we couldn't easily tell someone how many agreements we had done in a given period of time," Hanna says. "Through Salesforce, we're now able to check our volume and activity level." As Hanna is speaking, he pulls up a graph of the past two fiscal years, showing indicators like which quarters tend to be busiest and may require additional hiring. "But volume itself isn't a great indicator of how well the team is doing," Hanna says.
"We are now a modern, sophisticated, data-driven, sales-focused legal department that gets things done."
Legal had already graded its contracts based on the favorable conditions and risk mitigation negotiated. But in comparing those letter grades against overall volume, more trends can be detected: negotiating too much (and at higher grades) can stall volume, while negotiating too little for volume's sake can create unfavorable and risky terms for Sovos. The goal, ultimately, is to find the right balance.
Finally, in engaging internal clients with a legal effectiveness survey, Hanna says the business can now fully appreciate what legal is doing to help enable business. "We are willing to put our work out there to be judged and critiqued in the way everyone else has to," Hanna says. "It's no longer this deep, dark secret that no one wants to talk about."
All this data, Hanna explains, flows into a quarterly scorecard of legal department key performance indicators, which Hanna shares with other Sovos functional leads. "I'm sure every GC believes he or she has a hardworking, value-adding team that is achieving the right results for the company while fostering productive relationships with internal clients," Hanna says.  "But at Sovos, we have the data to prove it about our team."
Further bridging the gap between legal and business, an individual attorney and legal assistant have been assigned to specific business units, enabling a sense of cooperation and familiarity that makes both business and legal feel like they're on the same side.
Hanna is adamant that every member on his team is, at their core, a good businessperson. "Our team is well versed in what our products do and how they're going to help our customers," Hanna says. Hanna also emphasizes selling and customer experience skills with his team. "When you negotiate a contract, you're beginning a relationship, and it's crazy to think of starting that contentiously."
In addition, Hanna stresses that it's the capacity of his team, and not merely his own leadership, that has aided legal's doubling down on business partnership. "The people on my team are really a driving catalyst for our growth and success," Hanna says. "We are now a modern, sophisticated, data-driven, sales-focused legal department that gets things done."
***
Colliers International is a leading real estate company focused on accelerating client success with a full range of services, including corporate solutions, brokerage, capital markets, development and consulting, property/asset management, valuation and appraisal, and research.