When Stacey Ardini went to work at Clarks Americas as assistant general counsel, a motto on a wall in the company headquarters told her she was in the right place. "Never Stand Still," it proclaims—which makes sense not only for a thriving two-hundred-year-old shoe company, but also an attorney who is constantly moving forward and looking for new ways to grow.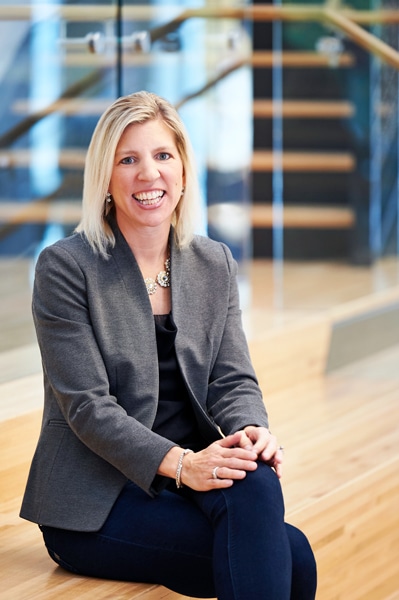 Ardini is quite literally a fast walker, she says. And she's not afraid to make strides in her career, either. A childhood interest in civics, a post-college stint as a legislative aide, and work as a paralegal all contributed to Ardini eventually going to law school at Boston College. After she graduated, the firm where she did a clerkship hired her as an associate and immediately put her into litigation work. She enjoyed it, and was taking each day as it came for nearly eight years.
"I was expecting our second child when I received an email from an internal corporate recruiter that I first thought was spam and almost deleted," she says. It turned out she was being recruited to work in-house with a nationally prominent retail company; after being interviewed she was offered the job, which she accepted.
Positions for in-house litigators are few and far in between, so Ardini feels fortunate that both of her corporate employers saw value in her background in litigation. At Clarks she's now more of a generalist, but her experience in corporate litigation has proved to be useful preparation for her current role. "I'm able to see holes in contracts, to anticipate where the problems might be," she says. "I'm constantly thinking like a litigator, interpreting untidy contract language, and helping the business strategize."
In fact, part of what drew Ardini to Clarks was the opportunity to become a legal jack of all trades, dealing with various kinds of work. Nowadays, she specifically focuses on commercial deals, data privacy and compliance, IP matters, sustainability initiatives, and litigation. She also acts as counsel to the retail and wholesale operations teams, and works with procurement and marketing creatives, which includes inking recent deals with celebrities like Freida Pinto and Alexander Skarsgård. "On a daily basis, being such a small department, we are challenged to wear many hats and tackle a wide array of issues for the Americas region and globally too," Ardini says.
In addition to her day job, Ardini makes time for volunteering, and is passionate about pro bono work. Since 2015, she's been working with Discovering Justice, a nonprofit organization that provides civic and justice education to schools in underserved communities and has served as cochair of the Boston Bar Association's in-house committee, which provides networking and community building for local in-house lawyers. She's also the vice president of the Clarks Companies Foundation, which provides scholarships to high school seniors to help them pursue higher education. The Foundation has even helped her develop a side practice in nonprofit law.
Ardini says Clarks has a great culture, and describes the company as committed to its core values, mindful, and transparent, and populated with creative, driven, and really good people. What's most interesting and challenging for her, she says, is the dynamic nature of retail today. The shift from brick-and-mortar stores to online commerce is evolving and changing by the day.
"A colleague made a brilliant point to me recently on this topic that challenges us to see the opportunity in this so-called disruptive period," she says. "We know retail is going to exist in the future, it's just a question of what it will look like and what the consumer will expect and how companies will deliver. It certainly is not business as usual nowadays. And to be a part of that evolution and growth is really exciting."
Bringing Balance
Stacey Ardini made a move in-house in part because of lifestyle reasons. Her job at Clarks, while still demanding, allows the mother of three to find work/life balance. Her advice for achieving it:
Live close to work. My office is four quick miles from home, proximity that maximizes my presence at work, at home, and at our children's schools.
Don't cancel doctor's appointments. You can't take care of anyone else—kids or clients—if you aren't taking care of yourself.
Ask for help. My husband, who is an amazing father and cook, taught me this. We can't do it all—no one can. Just figure out what works for your family and your career.
Jackson Lewis P.C:
"Congratulations to Stacey Ardini for her exceptional leadership. We are proud to call her our partner and look forward to seeing what she does next at Clarks."
—Keerthi Sugumaran, Associate