QuisLex, headquartered in New York, has positioned itself at the mainline intersection of law, technology, analytics, and program management. The alternative legal services provider is utilizing technology to enable faster and more accurate solutions for early case assessment, document review, and other legal support services. Chief Operating Officer Sirisha Gummaregula says that for the last thirteen years, she has focused on cutting-edge legal solutions, all the while understanding that although technology has the ability to enhance, for any technology to reach its full potential, the people behind it have to be more than technologists. They have to understand the limits of AI to ensure it operates at its absolute best.
Gummaregula says QuisLex provides an interesting expansion of what exactly "legal" can mean. "Law is no longer just the legal side," Gummaregula says. "You need to understand technology, analytics, linguistics; it's really a multidisciplinary area."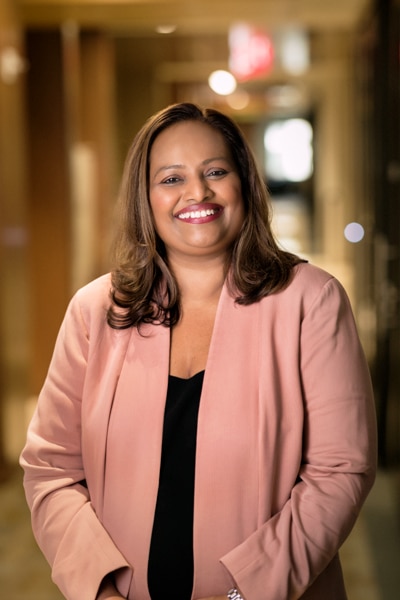 The COO says it's this expansive view of the law that allows QuisLex to truly operate as an effective business partner. By viewing legal issues through a wider lens as an overall business issue, QuisLex provides clients with the highest level of services. "When we are supporting our clients, there are no legal issues," Gummaregula says. "There are only business issues with legal dimensions."
Regardless of the lens through which either the client or the company views a given problem, Gummaregula says that her greatest source of satisfaction is solving challenging problems for clients who may feel like they're up against a firing squad. "Our clients are often in the middle of big investigations or big transactions, and I can feel how stressful these problems can be just by talking with our clients," Gummaregula says. Her aim is always "to be able to quickly come up with a solution that provides not only a short-term accomplishment but a long-term one as well." She continues, "I'm proud to solve these problems thoughtfully, strategically, and with more than a short-gain perspective."
Gummaregula says that while QuisLex excels in using technology to facilitate faster, more efficient results, she is much more conservative about its role than most might imagine. "I'm a big fan of machines and have personally been involved in designing many systems and solutions for a good many of our clients," the COO says. "But technology can only solve for the problems you design it to solve."
Often, in the case of supervised learning, Gummaregula says, the people "teaching" the machines aren't themselves subject matter experts for the problems they're working to solve. It's why when designing solutions, QuisLex places an emphasis on accepting the limitations of what AI can do, closely examining and refining the technological components to make them as accurate as possible.
In QuisLex's efforts to provide far-ranging solutions for customers, Gummaregula says the company has worked to become a knowledge repository for best practices and live analytics. "Our live analytics are built into our modeling, so when an associate negotiates a contract on behalf of a client, they can see live what positions have been taken on similar agreements," the COO says. "They can understand the comfort level of the company, and the decision can be made much quicker. And the revenue follows." Overlaying analytics has allowed QuisLex to draw up customized workflows, which in turn have led to more efficient decision-making.
Most important, Gummaregula says, identifying these best practices and patterns lets QuisLex reuse processes on a constant basis, creating a perpetual cycle of process improvement and efficiency-sharpening tools.
Encountering Six Sigma earlier on in her career, Gummaregula says, aided her in leading Six Sigma black belts at QuisLex. "With analytics and data at Six Sigma's core, it's a much different science than the legal hat I was used to wearing," Gummaregula says. "I was used to wading into an issue and just making a call, but this requires a completely different base of knowledge."
Gummaregula is uniquely suited for her role at a company that prides itself on providing solutions better and faster. Earlier in her career, as an M&A services lawyer, she was required to work in what she calls "unprecedented time frames." "We never really had the luxury of time," the COO says. "Right from the start, the mentality had to be, 'How do I get the same results in the shortest amount of time possible?'"
This preparation in a pressure-cooker environment functioned as a building block to Gummaregula's success at QuisLex. In ensuring results for her clients, Gummaregula has applied her fine-tuned capacity for time management and best-of-class results as a professional at the top of her game. "Our goal is always to execute quickly, on a consistent basis, in a way that can be used again and again," she remarks, "so the problem you're solving isn't a one-time solution."
Empowering Through Inclusivity and Growth
Sirisha Gummaregula says QuisLex distinguishes itself from its counterparts through a comparatively high percentage of women in its workforce. According to the COO, this practice just makes good business sense.
"Having women in the workforce at senior and revenue-generating levels is important, as it helps younger women in the workforce establish role models, set goals, and generally realize that most aspirations in the workplace are achievable," Gummaregula states. "In our company, this is something we track and measure closely. We have more than 40 percent women in our workforce, but more importantly, more than half of our revenue is generated and managed by our women employees. This is tremendous empowerment and something that allows us to foster a culture of inclusivity and growth."