Life is rarely a straight path, but for David Schaffer, the zigs and zags have been particularly dramatic. He's gone from the fairways of Southern California's top golf courses to the streets of Taiwan to boardrooms hosting high-stakes legal negotiations.
Today, he's the deputy general counsel of private equity and strategic transactions at Point72, LP, a global asset-management firm thriving under the leadership of investor and hedge fund manager Steven A. Cohen. Schaffer was instrumental in the firm's successful 2018, closing on more than fifty external private equity, venture capital, and fund investments in that year alone. And, with a legal team that, over the past three years, has been rebuilt and rejuvenated under the leadership of chief legal officer Kevin O'Connor, it's looking like 2019 will be even more fruitful.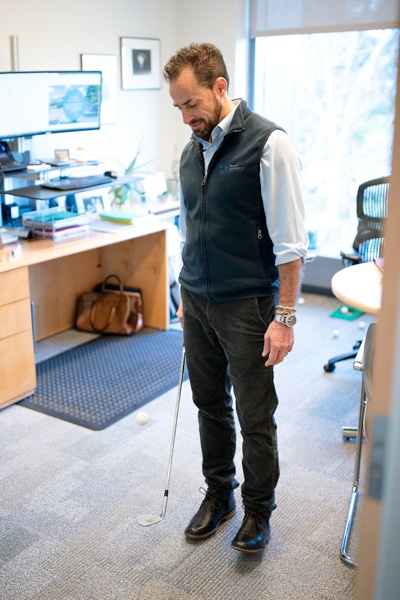 His life almost went in an entirely different direction, however. When he was just twelve years old, he discovered a love of golf while hitting up local driving ranges with his older brothers. That passion grew over the years, and in high school, Schaffer was ranked the fourth-best junior golfer in San Diego County, a distinction that scored him a scholarship from the All-American Collegiate Golf Foundation to compete for the teams at Loyola Marymount University and San Diego State University (SDSU), both Division I schools.
Dissatisfied with his performance at tournaments, however, he decided to try something entirely new. "I was ready to do something different and, frankly, something intellectually challenging, so I started studying Chinese," he says. "I really enjoyed it, had a knack for it, and ended up getting a scholarship to study Mandarin Chinese in Taiwan, through the Taiwan Ministry of Education."
After graduating from SDSU with distinction, he decided to pursue a JD and MBA at Pepperdine University, in Malibu, and his language skills ended up influencing his direction in private practice a few years later. Litigation didn't engage him; he was more interested in the collaborative nature of corporate transactional law. "Part of it is just my personality," Schaffer says. "It's kind of corny, but I prefer to help build something by bringing people together, and deal work is, by its nature, more conducive to that."
His interests led him to Point72, but he still speaks Chinese "pretty well," and while golf is no longer his main priority, he still enjoys playing whenever he can manage to squeeze it in. In fact, the lessons he has learned from the sport resonate in his legal work. Here, he breaks down four of the key philosophies he's taken from the links to the business world.
Keep It Cool
Critical in the game of golf, according to Schaffer, is the ability to limit your highs and lows. "It's good to stay generally pretty unemotional," he says. "Don't get too down on yourself if you have a bad shot or a bad hole—or too high on yourself after a great hole. Instead, just move along and start thinking about the next shot."
In the working world, he adds, you also have to consider your temperament. "That's what I do as a lawyer," he says. "I try to stay even-keeled and recognize, as I did in golf, that sometimes things happen that are outside my control. It's a hard lesson to learn, to distinguish between what's in your control and what's outside of it and to roll with the things that you can't control—while in the meantime trying to limit the bleeding, so to speak."
Remember Course Management
In golf, there's a key strategic concept called "course management." "Basically, you chart the path to a hole while you're standing on the tee box, and oftentimes the best course of action is not a direct path," Schaffer says. "In other words, you shouldn't always shoot for the pin. Sometimes it's best to lay up a little and then chip on from there."
A business transaction, he notes, can operate similarly, with negotiations often requiring a more roundabout route toward a resolution. "When you're negotiating, sometimes you need to steer a deal in a particular direction when you're not getting what it is that you're requesting," Schaffer says. "Regardless of how much leverage you have, you'll likely still need to compromise a bit by giving up X, Y, and Z in order to get A, B, and C—recognizing that a negotiated deal is usually better than no deal."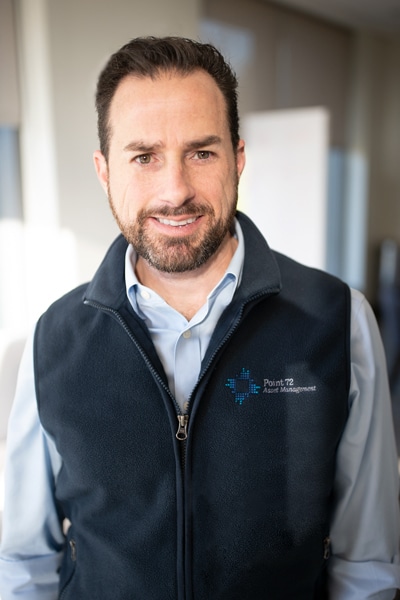 Play with Integrity
"You can tell a lot about a person based on how they act on a golf course," Schaffer says, noting how the intimacy of a four to five-hour walk around a course has impacted the way he operates socially and professionally. On a base level, for example, the sport can really help you become more courteous and patient, not to mention a better conversationalist.
While these qualities have helped Schaffer immeasurably throughout his legal career, there's another course behavior that's helped him become a better professional: "It's the only sport I can think of where you have people regularly calling penalties on themselves," he says, recalling the times he's done it himself in tournaments. "To me, it speaks to their integrity."
Outside counsel who've worked with Schaffer respect his integrity greatly. "David manages deals like a consummate professional," says Charles J. Downey III, cohead of the private equity and corporate group at Finn Dixon & Herling LLP in Stamford, Connecticut. "He focuses on the most important points and makes sure that he addresses the deal points that are important to the other side."
And, integrity is key not just in Schaffer's industry; it's also part of Point72's entire ethos. "While we're obviously focused on generating the highest returns for our investors, we don't consider integrity and performance to be mutually exclusive," he says.
Respect the Opposition
As an in-house lawyer, Schaffer often has an opportunity to hire outside counsel and, in more than one instance, he has actually sought out and hired counsel that have worked across the table from him on deals. "I had good experiences with them as opposing counsel," he says. "I found them professional as well as forceful for their client, so, even though they were at one time opposite me, I reached out and engaged them."
Sportsmanship like that has been a key factor leading to Schaffer's success, and it's sure to lead to more in the future, in the office at Point72 and back on the course.
---
Expertise Spotlight
Finn Dixon & Herling offers a wealth of experience in representing large and small companies, hedge funds, private-equity funds, venture capital firms, investment managers, family offices, and individual clients.
The firm's attorneys draw on decades of collective experience to provide efficient legal services with a high level of sophistication. Their extensive knowledge of the private-equity, venture capital and investment-management industries enables them to provide clients with insights on structuring, deal terms, industry trends, and current practices—and to approach client service from a practical perspective.
Moreover, the seasoned attorneys in the firm's Litigation and Government & Internal Investigations practice groups (including past SEC officials and former prosecutors) represent corporations, investment funds, investment advisers, broker-dealers, and individual clients in connection with a variety of commercial disputes and in connection with criminal and regulatory investigations, at both the federal and state level.
Finn Dixon & Herling's ability to provide its clients with solution-oriented advice on a wide range of business law issues is reflected in it being the only firm named to Chambers USA 2018's top tier, "Band 1", for Corporate/M&A law firms in Connecticut. The firm has been in the top tier for fifteen straight years.