If Peter Castelli's career were a shape, it would be a circle. The new senior counsel at firm Winston & Strawn has found a way to go up the legal ladder in an orbit, returning again and again to role models and bosses he's had along the way. "The mentors I had were extremely important for me, because it's something I've tried to emulate with people I care about or who I think have potential," Castelli says. "I was lucky enough to have people who nurtured and cared for my own career, and it's allowed me to experience some things that may be quite unusual for a lawyer." That's something of an understatement.
From Legal to Business to Legal
In his twenty years at firm Tate & Lyle, Castelli moved first from legal to business, then from business back into legal, and in the process earned himself the role of "business partner" in a way that few in the legal department are ever able to. "The roles I was allowed to play early in my law career really opened me up for these possibilities," Castelli says. "Ultimately, it led those leaders at Tate & Lyle to really take a gamble on me running a P&L [profit and loss account]."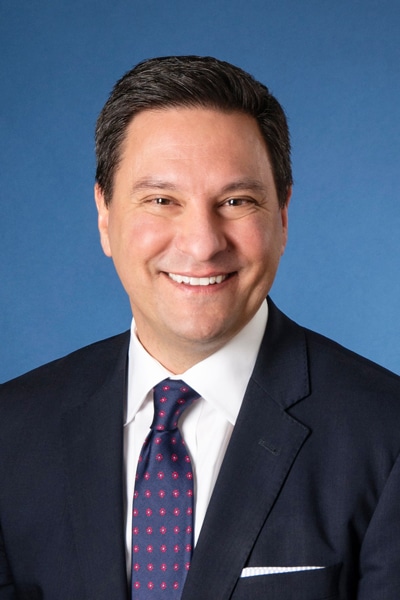 Castelli says early experiences working on mergers and acquisitions deals helped provide him with understanding of business outside of his normal roles. "I demonstrated an interest in the business," Castelli says. "The success of those M&A deals gave me a chance to throw caution to the wind and move into those business functions."
Over seven years, Castelli amassed business experience that would prove hugely beneficial when moving back into a legal role. "You look at things very differently when you're running a P&L than when you're just advising someone running one," Castelli says. "It gave me the opportunity to be a business conversation partner and I think really gave me some credibility when moving back into a legal role."
From Mentee to Mentor
As Castelli prepares for a new position at Winston & Strawn, the lawyer says that he hopes to be able to bring his penchant for mentorship to some of the younger lawyers. "I can provide some perspective of what it's like to interact with your colleagues on the in-house side," Castelli says. "There's always a little bit of conflict in that interaction, and I think there are ways to mitigate that."
The lawyer also believes that his business acumen will be put to use in his new job. "I want to help them grow their business," Castelli says. "That will take some time, to figure out just how I can be of value in that regard, but I'm confident there are some areas where I can help."
Secure Hiring
In his previous position, Castelli hired literally every lawyer (except one) who worked at the firm, and he said it's provided a great deal of insight into leadership and development. "The key for me is being secure enough to hire people that are smarter than me," Castelli admits. "You see this with younger managers who are a little more insecure about their own management role, but there is a strength in humility." Castelli says proudly that virtually anyone who has worked under him was probably a better lawyer than he was, and that allowing those lawyers to flourish is the key to not only effective mentorship but leadership on the whole.
While the firm life may offer some new surprises, Castelli says the same curiosity that lead to his taking on business responsibilities will make him effective in his new role. "While I'm not looking forward to billable hours, I think this is going to be a very interesting move," Castelli says. "I've been really lucky to [have] the opportunity to do a lot of unique stuff, and I know this will be another great challenge."
***
Foley & Lardner LLP:
"Pete excelled at helping Tate & Lyle advance its business goals within a complex regulatory and legal framework. His depth of knowledge of the legal and commercial considerations within the food industry made him an exceptional client to partner with."
–Nate Beaver, Partner, Business Law Department