The future of Nathan Brown's legal career consisted of a piece of paper tacked to a bulletin board at the University of Utah Law Library. It wasn't even Brown's university; it was just close to his home and a good place to study. "It was less than a year after I'd taken the bar," Brown says. "The job board had a posting for a legal position at Walmart, and that's where my journey really started."
The lawyer is unique in that while he wasn't sure what path his law career would take him down, he realized almost immediately that the firm life of billable hours and hyperspecialization wasn't for him. That realization would eventuate a career steeped in retail expertise and highlighted by a fundamental mastery of setting strategy, defining scope, and taking command of a team capable of taking on increasingly complex issues without having to grow in number. The now corporate counsel at The Kroger Company has tackled legal roles at the first- and second-largest general retailers in the US, always focusing on the big picture and honing a knack for selecting the right outside counsel for the right job at the right price.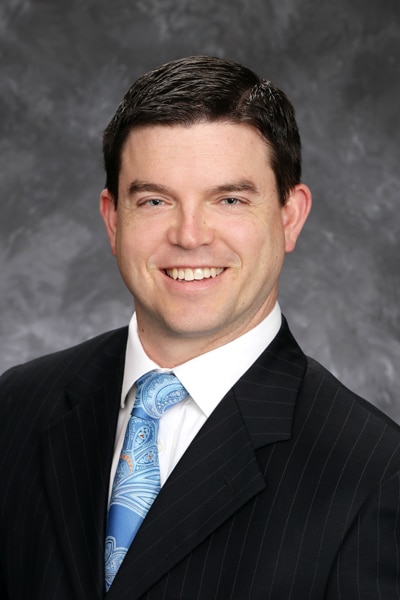 An Immediate In-House Attorney
            Brown's growth into an in-house role is relatively unique among lawyers, as many organizations require attorneys they're thinking about bringing in-house to spend a few years out in the wilds of law firm life. The problem was that after interviewing at several large East Coast firms and receiving offers from some, Brown knew that he didn't belong. "While the salary might have been great, the lifestyle didn't look appealing to me at all," Brown says. He elected to work as a law clerk and associate attorney while waiting for his bar results. That's when he noticed the Walmart posting and decided to apply.
"Not many in-house jobs allow someone with less than five years of experience to join them," Brown admits. "I was barely even a lawyer yet." But Walmart has a history of taking on young attorneys at a lower price point, and anything seemed better to Brown than the ten hours he was spending in front of a computer doing estate planning.
The mammoth size of the company allowed the neophyte lawyer to immediately be entrusted with issues whose monetary stakes dwarfed anything he had seen previously. "They could give me matters of substance because they had so many," Brown says. "It may not have hit big on their radar, but being given matters to run right off the bat provided me with immediate opportunities to grow."
Assuming control over his own cases meant Brown was suddenly tasked with managing outside counsel. "It was sort of essential to learn how to assess the quality of the work they're giving you and what you're paying for."
Defining the Role 
            Brown spent seven and a half years at Walmart, serving in roles from compliance to insurance coverage to corporate investigations and tort litigation. "They allowed me a wide variety of roles and autonomy in how I approached them," Brown says. "They weren't shy about letting their people learn new things."
The lawyer was able to bring that expertise to Kroger in 2010 when he was offered a role that was too good to pass up: the chance to define a brand-new function. Brown was charged with the creation and framing of the tort litigation and discovery responses team, which would comprise Brown and four paralegals that he would hire. The lawyer says this role is one of his proudest accomplishments—and for good reason. The team has been together for nearly a decade with barely any turnover: a rarity in any field, let alone law.
Brown says that lack of turnover has meant his team has learned over time how to assume more—and greater—responsibilities without having to add more manpower. "There are always people wanting to offer you a solution in billing or some AI capability, but the likelihood of that adoption is low because we just manage with the resources that we have: our brains and our people," the corporate counsel says. Team cohesion and experience have led to the team's taking third-party subpoena responses and shifting to an increasing focus on ADA litigation.
"In order for outside counsel to be effective, there must be a relationship of trust with in-house general counsel. With Nathan, that trust begins and ends with his word," says Frank D'Oro, partner at Wesierski & Zurek and a close colleague of Brown's. "Because you can always count on it, true teamwork results between in-house and outside counsel."
Over the years, these relationships have strengthened Brown's credibility as a lawyer and have bolstered his and his team's success. Many of Brown's colleagues, such as D'Oro and Adraon D. Greene, director at Galloway, Johnson, Tompkins, Burr & Smith, are effusive in congratulating Brown and wishing him continued success. Greene remarks, "Nathan's commitment to Kroger and focus on team cohesion foster a partnership that encourages strategic, innovative, and efficient case handling. Galloway values and appreciates his stewardship, leadership, and friendship."
"The Pure Essence of Being a Lawyer"
            Coming to Kroger has allowed Brown to take on a more holistic set of duties, managing the litigation process and having a chance to think bigger. Especially when it comes to litigation, Brown says that learning to effectively manage outside counsel over the years isn't just essential for the company's bottom line but also for Brown's ability to maintain his scope. "Sometimes the best decision I will make on a matter isn't necessarily what to do but who to assign it to," Brown says. "It's more than just finding a good lawyer. There are lots of those. It has to be the best lawyer at the best price with the best philosophy."
Brown and his team's ever-expanding responsibilities are a tribute to the lawyer who has in-house in his veins. On any given day, he's helping better align the multitude of acquisitions Kroger has made over the years, negotiating a sponsorship deals, or assigning litigation to outside counsel. It's a role the corporate counsel relishes. He says that in many ways, in-house work mirrors his law school experience. "When I come into the office on a normal day, I'll have dozens of emails on different topics, and there just is no way to do a deep dive on each and every issue," Brown says. "You have to pick and choose and just keep moving. In many ways it feels like it's the pure essence of being a lawyer."
***
Expertise Spotlight
Efficiency, aggressiveness, accessibility, responsiveness, and value. For Galloway, it's our mind-set and our time-honored processes that allow us to achieve great results. We understand the importance of resolving claims quickly and cost efficiently. These principles have guided us for more than thirty years in thousands of cases across multiple practice areas. Our core purpose is to ensure our clients' interests are aggressively represented and protected. Our proactive strategies—from initial investigation through early resolution, dispositive motion, or trial—have proven successful for our clients time and time again.
Galloway has built a stellar reputation by consistently exceeding client expectations. We partner with our clients to create responsive and results-oriented relationships. We endeavor to treat each client and matter as if it were our only one. Frequent client communication (always with a sense of urgency) of good and bad news is a cornerstone of our approach.
The key to our approach is our experienced team of attorneys and staff, who are committed to each client's legal needs, risk preferences, and guidelines. Our deep industry knowledge, strategically focused practice areas, and geographic footprint, with offices in the entire Gulf South, Georgia, and Missouri, position us to best serve our clients now and in the future.
***
Expertise Spotlight
Wesierski & Zurek LLP has been committed to providing legal representation for major corporations, insurance companies, and self-insured public entities for more than thirty-five years.
The firm was recently selected as one of the top "go-to" law firms in the country by The American Lawyer and has an AV rating (the highest possible rating) by Martindale-Hubbell.
The firm's areas of expertise include general civil litigation, public entity liability, insurance "bad faith" defense and coverage work, business litigation, appellate practice, insurance defense, product liability, professional liability, personal injury, the representation of employers and employees, premises liability, transportation companies, complex litigation involving real property (land subsidence), toxic torts, and discrimination.
The firm enjoys an outstanding reputation from San Diego to San Luis Obispo and San Bernardino. The firm's attorneys have trial experience in many different venues, including state court and federal court. The firm has six acting partners, four of whom are members of the American Board of Trial Advocates. The firm's reputation is built on its recognition for obtaining superior trial results in contentious litigated matters.