"There's this idea that legal departments are where creativity goes to die," says Michele Totonis, director of legal affairs at the LEGO Group. "And that may be true of some corporate environments. But here, our legal department is where new ideas come to life."
Totonis has been fascinated by intellectual property (IP) almost as long as she's been working in law. Destined for the law (at least according to her family), Totonis earned two bachelor's degrees before completing her JD at the Quinnipiac University School of Law. When working on an estate case while in law school, the entire trajectory of her career changed. One of the executors of the estate happened to be a principal partner at a well-regarded boutique IP firm, and he soon persuaded Totonis to join him there.
"To this day, I still consider him to be the most important mentor of my legal career," Totonis says. "He taught me so much about IP law but also about client relations, negotiations, and business savvy. He had this magical way of making every person he spoke to feel like the most important person in the world, no matter who they were or what their job was."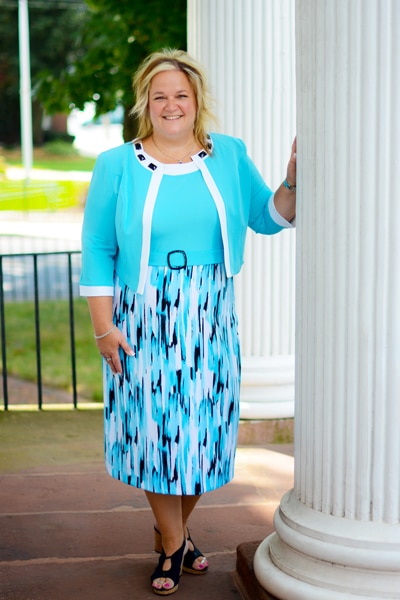 Inspired by her mentor, Totonis specialized in IP law. "The idea that you can protect the concepts that are born from people's own minds is incredible," she enthuses. "I'm able to help people in such a unique way."
At the LEGO Group—where Totonis has a hand in everything from the LEGO movies and various television series, to the company's agreements with Disney and all other major license and IP partners, to the product design for on-the-shelf retail merchandise—"unique" is probably the best way to describe the wide-ranging scope of her responsibilities.
"I was joking with a colleague of mine the other day that what I do to oversee IP and PMD means that I have a kind of unicorn role," Totonis says, chuckling. "But it's like that saying, 'Love what you do and you'll never work a day in your life.' What I get to do every day doesn't really feel like work to me because I love what I do. It's incredibly rewarding to help bring one of the most iconic products in the world—and the thrilling stories surrounding those products—to our fans across the globe."
LEGO fans may be scattered worldwide, but because of the LEGO Group's flexible policies, Totonis and her colleagues get a visual reminder of those fans every single day. "We take children very seriously here. Obviously, we put them first in terms of product development, but that's also true of our lives here at the company," Totonis notes. "Kids are always welcome at our corporate offices, so it's not unusual to walk into the office and see a big group of kids running around and playing. Putting family first isn't a catchphrase for us. It's something we live and breathe."
Totonis's own children have been a major inspiration for her as she has endeavored to manage and engage with her teams in Billund, Denmark, and beyond. "I took my oldest son to the premiere of the first LEGO movie," Totonis says. In the months leading up to the film release, she had been talking with the IP lawyers, the screenwriters, as well as the various partners involved in the making of the movie, and she often took those phone calls when her son was nearby.
"During the movie, he heard a line that was verbatim something I had said on the phone," Totonis remembers. "After the film ended, he turned to me and exclaimed, 'You wrote that, Mommy!' That is one of my proudest moments as a parent."
Totonis herself has been a LEGO fan ever since she was a child. "I've gotten a huge kick out of being able to share my original LEGO sets with both of my sons," the director says. "That's what's so intriguing about the brand. It has permeated the culture around the globe. It spans generations. And it just continues to grow, expand, and evolve with each new wave of kids that comes to love it and experience it in a completely new and different way."
And it's not just children who delight in the world of LEGO toys. While attending children's birthday parties, networking events, and myriad other social engagements, Totonis has discovered something she calls the "cocktail party factor."
At any such social event, she says, you can introduce yourself one of two ways. You can simply say, "I'm a lawyer," which will most often get you a fairly lukewarm reaction. Or you can say, "I'm a lawyer, and I work for the LEGO toy company," and just sit there as the people around you share story after story about their kids and grandkids and their own favorite LEGO products as children.
"I've never seen any other company or brand that elicits that same reaction when you're in those circumstances," Totonis laughs. "It's such a beloved brand, and the excitement is almost universal. I'm proud beyond words to get to be a part of it. And I get a huge kick out of the cocktail party factor."
Not Playing Around
LEGO is one of the most well-known brands in the entire world, but some of the company's most meaningful work often goes unnoticed, Totonis says. The LEGO Foundation donates millions annually to support a variety of humanitarian causes, and LEGO Education focuses on the development and deployment of a whole host of educational products designed to help children of all ages learn programming, coding, and other STEM-based skills.
"We want to help children all around the world," Totonis says, "whether that means investing in wind farms to bring sustainable energy to communities, building playgrounds, or donating billions of LEGO bricks to emerging communities."
***
Fross Zelnick Lehrman & Zissu, P.C.:
"Michele's passion and creativity in protection of the iconic LEGO brand are inspirational. We treasure our long-standing relationship with Michele, and it's a pleasure to see her recognized by Modern Counsel for her contributions to the legal community."
–Laura Popp-Rosenberg, Partner
***
Wang Law Corporation:
"It is a treat working with Michele and her team. Michele has great instincts, and she is an inspired leader with a capable and steady hand in continuously changing environments. Congratulations to her for this well-deserved recognition."
–Annie S. Wang, Founder and Principal