When Matías Hercovich left his silk tie at home and first walked into his new office in the Casco Viejo section of Panama City, he thought he was following his boss's instructions to dress down. Coming straight from the buttoned-up legal world of New York and Miami, used to suits and institutionalized formalities, he was shocked to find the CEO of Selina, his new employer, in T-shirt and flip-flops. "Flip-flops," he says. "I thought, 'Can I work in a place like this?'"
Years before, Hercovich had departed his native Chile to learn best practices at Columbia Law School and find opportunity in the US—dreams he had been fulfilling while working in immaculate offices with well-dressed people. Now he found himself global vice president of legal at Selina, a hospitality and experiential start-up with a great track record. It also, apparently, came with flip-flops.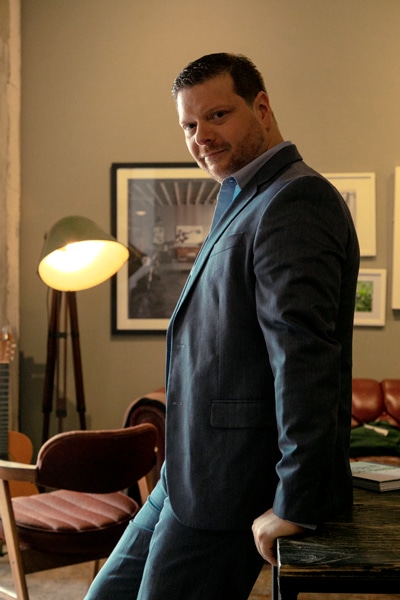 Hercovich's previous position had been general counsel for a Blackstone-backed corporate telecom infrastructure company. "It was very sophisticated," he says. "But we were building towers. Our most important asset was steel. Steel—it has no feelings." Selina offered a welcome change. "This company is about people making meaningful connections," he says. Despite the initial shock, he stuck it out, saw how well his coworkers treated each other, and fell in love with the company—informal footwear and all.
The feeling may not have been entirely mutual at the beginning. "I think the CEO felt that things would be better without lawyers. Like the world would be better without lawyers," says Hercovich, laughing. He accepted the challenge of demonstrating his necessity, which took just a few months. When he closed his first deal, a property in Nicaragua, he not only used his legal expertise but also demonstrated the cultural competency needed to gain the sellers' trust. That proved Hercovich's utility, and his blend of people skills and systems development has continued to be a huge benefit to Selina. The company now holds more than fifty-five properties across fifteen countries on three different continents and is valued at around one billion dollars. "Almost a unicorn," Hercovich says.
Founded in 2007 and named after the Greek goddess of the moon, Selina has been on a rocket-like trajectory, with locations throughout Latin America. And the company is continuing to expand: in 2019 it launched in the US (New York and Miami) and Europe (Portugal, Greece, and Germany), and is also on track to open properties in Asia and the Middle East in 2020.
Hercovich, who has been key to this growth, says his job is "to manage a talented group of lawyers to achieve company goals." The legal department, which ran on a bare-bones staff of three when he arrived, is now thirteen strong. His role spans both supporting business development and gatekeeping. "You don't want to be the no-sayer, but you don't want to take risks that will hurt the company," he says. Rather than letting those potentially contradictory functions conflict, Hercovich brings them together in a cohesive system.
When Hercovich arrived at the company it mostly lacked standardized legal assessments, relying instead on instinct to achieve commercial growth. Unlike his previous employers, Selina had no existing framework to lean on. Hercovich applied the experiences gleaned over the course of his career to build a new structure, leading transformation to what he describes as a "faster and safer" method, utilizing standardized contracts and focusing on legal risk assessment. This framework has facilitated the company's scaling up. Before his arrival in 2017, the founders averaged one property closing every four months, whereas Hercovich says Selina now negotiates an average of 4.2 deals per week.
"Every country is a different world."
Along with changing contract systems, Hercovich insisted on other remodels after joining the company. Attorneys, both in-house and outside counsel, no longer receive incentives to close, and no attorney reports to a department outside of legal. "This was about ensuring the quality of evaluation and documents," Hercovich says.
These shifts reflect a focus on the big picture. "If you want an IPO, you need the house to be organized in a way it can be understood and fulfill promises," Hercovich explains. As Selina expands to the US, Europe, and Asia—areas where regulations are generally tighter—his systems will be tested. So far, his work has buoyed growth and supported the advantage of a detailed risk assessment.
"Every country is a different world," Hercovich says. Most of the contract work in Latin America can adhere to a single legal backbone that runs through the region. Now, with the expansion into other continents, Hercovich must manage a team working in vastly different time zones with varying cultural norms and legal traditions. Still, he welcomes the challenge of replicating his previous success. "Ninety percent of the work is setting up structures that will function in more regulated and sophisticated systems," he says.
As Selina grows, Hercovich's department continues to oversee a long list of functions: corporate law, real estate law, labor, litigation, compliance and risk management, corporate governance, transactional work, and M&A—a dizzying array of duties that doesn't seem to daunt him one bit. He subscribes to the company's sensibility, which he describes as "taking their work, but not themselves, seriously." While Hercovich still hasn't come around to doing this exploration in flip-flops, he admits that when working from home, he now sometimes does it in his socks.
***
Eversheds Sutherland:
"Matias's strong commercial acumen, dedication, and drive to succeed are inspirational. He is an excellent lawyer who leads by example, and we congratulate him on his well-deserved recognition in Modern Counsel."
–Wesley Pydiamah, Partner