Since 2002, Kevin Boyle has specialized in government services—that is, managing legal for companies whose primary customer is the United States government. "Much of what we do involves managing operations for the facilities where our war fighters live," Boyle says. "We have some seven thousand employees, most of whom are in the same locations as those soldiers, and you can't be successful in a position like this unless you really appreciate and value the mission that our company is performing."
Now, as senior vice president, chief legal officer, and general counsel at Vectrus, Boyle is using his nearly twenty-five years of experience both in government services and the high-tech industry to serve in what he believes is a privileged role: aiding America's military personnel by "making their home away from home feel a little more like home."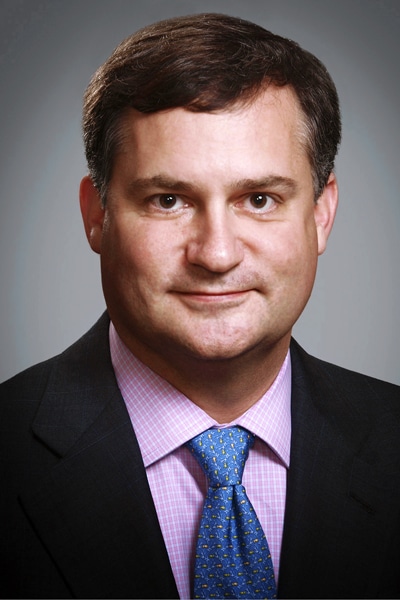 Boyle has had the good fortune to work mostly for companies on a growth trajectory. "I've worked for a lot of companies that have successfully achieved a certain amount of success and are looking to make it to the next level," he says. "I've been lucky to have worked with organizations and led legal teams that were key contributors to getting those companies to whatever their next level was, whether measured by revenue, number of employees, or reducing risk and eliminating barriers to growth."
Along with a slew of government services positions, Boyle spent time at a series of equity-backed companies that required a deep understanding of corporate strategy, with an eye on process improvement and growth management. "Private, equity-backed companies are on a mission to grow, and I've been lucky to be at companies that have grown dramatically."
Sometime after Boyle joined Vectrus, the company announced that the United States Army had named the company as one of four contractors for LOGCAP V, a historic $82 billion logistics civil augmentation deal. While Boyle isn't at liberty to disclose specifics due to the deal's ongoing appeals process, the deal offers a great amount of insight into just how specialized and complicated the world of government contracting can be.
For example, the government allows a protest period in which any interested party who was not selected for a government contract can have their case reviewed. "The protest process is a unique feature of doing business with the federal government," Boyle says. "There are some companies whose reflexive action is to challenge, but it's something I'm very selective about." He says developing a reputation as a serial protester undermines credibility and can hurt when it matters most.
Legal is also able to help Vectrus navigate the exceedingly competitive marketplace of Department of Defense contracting. From work that the company is currently doing—and wants to continue—to generating entirely new areas of business that Vectrus hasn't yet gotten into, legal is responsible for collaborating with the business development team to assist in pricing processes and providing the right information for bids.
"I want to make sure that my team feels value in what they're doing and that I'm giving them the right opportunities to be successful in their career paths."
Along with Boyle's more traditional oversight of ethics and compliance, contracts, and facilities and security at Vectrus, the very nature of the company's government collaboration requires legal to understand the company's positioning at all times. "Employing really strong leadership at the top of my teams is key," he says. "I do one-on-one meetings with each of my department leads every week, and it's an opportunity for them to engage me to help drive their projects forward."
Boyle also employs outside counsel with industry-specific expertise to fill in gaps when needed. "These aren't firms who spend the rest of their day helping retailers," he jokes. "The firms that I've selected to work with are the ones that understand what our business mission is; they have to have a grounding in the business." The GC keeps several different firms in his orbit because the incredibly competitive nature of government bidding often places expertise-intensive firms in conflicts of interest with their various clients.
Fulfilling the mission of his organization is certainly enough to make him proud, Boyle says, but there is an added benefit of watching those on his team develop and grow. "I want to make sure that my team feels value in what they're doing and that I'm giving them the right opportunities to be successful in their career paths," Boyle says. "That's really important to me."
***
Dentons:
"We congratulate Kevin Boyle on this well-deserved recognition. Kevin recognizes that the delivery of solutions is all about teams that serve with passion, dedication to excellence and commitment to its mission, which he achieves internally and in working with outside counsel on selected matters."
—Steven Masiello, Chair of Government Contracts team at Dentons
***
Morrison & Foerster LLP:
"Kevin Boyle is the perfect fit for a company like Vectrus. He's intelligent, experienced, and pragmatic. We expect great things for Kevin and Vectrus in 2019."
–Kevin Mullen, Co-Chair, Government Contracts Practice Group