"Expect the unexpected," Jaime Heins says. He accepted a position as senior counsel at Keurig Green Mountain in 2015 in part because he wanted the experience of working for a large public company, and the very next year, it was acquired by a group of investors and went private. In 2018 Keurig Green Mountain merged with Dr Pepper Snapple Group, forming the company now known as Keurig Dr Pepper, which is back to being publicly traded.
Heins, who focuses on commercial transactions, real estate, and litigation at Keurig Dr Pepper, is unfazed by the dramatic changes that have taken place within the company during his tenure there. "I learned going into this that you need to be very resilient," he says. "You need to be flexible in an industry like this because things can change very quickly. It's been an incredibly dynamic and transformative five years."
He's certainly met his goal of working for a large company: Keurig Dr Pepper is the third-largest beverage company in North America with more than 25,000 employees. Prior to being hired by Keurig Green Mountain, Heins spent nine years working for Burton Snowboards in Burlington, Vermont, which he describes as "a private company that is a very strong brand globally but just wasn't a growing business." He wanted to expand his repertoire, he says. "I felt like there'd be more challenges and more opportunities all around working for a bigger company in a more dynamic industry."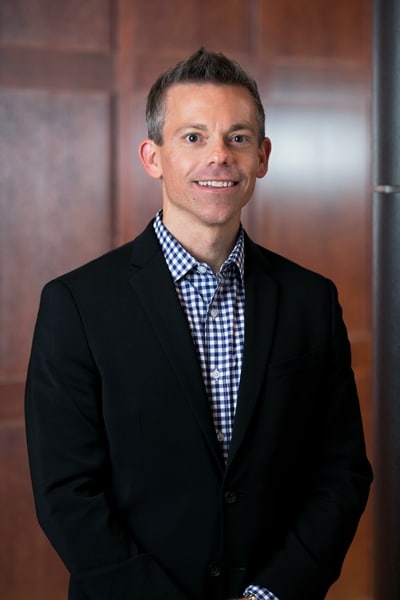 His current position not only allowed him to stay in the Burlington area—a boon, especially since his wife is also an attorney—but also expand his skill set. "I came in as purely a transactional lawyer, supporting the business—everything from supply chain to commercial activities, customers, retail accounts, et cetera," Heins says. After he'd been at the company for a couple of years he saw there was anti-trust and commercial litigation happening that the general counsel didn't have the bandwidth to manage because he was being pulled in other directions.
"I put my hand up and just asked, 'Can I help with this?'" Heins says. "One thing led to another and that just really tacked on an additional part of my job, which is commercial litigation support for the legacy hot business, as we refer to the coffee systems." If you're versatile and willing to put yourself forward and try new things, he says, you can choose your own path rather than waiting for people to find you.
Heins wasn't involved in the 2018 merger (other attorneys led in that effort), but his experience in the consumer packaged beverage industry includes sales and marketing advisory support for the company's US operations, leading strategic licensing transactions for Keurig Dr Pepper's hot beverage portfolio partners such as Starbucks, Dunkin', Peet's Coffee, and McCafé. He describes himself as "a utility player in a commercial generalist hybrid role, with a legal skill set that suits my career preferences and allows me to interact cross-functionally with most of the organization."
Another secret to Heins's success may trace back to his upbringing: he was the second of nine children. "I had to develop listening skills pretty early since there was always someone talking and the default was to listen until you could get a word in," he says. "The key to any client relationship is to listen to what the client wants, understand their needs and goals and concerns, and communicate clearly how the project and work will proceed." He adds, "I tend to be a listen first type of personality and it feels like that's served me well in the in-house legal world."
The company philosophy also meshes well with Heins's own beliefs. While in law school at the University of Pennsylvania, he embraced the concept of leading from the middle. "The idea is to develop leaders who can be effective at driving change at any level of an organization," he says. "In other words, it's not all top down from the C-level." That means everyone in an organization should strive to be a leader in some respect, from senior leaders to middle managers to front-line and field employees.
Heins says that company CEO Bob Gamgort believes in high-performance training, which is a similar concept. "It's essentially leading from the middle—really just giving everybody at every level of the organization decision-making authority and accountability," he says.
If you're not getting the leadership opportunities you want within your own organization, Heins says, volunteering is a good option—and it might even enhance what you bring to your day job. "You can look at your community, nonprofit board service, local elected office; there's no shortage of leadership opportunities if you expand your sights," he says.
Heins himself has done just that: after relocating to Vermont in 2005, he jumped into volunteering with local boards, committees, and commissions, such as the Greater Burlington YMCA, South Burlington Land Trust, the Shelburne VT Planning Commission, and as an elected official on the Shelburne Selectboard. "Governing is hard work, even in a small town," he notes. "I think these experiences translate back to your professional experience in a lot of ways; you just bring different things to the table. My public service experience has helped me to fine-tune my leadership skills and make me more effective in my day-to-day job."
***
Ropes & Gray:
"I have been through bet-the-company litigation with Jaime and know from experience that he is a steady hand, a valued voice, an indispensable sounding board, and an insightful teammate. Plus, he's a lot of fun."
—Randy Bodner, Partner