Howard Hirsch knows that building a legal department from scratch is about more than just hiring new employees. It's about fostering an agile mind-set, providing opportunities for learning and development, and establishing a culture that inspires employees to work toward community impact with the same energy and commitment that they bring to each and every business interaction. And as chief legal officer at Griffin Capital Essential Asset REIT, a publicly held real estate investment trust, and before that at Griffin Capital, a nationally renowned investment asset manager based in California, that's exactly what Hirsch has been able to accomplish.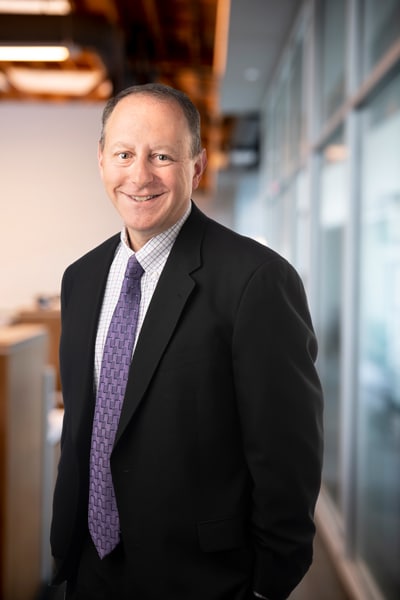 Something New
Hirsch has always wanted to "be involved in working towards legal solutions that make good business sense," he says. And after graduating from the John Marshall Law School, Hirsch remained true to his solutions-oriented ideals as a corporate attorney.
"I really tried to focus my practice on being more of a practical lawyer," offers the CLO. "I looked at the law but also the business side whenever I gave advice to clients. And that attitude landed me at Griffin Capital."
According to Hirsch, he worked quite closely with Griffin for several years while in private practice. So closely, in fact, that in 2014, when the company's leaders asked him to leave his firm and come to Los Angeles from Atlanta to be their general counsel. Hirsch knew and worked with not only all of the executive officers but "just about every single employee at Griffin."
"I had a great deal of institutional knowledge of the company, and I believed in their vision. And they were also just very persistent," he adds with a laugh. "I was happy where I was, but they were very determined that I should come work for Griffin."
But when Hirsch was hired, there were no other corporate or securities lawyers working in-house at Griffin. As a result, he had the responsibility—and the freedom—of creating his own legal department.
"I got to create the procedures and standards that I wanted," Hirsch recalls. "I didn't have to fall in to how it was being done before and was able to create them from scratch. It's been a challenging move, certainly, but also an exciting one—I'm invigorated every day by the work I do."
Initiating Good
To Howard Hirsch, Griffin's Charitable Initiative is one of the company's greatest achievements: it brings together a cross-functional unit of volunteers who promote and participate in community activities throughout the year, from building houses with Habitat for Humanity to organizing backpack drives at schools and volunteering at food banks.
"It's a very popular initiative here," Hirsch says. "It's all about creating activities and selecting causes where people want to participate, and it's been helpful for building company morale and also being a part of doing good in the communities around us."
A Team Effort
Hirsch wants his team to feel invigorated, too. "I never want my team to be bored or complacent," he says. To help empower his team to grow and develop, he encourages them to handle some of the legal projects they find interesting and engaging and then employ outside counsel to manage some of the remaining matters.
"One of the things that's most important to me is making sure my team has flexibility, authority, and some autonomy," Hirsch says of his team. Of course, that autonomy-focused approach would not work without high-caliber external legal teams, notes the CLO.
"I have a very simple strategy," Hirsch says of his coordination with those external teams. "I expect the same level of legal service and attention that I provided when I was in private practice and that my team provides to our business functions. I rely on outside counsel for different matters, and I need to have complete trust in their abilities and responsiveness. There are only two types of outside counsel, one that makes my life easier and one that makes my life harder. You can easily figure out which type I prefer."
In order to achieve that level of complete trust, Hirsch always makes a point of hiring lawyers, not law firms, he explains. "Not every firm has great lawyers in every single area—they like to tell you they do, but that's not always the case," he points out. "You've got to find people who are comfortable working with your team, who understand the work, and who think your business is important."
The Griffin Community
In addition to building and developing the legal team, Hirsch has also worked with the company's leadership team to cultivate a culture that is "open and welcoming."
Griffin's Women's Initiative, for example, includes all women working at the company—not just the lawyers. As Hirsch notes, an open and welcoming community is one that not only embraces employees themselves but also the things that are most important to those employees.
"We have a monthly grant program where the firm donates $1,000 to a cause that's important to one of our employees," he says. "The approval process is thorough but not intimidating and includes writing a short essay explaining why that charity is worthy of the grant."
That program and many other initiatives have seen great success at Griffin, Hirsch says. And after helping to build the culture and team capable of sustaining that kind of success, Hirsch feels revitalized and ready to take on the future.
"I've been practicing law for more than twenty years," he says, "but sometimes it feels like it's only the beginning."