In the legal field, as in many others, success is in large part determined by your experience and who you surround yourself with, through mentorships, hiring, team culture, and more. Eldridge Burns has experienced this again and again over the course of his twenty-five-year career, one in which he has made several big moves thanks to the inspiration, support, and wisdom of close colleagues—and one in which teamwork has become a central pillar of his business philosophy.
"Teamwork is crucial, and culture is everything," says Burns, today the general counsel for Topgolf Entertainment Group, a global sports entertainment company. "Your people need to complement and respect one another and work productively—often under periods of intense work or stress. There is a great deal of trust among the members of my team, and we rely on each other's unique experiences and areas of expertise. We are all working toward the same goal."
The son of a US Air Force colonel, Burns first began developing his appreciation for teamwork while living in Germany and playing soccer as a child. His family eventually settled in San Antonio, Texas, and after high school he played soccer at Southern Methodist University (SMU) and majored in business. During his junior year, he took a business law class, and his professor, Walter Sutton, so impressed him that started seriously considering practicing law.
"I don't know if he knew it, but his influence was a big reason I decided to go to law school," Burns says. "It wasn't something I knew I wanted to do until I met Professor Sutton. I liked the way he looked at things."
After graduating from the University of Texas School of Law, Burns entered the professional world as an associate at Vinson & Elkins before moving in-house to Blockbuster as vice president and senior corporate counsel. While there, he kept in touch with numerous teammates and colleagues from SMU, one of whom hired him as chief legal officer and general counsel at Santander Consumer USA; then, later, he recommended Burns as Topgolf's first general counsel.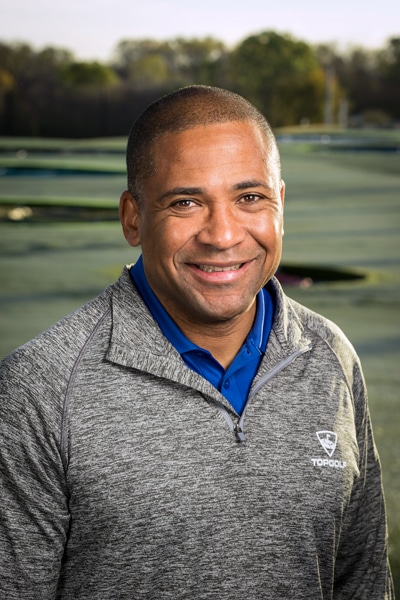 "I chose corporate law because it allowed me to be involved in both the legal and business sides of the company," Burns says. "As soon as I finished the interview with Topgolf, I thought, 'I won't to take no for an answer.' The culture at Topgolf was so amazing and energizing."
As general counsel, Burns immediately set to work learning what he could from and about the company's other legal and risk professionals. "There are typical challenges when growing a business," he says. "Surrounding yourself with terrific people is the key to navigating a company through growth and its challenges. I was fortunate in that Topgolf already had plenty of good, smart, and experienced legal and risk professionals and that I wouldn't have to make a lot of changes. One of the major plusses for me was that I was not the first lawyer at Topgolf."
He's referring specifically to Liz Bonesio, the company's first in-house counsel, who, with her team, was essential to every single venue being opened. With fifty-two venues worldwide and counting in the Topgolf portfolio, including recent international locations, her work has been invaluable. As deputy general counsel, her role has expanded, allowing the legal group to remain lean while still providing excellent service to its business partners.
"Liz already understood the culture," Burns says. "This was also true for the risk group, led by Helen Irizarry, director of safety and risk management. In fact, they helped create the culture. Liz, Helen and I also had the same philosophy, so there was no need to make a bunch of changes. We are very engaged with the business aspect of the company and are reliable and responsive business partners. We have carried that forward as we and the company grow."
Burns eventually convinced assistant general counsel Jason Clark to follow him from Santander and manage employment law issues and litigation. Within Burns' team, no topic is off the table, and colleagues work together in a respectful and congenial atmosphere, in keeping with Topgolf's culture of embracing ideas, open communication, and collaboration.
The company entertains more than seventeen million guests annually and has a worldwide fan base of nearly one hundred million. In addition to its venues, Topgolf continues to develop new ways to engage people through emerging brands such as Topgolf Swing Suite, Toptracer, Toptracer Range, and WGT. There's also its original-content series, pop up social experiences such as Topgolf Crush, and numerous partnerships within the golf and entertainment industries.
All these achievements, as Burns sees it, go back to the company's incredible workforce. "People love working here," he says. "They work hard to keep the culture alive while making sure the company continues to grow and prosper—doing the right thing for guests, associates and investors. The people on my team embrace and embody this culture 100 percent."
***
Dentons:
"We congratulate Eldridge Burns for this well-deserved recognition. Eldridge truly recognizes the value of teamwork and the extraordinary success that it can bring. His approach to productivity, through empowerment and inclusion, is a model for all entrepreneurial businesses."
—Donald A. Hammett, Jr., Dallas Managing Partner