Most people find their heads spinning when they try to understand the ever-changing field of investment banking and global financial affairs. To Eileen Shin, however, it's always been an exciting challenge.
Shin is a managing director and associate general counsel at JPMorgan Chase, a leading global financial services firm with assets of $2.8 trillion and operations worldwide. The firm is a leader in investment banking, financial services for consumers and small businesses, commercial banking, financial transaction processing, and asset management.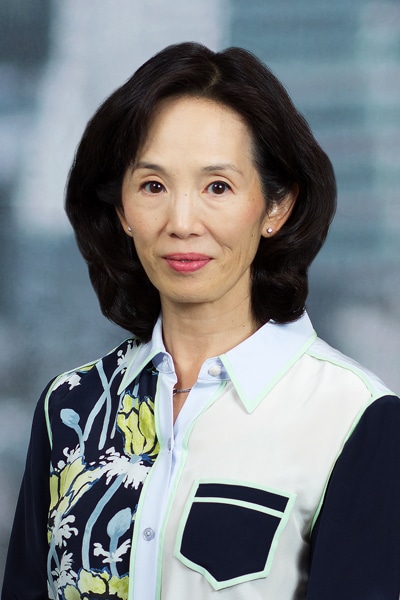 "I love a good challenge," says Shin, "and my work at JPMorgan provides for a highly transactional environment. The regulatory environment is always changing, and businesses are always evolving. Every day is different, and I thrive off of that."
Meeting the Challenge of New Regulations
Transformation has been especially rapid in the financial services field since Shin joined JPMorgan twelve years ago. The economic downturn that swept the world in 2007 and 2008 prompted a wave of new laws and regulations impacting the industry, such as the Dodd-Frank Act, which became law in 2009.
Shin sees those changes as positive but also has some reservations. "Our CEO would be the first to say regulations have made JPMorgan and the banking system as a whole safer and stronger," she says. "Much of what we saw in the financial crisis can't happen again.
"But while we all recognize regulation has been good at addressing market failures, there's also a consensus the pendulum can swing the other way," Shin continues. "We can sometimes end up with unclear regulations that can lead to a lot of process and bureaucracy, and bureaucracy is something we try to be vigilant in fighting against."
Today's In-House Counsel Think Strategically
The legal profession's adaptation to the rapid changes in today's world is a strategy known as "T-shaped lawyering," Shin notes.
"In the traditional model," she says, "lawyers focus first and foremost on solving legal issues and developing specialized expertise. For example, we read the statute, research the regulatory and industry guidance, and apply our knowledge to particular facts or transactions. We review our contracts and learn how to negotiate issues.
"T-shaped lawyering refers to expanding one's skill sets, competencies, and knowledge beyond traditional lawyering, partnering with the business in areas outside just straight lawyering. In today's world, this means working in areas related to technology, data governance, risk management, project management, and more. Today, lawyers are often pushed to move outside their comfort zone; you can feel like you're a mile wide and an inch deep on many different matters. Specialized legal expertise is definitely still critical, but over time, it's important for in-house lawyers to think strategically and evaluate how we can do our work better and more efficiently."
"Over time, it's important for in-house lawyers to think strategically and evaluate how we can do our work better and more efficiently."
All the same, Shin advises young attorneys to first focus on traditional expertise and move on to T-shaped lawyering further on in their careers. "There will always be opportunities to branch out into other areas," she says. "But the more senior an attorney one becomes, the greater the demands that are coming from many different directions, and one can't afford the time or bandwidth to go deep in a particular area."
As a young adult, Shin had the opportunity to travel in Europe and Asia, and that experience helped direct her to her career path. "I went to law school with the idea that it could fund my wanderlust," she says.
She first worked as an associate at Simpson Thacher & Bartlett, becoming a securities lawyer who sometimes handled assignments for JPMorgan. She postponed her globe-trotting plans, opting to first raise a family, but her current position still provides a worldwide perspective. "At JPMorgan, I enjoy the privilege of working with and supporting global franchises," she says. "A large portion of the investment banking business I support is cross-border in nature, and many of the colleagues I regularly work with are in our offices around the world."
Keeping Up with a Volatile World
These days, Shin's work is often focused on Central and South America. "We have leading franchises in Latin America, and I support our businesses that raise capital in the international markets for Latin American companies and countries," she says.
"Like in many emerging markets, a lot of big business is concentrated among an economic elite that goes back generations, with companies that have been owned or controlled by families or governments. In these countries, the dynamics of negotiations can be different; in different cultures, people communicate differently, and as lawyers, we need to adapt to a variety of cultural environments."
Shin's job allows her to live in one of the world's most exciting cities, New York, with her husband and two children, who are both enrolled in a Mandarin immersion school. Before turning to law, she obtained a graduate degree in piano performance from the Eastman School of Music in Rochester, New York, and today, she sometimes performs with her kids, who both play string instruments.
She also appreciates her work family. "At JPMorgan, I'm lucky to have access to the best and brightest lawyers," she says. "I've learned so much working for this firm."
---
Simpson Thacher & Bartlett LLP:
"Eileen is very talented, smart and savvy. Her leadership and commitment to excellence set her apart in the industry, and make her exactly the kind of counsel that Simpson Thacher attorneys enjoy working with."
– Jaime Mercado, Partner