When they meet at the negotiating table, legal teams act as representatives of their companies' interests. There is reason to believe those interests are more diverse now than ever before, with many industries reaching audiences of unprecedented size and variety. But the question of whether the companies themselves are keeping pace with this diversity remains a complicated one.
Gabrielle Kohlmeier recalls a time when her team at Verizon met with the legal department from a different telecom company. Representing her company were two Asian women, a Latino man, and two white women (including herself).
On the other side of the table "sat a row of white men. And the contrast was very, very stark," says Kohlmeier, associate general counsel of antitrust and strategic projects at Verizon Communications. Although that meeting showed her that progress still needs to be made toward diversity in the telecommunications industry, she left with a renewed appreciation for the diversity of backgrounds and perspectives of her own team—and company.
60% of Verizon's workforce are members of underrepresented groups
7/12 Verizon board directors are diverse
Kohlmeier joins colleague Kathleen Grillo, senior vice president of public policy and government affairs, in viewing Verizon's commitment to diversity as exceptional in the historically white- and male-dominated telecommunications and tech industries. Grillo notes that 60 percent of Verizon's workforce are diverse (women, minorities, and LGBTQ). Importantly, the company's push toward diversity has reached the uppermost levels of the corporate structure. Out of the twelve members of Verizon's board of directors, seven are women, people of color, or both, marking the board as one of the most diverse in the United States. This context helps Kohlmeier and Grillo—as well as their fellow legal leaders Donna Epps, vice president of public policy and strategic alliances, and Marcela Urrutia Zamora, vice president of federal government relations—carry out continued efforts to promote diversity and inclusion internally and externally.
"I had the benefit of coming up in a group at my former law firm that was women dominated and now at Verizon continue to be surrounded by bold women leaders," Kohlmeier says. "I benefit a lot from that—seeing strong women and having a lot of women role models, including my mom (and feminist dad), throughout my life."
Internal Initiatives
As part of their D&I efforts, Kohlmeier and Grillo create events where diverse Verizon employees can marshal inspiration and support. Their "wolf pack" summit, a female-focused event sponsored by Grillo in October 2018, serves as a recent example. The event took inspiration from athlete Abby Wambach's commencement address at Barnard College, focusing on the theme of team membership and leading yourself and others regardless of your position. Speakers at the event emphasized that fellow employees and company leaders are committed to helping women in the workforce achieve success—however they choose to define it. Reports from attendees have been enthusiastic and positive: one employee recounted walking away with a new understanding of how she had to be "upfront and candid" about what she wants from her career.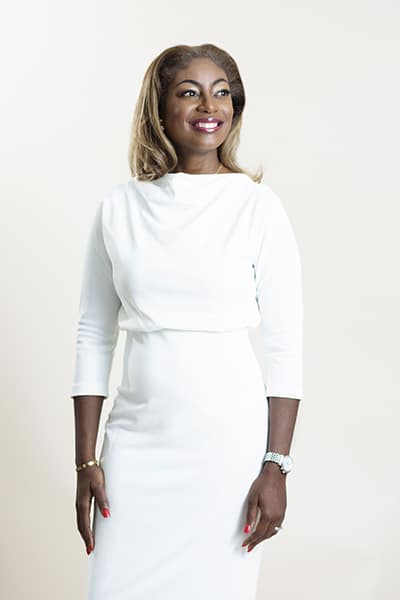 One of Epps's favorite Verizon programs during her tenure at the company was a three-day training session that brought together high-performing women from all over the company to help propel participants to the next level of management. From body language to crafting a compelling presentation, from speaking up in meetings to dealing with bias from coworkers, the program encompassed a thoughtful, wide-ranging series of training and mentorship sessions. "That was a great investment in female talent and really showed a commitment to building a robust pipeline," Epps says. "Many of the people who were in that class with me are now our senior managers."
Donna Epps oversees Verizon's federal public policy efforts. The legislative action and justice work she runs at Verizon spans a wide range of areas. For instance, in 2013, Verizon publicly voiced support for a bipartisan bill for comprehensive immigration reform. The company has similarly expressed support for the Deferred Action for Childhood Arrivals (DACA) program, which allows Dreamers, undocumented immigrants who came to the United States as minors, to stay in the country without fear of deportation. Another issue that "we're just beginning to really speak out on" is criminal justice reform. For example, Verizon publicly backed the First Step Act, a broad criminal justice reform bill for nonviolent offenders in the federal criminal justice system that ultimately passed in both the House and the Senate.
For Kohlmeier and Grillo, helping employees leverage their potential helps the bottom line. They foster diversity and inclusion efforts because it's the right thing to do, but it also has improved their work product. Working on a diverse team helps them understand Verizon's diverse customers and arrive at more creative, advantageous legal solutions.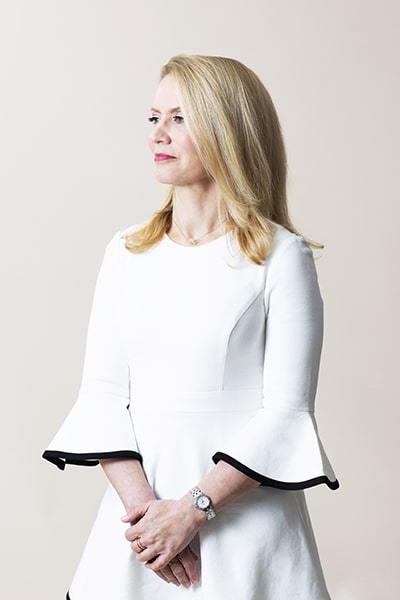 "You need a variety of viewpoints, diversity of race, diversity of gender, and diversity of sexual orientation around the table for your decisions to really make a difference in people's lives," Grillo says. Lawyers from diverse backgrounds will identify different types of evidence, data sets, and ways to analyze both—which leads to more legal successes that help the clients.
Senior Vice President, Public Policy and Government Affairs Kathleen Grillo says, "I lead a large organization and I see every day how diversity improves our decision making, leads to better outcomes for our customers, and makes the team function … As a leader, I feel like my job is to elicit the best from every employee every day, and the way to do that is to build an inclusive environment where everyone is seen and heard and has an opportunity to shine." Grillo also notes that "Verizon doesn't shy away from taking public positions that mirror our corporate values." For example, the company recently supported the Equality Act, which would extend existing federal nondiscrimination laws on race and religion to sexual orientation and gender identity. This strong stance elicited a positive response from the organization and the larger employee base.
"We can't afford to leave any talent untapped," Epps says. "We perform better in the marketplace when we have that diversity."
Verizon's emphasis on diversity sets the pace for a rapidly changing industry—but on a more personal note, it gets Kohlmeier, Grillo, Epps, and Urrutia Zamora excited to come to work every day.
"I've been blown away by the opportunities to really lean into my passion for supporting women and supporting diversity," Kohlmeier says.
Community Involvement
The company's commitment to inclusion reaches well beyond Verizon's offices. In the DC area, for example, the company sponsors a day focused on STEM presentations and activities for Girl Scouts, a program in which Kohlmeier participates, to imbue middle school girls with a love of technology and leadership skills. Kohlmeier also volunteers at the company's Verizon Innovation Learning Labs, giving kids hands-on technology lessons on everything from programming 3D printers to designing holograms to coding.
Likewise, Urrutia Zamora cites the pro bono work she does with Ayuda, which provides legal assistance to immigrants who are victims of domestic violence and sexual trafficking, as some of the "most satisfying work" she does. "It keeps me grounded and gives me an enormous amount of gratitude," she says. "It reminds me of some of the challenges that communities are facing" when she is "hearing people's voices directly."
Verizon's deep-rooted dedication to diversity and inclusion was what drew Marcela Urrutia Zamora to the company. Prior to joining Verizon, Urrutia Zamora held several roles in the realm of public policy and civil rights. These positions included serving as a senior health policy analyst at UnidosUS, a Latino advocacy organization, and senior policy adviser for Hispanic affairs to Harry Reid, then the Senate Majority Leader and a Democratic senator from Nevada. "Something that I'm very passionate about is connecting with younger women," Urrutia Zamora says. She strives to convey to her mentees "the importance of having people of color and women in corporate America, too, including people who have very strong feelings about social justice."
Epps says Verizon is also working deliberately and strategically to increase diversity in the historically homogenous legal and advertising/public relations professions. By participating in the Engaged Excellence program as well as demanding and closely tracking diversity statistics, Verizon pushes the law firms it partners with to staff legal matters with diverse attorneys. Moreover, Verizon keeps these firms accountable through these metrics, tracking the number of diverse attorneys they use and how they handle billing.
Verizon also recognized that for many would-be marketing, advertising, and PR professionals, the low starting salaries and jobs locations in areas with high costs of living presented significant obstacles. To help solve for this problem, the company has created a program called Ad Fellows, which provides funding for diverse students and young people to facilitate their entry into major advertising and PR agencies.
Starting in 2019, Kohlmeier and Grillo kicked off a five-part series of panels and workshops called "Women in Telecom and Tech" in coordination with Ellevate, a women's professional organization. Hailing from male-oriented tech spaces, the events' attendees benefit from an environment where they can not only receive career advice and inspiration but also form communities and tap into professional resources.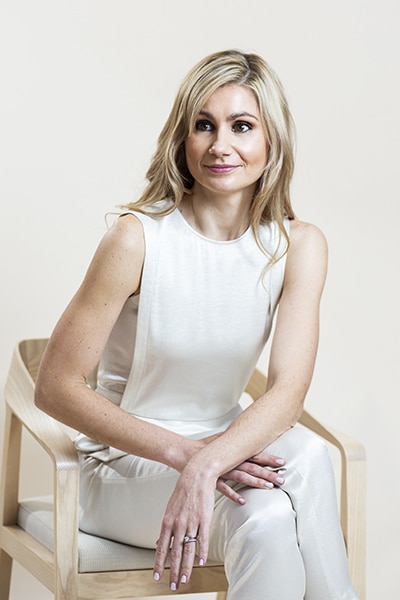 "The goal is to highlight the power of women supporting each other," says Kohlmeier. "Women doubt themselves too often, and wonder, 'Am I good enough?' Diversity efforts like Women in Telecom and Tech shore up women's confidence and help unlock their full potential—and perpetuate a virtuous cycle to increase the number of women at all levels."
Although diversity has always been part of Gabrielle Kohlmeier's ethos, she "didn't appreciate the nuances of gender and racial bias until much more recently," when she immersed herself in "the societal and business case for meaningful diversity." Through mentoring, reading widely, volunteering, and actively involving herself with many organizations and initiatives, she has met "twelve-year-old Girl Scouts talking about how they plan to achieve their goals of becoming mechanical engineers, a civil engineer who designs construction gear for women in her spare time, women working on the ethics of artificial intelligence, trailblazers in the legal profession, and the list goes on and on." She says, "Diversity to me opens the door to a universe of possibilities previously unknown, and creates richer, more durable, and more effective conversations, innovations, and problem-solving—whether in business, law, or socially."
Cultivating frank conversations about what it's like to be a woman in tech is a vital step to bringing gender equity to the tech space, Urrutia Zamora says. "To have a woman leading your shop," she says, "who actively seeks to empower women—to have women at the table, to problem solve and make women stronger—is amazing."
For Epps, it is of utmost importance that the doors to opportunity remain open for everyone, with a clear-eyed focus on continued progress. Reflecting on her own family history, Epps recalls how her grandfather spent his entire life as a sharecropper, working on someone else's land in South Carolina. "I think about how few opportunities he had," she says. Two generations later, Epps has made the most of opportunities denied to so many in generations past—and she wants the same for others, today and in the future.
"I want to make sure we don't regress to a time that my grandfather lived in, where he really wasn't allowed to use the full breadth of his gifts and talents," she says. "We always have to be vigilant and guard against thinking and ideas that could take us back there."
***
Kelley Drye & Warren LLP:
"We appreciate working with Kathy and Gabrielle and their team of diverse professionals, and applaud them for their efforts to create an inclusive environment that fosters originality and innovation."
—Alysa Hutnik and Dana Rosenfeld, Partners