David Cho always envisioned becoming a doctor and pursuing medicine. But all that changed when he was accepted to his father's alma mater, George Washington University Law School.
"My father was one of the many refugees who emigrated from North Korea to South Korea following World War II. And after attending law school at Seoul National University, he came to the US and earned a PhD at Tulane Law School as well as two master's degrees from George Washington University Law School while working in Washington, DC, for the Library of Congress," Cho says. "While he wasn't a practicing attorney, he was certainly one of the main influences on my decision to apply to law school."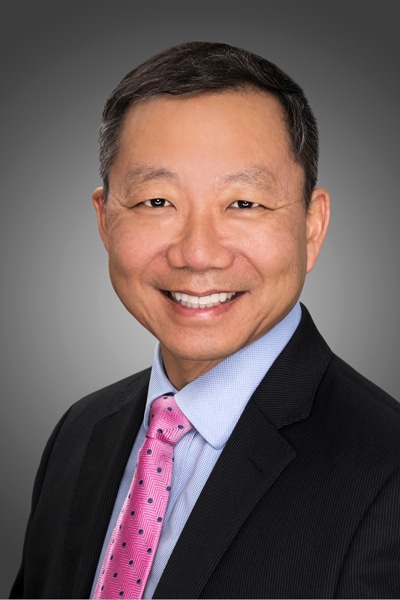 Now assistant vice president and senior legal counsel of trademarks and copyrights for the world's largest telecommunications provider, AT&T, Cho began his career working with a solo practitioner before joining the US Patent and Trademark Office as a trademark examining attorney.
"That was a great fit for me, and I loved my time there," Cho says. "I was able to intern in the Assistant Commissioner's Office, which is like working in the corporate headquarters."
Two years into the examining role, Cho was recruited by a private firm. "One of the attorneys asked me if I was willing to leave and join their firm, which, all things considered, is pretty rare," he says. "At the time, I envisioned a long career in the government, so I actually turned them down."
Three years later, however, Cho reached out to the firm, which happened to be in the final stages of hiring for a position. "I went in for the interview, and they hired me. That was essentially my entrance into private practice, where I grew exponentially in my legal expertise because I was able to represent large international and domestic clients in the footwear, electronics, athletic apparel, automotive parts, and publication industries."
From there, Cho set his sights on going in-house after a brief stint working as temporary seconded in-house counsel for a leading foundry of mining and construction equipment. Eventually, he received the opportunity to go in-house managing the trademark team at SBC, which later merged with AT&T.
Today, Cho's role involves leading and working with his team to oversee the telecom titan's vast international portfolio of trademarks and domain names. Some of the more important responsibilities include conducting trademark clearance, filing applications and maintaining registrations, reviewing portfolios during mergers and divestitures, and enforcing trademark rights against infringements.
He and his team also work closely with internal brand, marketing, advertising, and creative clients to ensure the company's products can enter the market without unnecessary legal risk. "Before we can launch with a name, logo, or a web domain, we have to go through and make sure no third party can claim trademark rights to something that's potentially being infringed upon. My team will do the research and give an assessment as to whether the name or logo is OK to use or not. Of course, we're here to provide solutions and it's a very collaborative environment."
"It's not about winning on principle at all costs. It's about how to balance your client's needs by resolving the issue in a practical fashion."
Above all, Cho says the most important philosophy he's instilled in his role is a sense of integrity. "We're a publicly held company with shareholders, so we hold ourselves to a higher standard, and we strive to make sure we're fully in compliance with whatever the law is," he says.
Cho's sense of integrity also extends to dealing with legal disputes. Instead of invoking or prolonging needless litigation, he says it's often better to work toward a mutually beneficial outcome, even if that outcome is not absolutely ideal.
"It's not about winning on principle at all costs. It's about how to balance your client's needs by resolving the issue in a practical fashion. Sure, in some instances you might have to fight on principle, but you just need to make sure you don't lose sight in fulfilling the practical side of things," Cho says.
Cho's mentality on integrity also feeds into his championing of resourcefulness. "I'm always working to position my team to be the best in class, and I've been able to reduce a lot of our reliance on outside counsel when possible, especially regarding trademark clearance and filings. I don't want to just farm that out all the time," he says. "More and more, there's an increase in workload with fixed human resources and less budget available, so we've used automation tools where possible while continually keeping in mind the most efficient and cost-effective way to do things."
Influencing Trademark Policy
In addition to his daily role, Cho has served on the board of the International Trademark Association, a global nonprofit volunteer organization. "I was nominated for a three-year term, and I loved it. You get a chance to create policy, influence legislation, and see the valuable work that's being done on the subcommittees. You also get to interact with members of the government and Congress."
He is also the director of the USPTO Trademark Clinic as part of the SMU Dedman School of Law Small Business Clinic, which is aimed at educating the public around trademark issues as well as giving introductory training to law students in trademark law. "We were able to help the students file a trademark application and successfully obtain registration for a local food truck," Cho says.