Amy Mulchay, senior legal counsel, North America at Gordon Food Service, knew from a young age that she would have to blaze a trail to become the first lawyer in her family. But when she began her legal career, she noticed an encouraging sign: she was surrounded by women in positions of power. They would inspire her to shift her career toward diversity and inclusion (D&I) to impact the corporate culture and create opportunities for women and people of color.
"Being in the legal practice for ten years, I always reported to a female superior, but that's not usual," she says. "I realized that I'm in a unique position. Seeing women in leadership in my profession" as well as watching Meg Alli, her mentor at Flagstar Bank, coach "so many other young female attorneys, including myself, I felt I needed to find a way to do more and step into a role where I'm involved in operations and changing the culture of a company—where I can build relationships, on various levels, from human resources (HR) to legal matters, and use those relationships and knowledge to have influence in this space."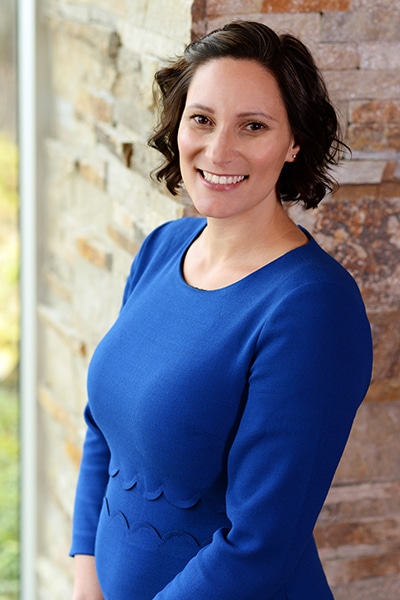 Naturally inquisitive and a critical thinker, the Detroit native and middle child of Dan and Pattie Driscoll did not embrace the legal profession blindly. She made sure that she investigated the prospect fully.
"I would write papers and interview friends whose parents were lawyers for school assignments to get more information," she says. "I was interested in the critical thinking side of the legal profession. It's how my brain works, so it felt like a natural fit."
Although her goal was clear, she still needed encouragement to pursue it.  That came from her first mentor, Matt Blasy, the supervisor at a skating rink where she worked while in college. Hired to work as a receptionist, she was eventually promoted to youth hockey manager.
"He gave me room to grow and built my confidence," she says. "He saw something in me and set me up for success."
In 2001, she entered Wayne State University in Detroit, Michigan, where she earned a Bachelor of Science in business administration and marketing, and in 2008, she graduated with a law degree, also from Wayne State. After graduating, she worked in a law firm as outside counsel and then switched to in-house counsel at Flagstar Bank. This was also where she met Meg Alli, who encouraged her to pursue the D&I path at Gordon.
"Meg taught me about legal issues and helped me develop nontraditional skills," she says. "She taught me how to be a leader through communication and to develop my business acumen. Those skills can often be more important than the knowledge of the law."
She joined the in-house counsel team at Gordon in 2015, when the company was under three open audits from the Office of Federal Contract Compliance Programs regarding adverse findings in warehouse hiring practices. Rather than let that intimidate her, she embraced the challenge.
"I was joining a 120-year old-company that had hired an in-house general counsel only a year and a half previously. I was only the second attorney brought in by the general counsel and the only one focused on labor and employment," she says. "I thought, 'How can I partner with HR and use my relationships and background to support these initiatives in our organization?' I've had the opportunity to see the benefits of diversity in my personal experience. Now I get the chance to have a say in how legal will look supporting the business and how we can be innovative in our approach."
She worked for two years through the audit process, partnering with HR compliance to understand the company's focus and align their affirmative action efforts with the legal requirements to put a baseline in place.
"We focused on building compliance plans in the right way, measuring the right metrics, building a more strategic approach with affirmative action around the legal requirements for D&I, and building a good business case for understanding the benefits of a diversified workforce," she says.
Like her role models, she embraces the chance to mentor others as well as to interact with people to educate and inform them about the need for D&I.
"I've had people thank me for providing them with a new insight," she says. "I like to resolve issues and problems by building connections that work for everyone. That's the most rewarding part of my job."
***
Miller, Johnson, Snell & Cummiskey, PLC:
"Amy brings a high level of legal expertise to complex employment problems. And she has the wisdom and savvy to navigate the real-world personal and business aspects of workplace issues. It's obvious to us why Amy is a trusted advisor for the Gordon Food Service team."
–Bill Fallon, Member