For Ameen Haddad, a primary role of an in-house attorney is the provision of what he calls delivering "knowledge as a service." Haddad's knowledge management practice arose out of his role as a senior commercial attorney, supporting Oracle's On Premise, cloud, subcontract, and other Oracle IT offerings. Specifically, Haddad builds Oracle's knowledge resources based on his and other Oracle subject matter experts' experiences, then designs them in a practical and intuitive form that he regularly tests in his own IT negotiations.
Haddad's devotion to the knowledge management function began soon after joining Oracle in 2003. It was a simpler time in the technology industry. As he describes, "electronic delivery of IT offerings through the cloud had yet to take hold, with technology products (like Oracle's flagship Database program) still often delivered to customers via physical CD disks, which customers would then install on hardware located in their facilities." Similarly, Haddad's initial knowledge management deliverables for the Oracle legal team were fairly straightforward summaries of his and other attorneys' experiences negotiating IT agreements.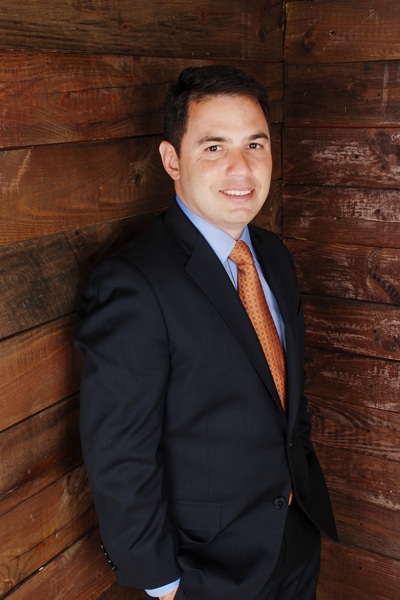 Following the end of the "dot-com" era, technology companies were again exploring new fields and areas of growth, and Oracle was no exception. Early in Haddad's tenure at the company, Oracle began expanding its portfolio of offerings, both organically and through acquisitions. This expansion included building out a robust, world-class set of enterprise applications as well as releasing cutting-edge hardware products. These changes accelerated with Oracle's expansion into the cloud, where Oracle has introduced a full suite of "as-a-service" hosted offerings. The rate of innovation at Oracle has continued to increase in recent years with the company's introduction of new data services, which encompasses data-driven industries—such as ad tech and marketing tech—as well as other innovative emerging technologies, including machine learning and AI.
This rapid change at Oracle has demanded that all attorneys, including Haddad, expeditiously learn about these new technologies and relevant areas of law to provide comprehensive legal support and to navigate the ever more complex legal landscape. Haddad realized that traditional ways of disseminating knowledge to in-house attorneys—such as "learning on the fly," static playbooks, and generic training courses—were inefficient and difficult to scale. Additionally, the traditional approach often did not effectively relay specific business and legal risk assessments in a manner that an Oracle attorney must understand.
There had to be a better way. As Haddad explains, "Delivery of knowledge to Oracle's global attorneys had to be as dynamic and comprehensive as Oracle's ever-growing lines of business. Like Oracle's cloud services, this knowledge had to be available 'on demand' when needed by Oracle attorneys, with constant updates ensuring that it remained relevant and accurate."
Luckily, this vision was shared by the Oracle legal team's general counsel, Dorian Daley, and head of legal operations Christine Coats. Their support paved the way for Haddad to begin, in 2014, assembling a global team to deliver "knowledge as a service" to the five-hundred-plus members of the Oracle legal department. Haddad's knowledge management (KM) team, comprising global attorneys and IT and operations experts, launched a custom knowledge management portal called "Legal Connect" through which information is disseminated to, and exchanged by, members of the Oracle legal department on a 24/7 basis. Legal Connect content includes curated resources, many of which are personally authored or reviewed by Haddad, that go beyond simple reference guides or generic practice documents. Instead, they include custom treatise-like discussions on issue spotting, risk mitigation, best practices, and alternative positions.
This curated content is augmented with updates on new laws and regulations, as well as historical information, so even the newest members of the Oracle legal department are able to quickly provide consistent, substantive, and effective counsel to the company's different lines of business. Haddad's KM team uses the latest technology at their disposal to make the troves of invaluable information easily accessible from anywhere within Legal Connect, including a proprietary "site search" tool that uses predictive technology, as well as Boolean and natural language search options, to aggregate and display the most relevant and useful resources in the quickest manner.
"This is why attorneys, and their knowledge management practices, need to continue evolving . . . to continue delivering excellent legal services."
"Knowledge as a service" goes beyond sharing legal information and materials. With this in mind, Haddad and his KM team created Legal Connect to act as the Oracle legal department's virtual home, where members can learn about one another's interests and successes. A rotating announcement pane on the portal that displays new hires' pictures, descriptions of their roles and responsibilities, and hobbies, interests, and other fun facts provide a mechanism for professional recognition of the highlighted attorneys while also providing a "human touch." As Haddad describes, "these virtual introductions are then followed with days' worth of recorded video trainings that can be viewed from Legal Connect on demand to better provide an understanding of the varying roles served throughout the Oracle legal department. It also provides a library of primers on various areas of our practice to have our new or transitioning attorneys 'hit the ground running.'"
The key, according to Haddad, is "constant innovation, leveraging the growing expertise of our department and company as well as new technologies in order to improve the way we gather and share information." For example, Haddad's KM team recently launched on Legal Connect a proprietary chat bot, which helps members of the legal department identify the subject matter experts both within their department and Oracle's larger employee population using intuitive, natural language questions. As Haddad summarizes, "Legal Connect is intended to serve as the virtual knowledge management focal point for our global department. It's built from the ground up for lawyers, by lawyers, and shares vast amounts of information among a large global membership while also creating a sense of camaraderie."
The breakneck rate of change in the IT industry continues. Haddad explains, "This is why attorneys and their knowledge management practices need to continue evolving, learning about new areas of law and technologies in order to keep pace with our customers' and partners' needs and to continue delivering excellent legal services." Toward this goal, Haddad leads regular collaboration sessions with his global colleagues to create resources for Legal Connect that represent the latest thinking and guidance on legal issues before they become problems. As Haddad reflects, "All this change keeps my job exciting and allows me to keep reinventing myself so that I can best address my clients' needs both as a practicing commercial attorney and as a 'knowledge' service provider."
For Haddad, the bottom line is that in-house lawyers are the legal knowledge repositories for their companies. Delivering this knowledge as a service to his clients is just part of the job, and in furtherance of the same mission as negotiating complex IT contracts—ensuring that his clients at Oracle receive the very best in legal support.
***
Orrick:
"Ameen excels at bringing legal and business teams together because he is both a terrific deal lawyer and a thought leader on legal operations. I always appreciate his knowledge management insights from the in-house perspective."
–Kate Orr, Senior Innovation Counsel