Amber Kagan has a history of excelling and trailblazing everywhere she goes. Now a vice president, global head of labor and employment, and chief compliance officer at General Electric (GE), the United States' eighteenth-largest company in terms of gross revenue, Kagan joined GE after more than two decades with Morgan, Lewis & Bockius (Morgan Lewis), a global law firm that employs more than two thousand legal professionals. Over the years at Morgan Lewis, she ascended the ranks from summer associate to partner and head of the New York labor and employment practice group.
Arriving at Morgan Lewis straight out of law school, Kagan acknowledges that the firm was foundational in developing her professional skills and leadership style. Back then, finding such a foundation was rare.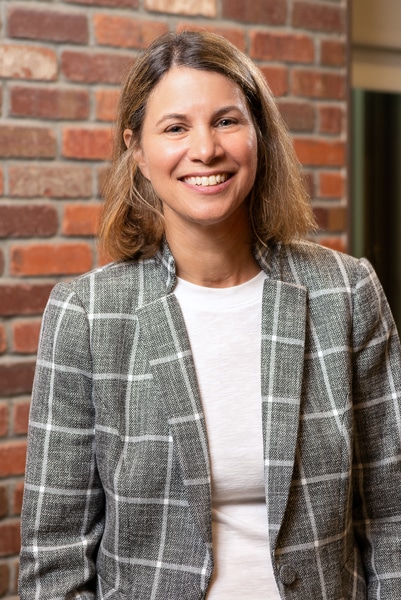 "I knew it at the time, but I appreciate it so much more with the ability to look back: Morgan Lewis was just a terrific place to develop my career," Kagan says. "The firm provided me with a friendly environment that allowed me to learn the basics of my field as well as leadership skills, all while balancing my home life."
Kagan highlights the firm's culture and countless mentors who were instrumental in allowing her to ascend to the position of part-time partner—one of the first women to attain that title in the firm's history. "I had mentors and sponsors throughout most of my career, even if they were informal, who helped me navigate and advance," Kagan describes.
"Amber has always exemplified the values and characteristics that are key to Morgan Lewis's culture—a strong commitment to the firm and our clients, collegiality and collaboration with others, and a spirit of generosity," says Morgan Lewis Chair Jami McKeon. "She lives the philosophy of teamwork and excellence, lifting up each person who comes in contact with her."
The leadership styles of her various supervisors—the ones she admired and ones she didn't—have played critical roles in establishing Kagan's style, especially when it comes to developing her team at GE. "When I see someone on my team that I see potential in, I seek them out," Kagan says. "When GE sees something in an employee, particularly in the leadership space, it is willing to invest resources in them and then stretch them in ways that I am not sure other companies do. Early in my career, GE began sending me to leadership courses and expanding my scope outside of labor and employment. I try to challenge people that way, too."
Kagan's focus on mentorship extends beyond GE. Recently, when GE was hiring outside representation, Kagan chose a firm that had a female attorney give the main pitch. Kagan, blown away by her performance, not only hired the firm but also advocated for and sponsored the attorney for a partner position there—a role she now has.
"Amber's leadership style—leading by example and by consensus—has served both her and her organizations well," says Morgan Lewis partner Sam Shaulson, coleader of the labor and employment practice's financial services team and a former member of the firm's advisory board. "By doing the right thing, offering excellent judgment, and creating an inclusive and respectful workplace, Amber makes members of the team want to rally behind her."
In addition to leading GE's labor & employment legal team, Kagan was recently named chief compliance officer for GE. In this role, she is tasked with ensuring legal compliance as well as compliance with the company's stringent internal code of conduct. Underpinning this code is the establishment of a ubiquitous and open reporting culture, where employees at all levels in all departments not only feel comfortable but empowered to speak up. "It cannot be understated," Kagan says. "I believe it's second to none and absolutely foundational for us.
"You need to always look in the mirror and say 'OK, we're good, but can we be better?' I think the answer is always yes."
"When you think of how big GE is—how many countries we operate in and how many third parties we do business with—it only takes one to do something that's not consistent with all of the processes and programs we have," Kagan continues. "We only have so much control, so an open reporting culture is our first line of defense."
Finding ways to implement, track, and evaluate GE's adherence to its code of conduct is the crux of Kagan's work, which she describes as occurring in various stages and at various levels throughout the company.
Kagan must establish a sound set of procedures and policies that enable both legal and cultural compliance and then continuously monitor and audit them to ensure that they are being upheld. Next, Kagan's team evaluates whether the procedures and policies are effective from a programmatic perspective: what have the monitoring and auditing revealed?
When issues inevitably arise, Kagan's team is also responsible for investigations and data analysis, which often elucidate the issues' source or illuminate trends. Finally, Kagan must stay in ongoing communication with the senior leadership team, keeping them fully involved and aware of all matters regarding compliance.
Kagan is grateful that she works for a company that truly cares about a culture of integrity and compliance and is constantly looking for ways to improve. "Any company that thinks it has reached its pinnacle is fooling itself," Kagan says. "You need to always look in the mirror and say, 'OK, we're good, but can we be better?' I think the answer is always yes."
***
Littler:
"Amber brings intelligence, practicality, and a spirit of comradery in all the projects she undertakes. Littler is proud to be part of the team and joins in celebrating her successes."
–Lori Alexander, Shareholder
 ***
Morgan Lewis helps employers navigate the constantly changing landscape of global laws. With more than 375 labor & employment lawyers and professionals in the US, Europe, Asia, and the Middle East, we apply a solution-oriented approach to give our clients a competitive edge.