As the vice president and deputy general counsel of Volt, a global staffing company, Alexandra Bodnar realizes the impact of teamwork. But to her, "teamwork" is more than just a word implying that a group of people collaborate appropriately. It means understanding the needs of her coworkers, celebrating and welcoming a diverse workforce, and recognizing talented team members then take steps to ensure their success.
Throughout Bodnar's law career, she's recognized the value that teamwork holds in the field. She started in commercial litigation, eventually changing paths to employment law. "It was interesting to me because the legal issues can't be analyzed independently from the human dynamics," she says. She enjoyed the psychology behind each case, pinpointing each problem and figuring out logical solutions. During her practice, she recognized the "team sport" nature of the field, and once she transferred to Volt, she used this mentality to connect with her fellow lawyers inside and outside the office.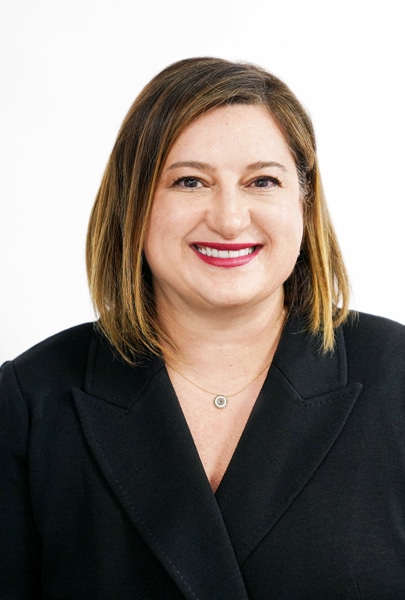 Bodnar's philosophy is simple: "We're all on the same team. We're all aiming for the same goal. I was able to build a very strong team because I respect them, and they respect me." Over the years at Volt, she forged these steady relationships with her law partners by taking time to understand their motivations and aspirations. She believes his step, though seemingly easy, is an integral step in crafting a loyal, dedicated team, especially in a time when the younger generation of lawyers tend to be more transient. "When you figure out where they want to be in their career, what they want to learn, and what motivates them, you can help them try achieve their goals," Bodnar says. "I think that fosters loyalty."
As Bodnar works with her own team to help craft new teams for the clients of Volt, she emphasizes the importance of creating a staff that can learn from each other through both knowledge and experience. In her own practice, she seeks to hire outside counsel members with diverse backgrounds, ethnicities, and thought processes. When looking for new outside counsel members, she looks for more than just a basic skill set. She looks at how they, too, prioritize diversity in their practices.
"I'm very focused on making sure that their team is diverse," she notes. "I want to make sure that diverse lawyers have leadership opportunities and are recognized by their firm for the work they do for Volt. That includes focusing on making sure the firm gives them appropriate financial credit when the firm is receiving that work from Volt because of that lawyer's skills."
Bodnar, a strong proponent of a diverse workforce, says that bolstering the success of women and minorities allows the company a chance to reflect the population its serving, and as such, provides it with a keener perspective on what clients really want. At Volt, Bodnar serves as a mentor for strong, female lawyers, encouraging them to take chances, speak boldly, and rise to the occasion of their success.
So, what's her secret for empowering her diverse team? The first step is creating opportunities for them to be successful. "There's a fairly even number of men and women graduating from law school, and there has been for a very long time," she explains. "But when you look at leadership in law firms, women make up a very low percentage of partners and an even lower percent of equity partners. And there's no rational basis for that. The same is true for in-house lawyers at the highest levels."
Bodnar believes that providing opportunities for women and minorities to move up the corporate ladder is the first step in leveling the playing field once they leave law school. Once they recognize the possibility, they're more willing to reach for it. Starting this type of motivation at an associate level offers more chances to develop diverse leadership once they have grown in their positions.
"Leadership positions should reflect what the general population looks like," she says. "As you move up the ladder, you have to reach down and pull other people up—not just for women, but racial minorities and LGBTQ professionals. We have to focus on who in the profession is capable of being a leader and recognize that having leaders from different backgrounds is a strength."
Not only has Bodnar developed as an advocate for women and minorities in the law field, but she has also used her passion for playing the team sport of law as a business partner and trusted advisor. She views her role as the member of the business team whose responsibility is to help the company navigate risk to help achieve its goals.  "Those goals can be profitability, growth, new markets, or new business lines," she illustrates. "All of those goals require successful navigation of a complicated legal landscape. "
Bodnar believes that the combination of her long career as a litigator and employment lawyer before going in-house has helped her be a much better advisor to business strategists. She looks forward to continuing in that role and the opportunities it brings as well as to laying a path toward success for others to follow.
***
IslerDare:
"Alex's successful law firm career gives her unique understanding of her influence as Deputy General Counsel.  Her commitment to promoting inclusive relationships with diverse outside counsel cultivates truly rewarding partnerships.  I am honored to work with her."
—Jeanne Floyd, Partner
***
Jackson Lewis P.C.:
"Throughout our professional relationship, Alex has proven herself to be a dedicated and insightful attorney and business partner. She cares about and prioritizes diversity initiatives for Volt. Jackson Lewis is honored to work with her."
—Guillermo Escobedo, Principal