You never know where your path might lead. Adler Bernard's path to his current position as vice president and assistant general counsel at JPMorgan Chase has been a winding one, marked by an openness to new possibilities, a willingness to let his interests guide him, and a high level of comfort with ambiguity.
Growing up in Yonkers, New York, a New York City suburb, as the youngest of three sons, Bernard thought he would become a clinician like his parents, both Haitian immigrants. But during his undergraduate years at NYU, he discovered a deep love for the music industry. Through an internship at Sony/ATV Music Publishing and his friends in the music scene, he learned that many music industry decision-makers had law degrees. He changed his trajectory from medicine to law and entered the George Washington University Law School.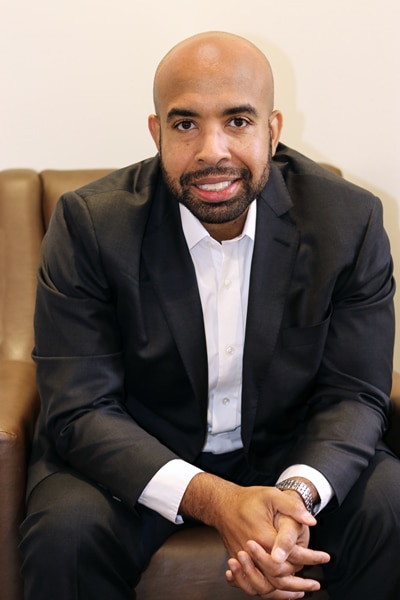 In law school, Bernard focused on technology-related classes and internships. He later returned to Sony as a law clerk and worked for the Federal Communications Commission as a legal intern. His path changed yet again, however, when he developed a passion for criminal justice.
After graduating from law school, Bernard pursued this newfound passion, pivoting away from the entertainment industry and toward litigation. He took a job at the New York County District Attorney's Office and spent the early part of his career in the trial division, where he prosecuted misdemeanor and felony cases. After a few years, he joined the Special Prosecutions Bureau, investigating white-collar crimes and schemes to defraud the public. Subsequently, he became a defense attorney at Dornbush Schaeffer Strongin & Venaglia, where he represented individuals and corporations in government investigations as well as commercial and criminal litigations.
In 2014, Bernard was hired by JPMorgan Chase as an assistant general counsel and litigation attorney. True to form, at Chase, he has followed what interests him. "I had a desire to dabble in and learn as much as I can about Chase's various technology initiatives," he says.
This aspiration became more practically applicable as JPMorgan Chase implemented new technology and became something of a tech company in its own right, developing apps and programs for customers and bankers alike. When Bernard approached the bank's big data and payments attorneys and offered to assist them with their matters from a litigation perspective, the company asked him to join the digital legal team as a regulatory advisory attorney.
"Definitely a change of pace," Bernard says, but his background as a litigator made the transition into "uncharted territory" an easier one. His well-honed abilities to spot issues quickly, be flexible, and learn on the fly have helped. So has his experience with navigating uncertainty and operating in a space where there is often no clear legal guidance because the law itself evolves alongside the technology. He posits, "Where can we take that technology to make customers' lives easier? A lot of that is in the gray, and many attorneys are not comfortable lawyering in such an environment."
"You've got to read up, stay current, and lawyer the best you can with the information you have today."
Today, Bernard is involved in some of JPMorgan Chase's most advanced, customer-facing tech efforts, including digital account opening, identity authentication, and digital wallets. He notes that many hours are spent behind the scenes making sure products meet all quality, legal, and safety expectations. For instance, recalling his work on Chase Quick Deposit, Bernard states, "That wasn't something that happened overnight. That took months and months of negotiations and work by the attorneys, our compliance partners, our risk partners, and our business partners in rolling something like that out. It has great utility for a number of customers, not just Chase customers."
In a legal career that has spanned multiple specialties, one of Bernard's key takeaways is the importance of knowing your client: who your client is, what their motivation is or what drives them, what they are working on, and where they are going. He makes a point to meet clients in person, visiting their establishments and sitting down with them. "You've got to be a trusted advisor," he says, "and to be a trusted advisor, you need to understand your client at a deeper level. This understanding will help determine the best way to communicate with your client and ultimately how to earn their trust."
He adds, "You have to think beyond the words on the page. If you are somebody who's historically worked off of seeing the final product and then lawyering on that, it's difficult to work in an agile product development environment," which is standard in the technology sector. Projects iterate, requiring a great deal of legal work in various states of production with multiple stakeholders.
Each new project may present a complex set of novel legal challenges, but Bernard has the confidence and tools to navigate unknown terrains. "Ambiguity is a really constant thing in this space," he says. "Sometimes, you're operating at the cutting edge," dealing with novel technology initiatives, "a patchwork of regulations, and various stages of product reviews and approval," and no clear roadmap for how different liabilities will play out in the future. "You've got to read up, stay current, and lawyer the best you can with the information you have today."
Passionate about Pro Bono
JPMorgan Chase encourages its attorneys to make themselves available for pro bono work. Adler Bernard has leveraged his expertise outside the office to lead a financial literacy training session at a local middle school, participate in an immigration clinic, and assist veterans with benefits applications. "It's very rewarding," he says. Of the financial literacy workshop, he remarks that dealing with eighth graders is not a typical task for him, "but just at the end of the day to have one of the kids tell me, 'Yeah, that was really informative, I learned a lot today,' that made a big difference."