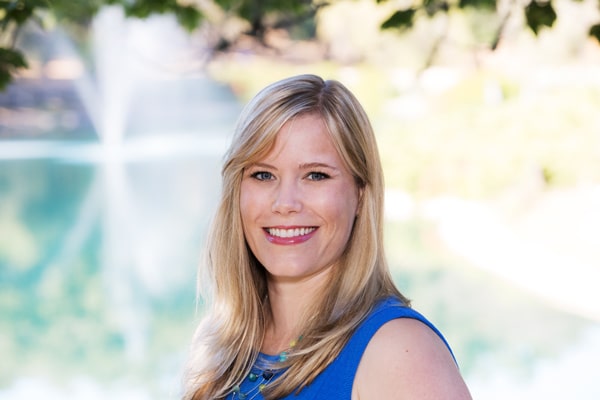 It was a blood drive in law school that led to Catherine Dunwoodie's working philosophy about what it means to be charitable. At the time, Dunwoodie's small veins made donating blood impossible, and she felt terrible, but her mother assured her that she could give back in other ways.
"That really stuck with me," the current senior associate counsel of corporate securities and M&A for software company VMware, Inc. says. "You need to find a way to contribute that works for your life—a way to spread goodness without adding stress."
Community work and public service have played a significant role in Dunwoodie's life since her youth. While in law school, she completed an internship with US Senator Dianne Feinstein, and she gave serious consideration to a career in immigration or human rights law before deciding her personality was better suited for the corporate sector. She spent six years with Hewlett-Packard, including 18 months as pro bono counsel for HP's nonprofit foundation, which focused on disaster and humanitarian relief, before accepting an opportunity with VMware, which has actively encouraged her to continue to give back to her community.
"When I joined VMware, I was joining another company that promotes citizen philanthropy as core to its corporate character," Dunwoodie says. "And that was a big draw for me."
She's currently part of a team of seven that focuses on securities, governance, compensation, M&A, and treasury work for VMware. Corporate compliance, public disclosure, and compensation issues, both domestic and international, make up a fair amount of the work. "It's a very collaborative environment," Dunwoodie says. "But it's also a very time-consuming, sometimes all-consuming legal practice area, which can make finding time to contribute to the community tricky. I was carefully looking for ways I could give back without adding to my workload at the end of the day or being flaky about showing up on time and disappointing everyone."
Enter the VMware Foundation's Service Learning program—a way for employees to use up to 40 paid hours each year to contribute their time and talent to nonprofits of their choosing. Through this program, Dunwoodie learned about Random Acts of Flowers (RAF), which repurposes donated flowers into arrangements that are randomly delivered to healthcare facilities in an effort to lift spirits and promote well-being. Conveniently located, with hours suited to her availability, the nonprofit is one that Dunwoodie now contributes several hours to each month (except during VMware's "proxy season," she says with a laugh), refreshing flowers and creating new arrangements for RAF's clientele. "It's a really cool organization," she says. "It's so rewarding to redirect tired flowers surely headed for composting into beautiful bouquets that comfort people."
And, to sweeten the deal even further, each VMware employee who reaches the annual Service Learning program's 40-hour goal is eligible to recommend a $1,000 Citizen Philanthropy Investment grant to the nonprofit of that person's choosing. "The fact that VMware is willing to give a grant because of time I would have volunteered anyway—it tells me about the company and its character," Dunwoodie says.
This character is something that does not go unnoticed by those who work with Catherine and VMware, including Orrick's Laura Becking, who acts as outside counsel for VMware on global employment and equity compensation issues. "I've always been impressed by Catherine's and VMware's commitment to giving charitably," Becking says. "It echoes something we say at Orrick: that our pro bono work is one of the most important ways we measure our success."
Choosing the nonprofit to benefit from Dunwoodie's service hours is easy. She's a cofounder of the Sunbeam Foundation, a nonprofit seeking cures for rare and underfunded childhood bone cancers. She knows $1,000 will be a welcome contribution for an organization that awards research grants of upwards of $25,000, and she appreciates the VMware-supported opportunity to contribute. "The exciting thing about research is that it's not purely outcome-driven; it's an investment in what could be," Dunwoodie explains. "Advancing research is crucial, recruiting skilled researchers is crucial, and any step toward better treatments and a cure is a good outcome."
VMware's culture of giving—which also includes matching charitable contributions and employee milestone awards (such as charitable donations to celebrate each new employee's start at the company)—is strong enough that it was named one of 2017's Best Workplaces for Giving Back by the consultancy Great Place to Work and Fortune. "I do think tone at the top matters," Dunwoodie says. "There's an understanding from the interview onward and the executive team down that giving back is important to the company, that being a part of the community is important, and that big things have small beginnings."
Because the company makes philanthropy so easy, Dunwoodie can always turn to it, even when her day-to-day legal work gets intense. "I've had times when it's felt like I don't have the bandwidth to give back," Dunwoodie admits. "But finding the right opportunity, one that's convenient and gels with your values, makes giving back not only possible, but actually rejuvenating."
Side Project: The Sunbeam Foundation
When a dear friend of Catherine Dunwoodie's succumbed to pediatric bone cancer at age twenty-one, what eventually came of the grief, devastation, and anger was twenty people—including Dunwoodie—launching the Sunbeam Foundation. Here are some basics on the nonprofit.
What It Does
Evaluates and funds proposals submitted by those committed to pediatric bone cancer and Ewing's Sarcoma as areas of study. "We try to bridge the gap, grant-wise, for young researchers getting into the field," Dunwoodie says.
Why It's Needed
Bone cancer represents only about 3 percent of all known forms of pediatric cancer. Consequently, it receives far less funding for research than more common forms such as leukemia, brain tumors, and lymphomas.
How It Raises Money
Its primary fund-raiser is Los Altos Cooks For a Cure, an annual community event featuring local eateries, entertainment, and an auction.
Expertise Spotlight
Orrick, which has worked with Catherine Dunwoodie and VMware, is a global law firm focused on serving the technology, energy and infrastructure, and finance sectors from 25 offices worldwide. The firm understands that the global nature of business today places unprecedented demands on HR, finance and legal departments. That's why its Global Employment and Equity Compensation practice is a true one-stop shop for global equity and HR legal issues. Orrick offers companies a single point of contact on a fixed-fee basis. Drawing on its network of specialists in more than 80 countries, the firm provides business-oriented solutions for companies—and inbound and outbound expatriates—on compliance issues and complex legal matters. The Global Employment and Equity Compensation practice is part of the firm's Chambers-rated Compensation & Benefits team, which partners with companies to help them attract and retain top talent by designing innovative and customized domestic and global compensation arrangements. And the practice is also supported by the firm's Employment team, which has been named Labor & Employment Department of the Year by The Recorder four years in a row for winning some of the biggest employment cases in the tech, retail, finance, and professional-services sectors, often disposing of these complex disputes long before trial.
***
Morrison & Foerster:
"Catherine is capable of navigating very complex issues with ease. Her deep substantive knowledge is matched by her passion and creativity. It is a joy to work with her as outside counsel."
—Brandon Parris, Partner