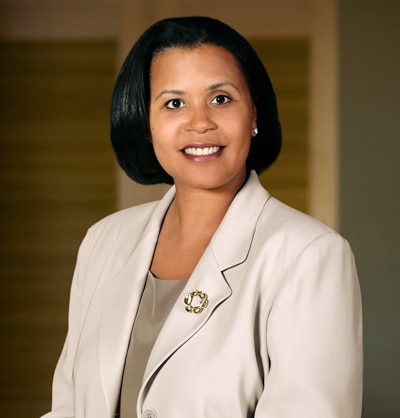 Anna Richo, executive vice president and general counsel of UCB, a Belgium-based biopharmaceutical company, believes good storytelling is an essential ingredient when arguing intellectual property cases in court. In fact, the larger story surrounding a drug—how it fulfills an unmet need, how it changes patients' lives—is at the heart of UCB's patient-centered approach. 
UCB's strategy focused on patient value can be visualized as a pyramid, Richo explains, with the patients themselves at the top and science and solutions forming the base. Patient insights inform the science, which is used to develop solutions for those patients. "When we initiate litigation, we align with that patient-value approach by telling a story which includes the burden of the disease and the serious, unmet need our drug is fulfilling," Richo says.
She began developing her IP experience—and her knack for storytelling—during her years at Baxter Healthcare, where she was chief litigation counsel from 1994 to 1998 and vice president of law for the bioscience division from 1998 to 2003. While at Baxter, she became heavily involved in mass tort product-liability litigation in the biopharmaceutical sector, which required her to become knowledgeable about biology, technology, and medicine. One of her direct reports was the company's chief patent counsel, so she also became knowledgeable about intellectual property and its legal lexicon—as well as theories for invalidating patents. In 2012, she transitioned into her current role at UCB and brought her skills with her.
Because IP cases are highly technical, many lawyers jump straight into the science and mechanism of action of the drug in question. Richo has learned to take a different tack, though, opting to place the patient at the heart of a compelling narrative. "I want to know what the invention is and why and how it's important to society," she says. "This was the approach we took with mass tort cases. Juries want to hear the story; it's a natural instinct. This same approach works equally well in IP cases involving medicines that treat serious diseases.  Everyone, a judge or jury, can relate to these stories." 
Her approach has become the modus operandi for her entire team, which includes an outstanding in-house IP team and phenomenal outside counsel. "Through their deep understanding of our patient-value strategy, our outside counsel are able to combine the science with the patient need and tell a story that highlights the innovation of the science leading to discovery of a solution to address the patient's unmet need," Richo explains.
Victories in recent cases highlight the effectiveness of UCB's  approach. The first case was one UCB brought against more than a dozen generic-drug makers, who were seeking to invalidate the company's patent for the antiepileptic drug Vimpat. The case, which UCB won in Delaware's district court, is currently being appealed to the federal circuit. "The treatment for epilepsy is heterogenous, so it's hard to find a single drug or solution," Richo says. "When you have a true innovation, like we did in this case, you have to defend it."
Second, UCB recently defeated a generic challenge to a product called Neupro, which is a patch used to treat Parkinson's disease. Although rotigotine, the patch's active pharmaceutical ingredient, is off-patent, the delivery system is what Richo would call a true innovation, warranting defense. UCB won the case in Delaware's district court.
Although Richo's job requires a delicate balancing act between serving the interests of patients and defending innovation—two goals that can sometimes appear at odds—UCB's patient-centric mission and her narrative approach to cases makes it a little easier. "When we litigate, our number one concern is whether we have true innovation—something that impacts patients in a meaningful way," Richo says.
Anna Richo's Best Practices for IP Litigators
Whether she's up against a mass tort or a challenge from a generic-drug maker, Anna Richo stays the course, focusing
on the value her work can bring to patients. Here, she shares a few tips for others tackling IP litigation in the pharmaceutical sector.
Make an honest assessment. Before moving forward with a suit, determine whether you have a bona fide innovation to protect.
Think like a patient. Don't approach litigation solely through a technical lens. What value does the drug bring to patients? How does it change their lives?
Tell a story with a beginning, middle, and end. The story should bring alive the burden of the disease that your company's drug or therapy will help fight, how the drug or therapy in question meets unmet needs, and how it's a true innovation.
***
White & Case:
"Being a former trial lawyer, Anna Richo is that unique GC; she drives the ultimate business objective but is wired to inform day-to-day strategy with equal grace and focus. White & Case is honored to celebrate Anna's success."
—James Trainor, Partner