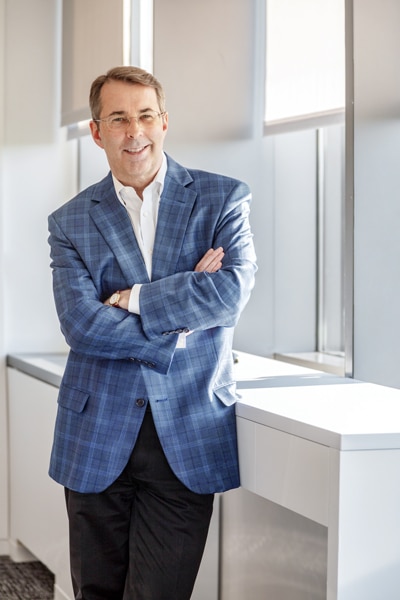 When Thomas Poché looks back on his various achievements over his twenty-three years in the legal field, he attributes them in part to his belief in constant self-improvement. They're successes that have come from a drive for growth, the current vice president and assistant general counsel of intellectual property at Allergan says—from constantly acquiring knowledge, learning new skills, and cultivating the broad experience that a more specialized attorney might not have.
"We all love the moments when the ball's in your court," Poché says. "My driver has been that when those moments come, I'd better know exactly what I'm talking about, because those calls are not a responsibility that I take lightly. Overspecialization is the enemy of informed judgment."
It's a philosophy that has shaped his extensive career and pushed him to work in areas ranging from litigation to prosecution to regulatory law. He actually started out with a PhD in biochemistry before attaining his legal degree from Boston University, and he resisted using his science background at first, going to Kirkland & Ellis as a securities and antitrust lawyer. Eventually, though, his technical expertise led him into patent litigation for the firm. There, he had a meeting where a client was asking him questions about prosecution that he couldn't answer because he didn't have the experience. "I hated that feeling of ignorance and not knowing how to grapple with the question my client had, so that sent me on this path where I could pick up those skills," Poché says.
He moved on to a new firm in Washington, DC, where he gained prosecution experience for two years. That led him to a new opportunities at Connolly Bove Lodge & Hutz, where he became partner. Then, later, he became a partner at Cooley Godward and began developing new skills in IP diligence, transactional work, and regulatory law in the biotech and pharmaceutical spheres.
By the time he joined Allergan in 2016, Poché had a full gamut of experiences and skills to rely on in his position. "It's very hard to be someone who wants to practice across the full scope of intellectual property law; the world wants you to specialize," he says. "But, that's how I've always wanted to practice. What that gives me—and what I want for my team—is the understanding to perform across the full range of IP law."
Such understanding, he adds, is an asset in being able to look ahead and anticipate questions. It helps him pay attention to litigation, make sure that claims are commercially useful, and understand how patent claims are going to play out in a regulatory context. It also helps prevent information drop, in which important knowledge in one area of Allergan or within Poché's group doesn't make it to where it's needed, which Poché notes is more likely with a team of overspecialized and siloed lawyers.
Broad understanding also helps Poché and his team communicate better with the company as a whole, translating what they understand about IP into life-cycle projections, guiding development strategies, and clarifying which litagation issues are most important to the organization. "It's important that when the company needs guidance, we're able to speak to them in their own language," Poché says. "Deal teams need to hear guidance in terms of the deal at hand, and regulatory issues and IP development need to be addressed within the framework the FDA requires."
All these matters have come to the fore as part of the biggest initiative Poché has shepherded since joining Allergan, which has involved integrating a number of legacy companies into one dynamic organization. For this, his team has had to look at every aspect of how information flows through the company, taking best practices from each legacy component, improving others where they have seen opportunities, and knowing where they can better capture information for IP development. "It is a rare opportunity to put your fingerprints on how a big company operates," Poché says, noting that he and his team were able to do so with strong support from Allergan's leadership. "To me, that starts with the encouragement to not do things the same old way but to constantly improve."
As a leader, that's something he frequently encourages within his team, and all its members have strong technical backgrounds. "Every time we do a new acquisition deal, that's an opportunity for anyone on the team," Poché says, adding that Allergan's "Open Science" model provides his team with a rich variety of exciting projects.
The wide variety of technologies that Allergan's R&D teams work on also gives Poché's team members significant opportunities for growth, making them better equipped to take on challenges such as policy development at a government level and advocacy with the FDA regarding regulatory standards. It has also helped them secure wins such as a CRISPR deal they oversaw with Editas—a deal that was particularly focused on IP issues and that will hopefully bring a life-changing new gene-therapy technology into the marketplace.
Poché has enjoyed being able to share such successes with his team, and he enjoys knowing that he'll continue to be able to give them opportunities to grow and learn, as he has. It's an approach he likens to being a coach on a team with a lot of talent. "I get scientists from our R&D group telling me all the time how much they value and appreciate the support they get from individual members of our team," Poché says. "It doesn't get better than that."
***
Covington & Burling LLP: "Covington commends Tom Poché for his innovative leadership and professional dedication at Allergan."
***
Fitzpatrick, Cella, Harper & Scinto: "Fitzpatrick is proud to work with and serve as counsel for Allergan and applauds Thomas Poché for his creativity, legal acumen, and leadership skills. We're proud to join Modern Counsel in recognizing his outstanding talents." —Dominick A. Conde, Chair of Fitzpatrick's Pharmaceuticals Practice Group