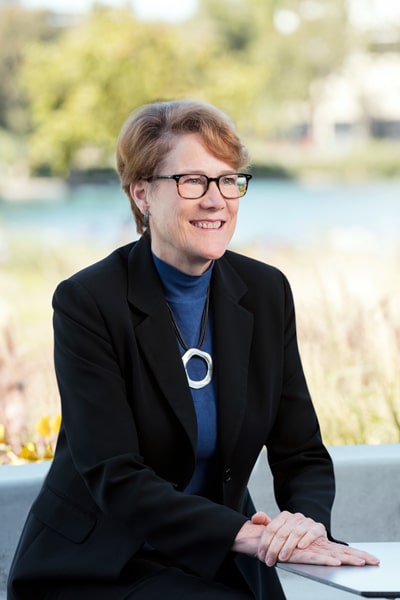 It doesn't take long, when talking to Patricia Thayer, for her to get around to mentioning what originally motivated her to become an attorney.
"My stepmother was a legal-services lawyer," she says. "So, one summer during college, I worked in the legal-aid clinic with her. I really liked it. I was a do-gooder kid of the sixties and saw it as a nice way to help people. I also loved doing legal research."
Not long after, she changed her premed/history of science focus at Harvard and eventually applied to law school. After graduating from Harvard Law in 1979, she found a way to merge her curious, analytical mind with her legal savvy by becoming a high-profile patent attorney.
Outside counsel who've worked with her have been impressed by her expertise. "Patty's knowledge and experience in IP litigation is extensive, and she brings that to bear every day," says Faye Paul, a partner at Bartlit Beck. "I have learned the most watching Patty deploy her unparalleled analytical skills to help her teams work through new arguments."
"Patty's unparalleled and extensive experience as a top IP litigator before she went in-house helps to make her an ideal client," adds David Bassett, a partner with WilmerHale. "She brings impeccable intelligence, insight, and real-world judgment to bear on every issue."
Here Thayer shares some highlights of her career path and talks about her recent move in-house after years working for private firms.
How did you decide to focus on patent law?
It was total serendipity. Patent law wasn't offered at Harvard in the seventies, so I didn't even know what it was. While in New York interviewing for jobs, I picked up a friend's copy of the National Association of Law Placement's Directory of Legal Employers. Fish & Neave's blurb talked about working on cases for Alexander Graham Bell and the Wright Brothers. I couldn't believe there was a field of law where I wouldn't have to give up my science background. So, I went to their office and handed my résumé to the hiring partner.
It's obviously been a good fit.
That's an understatement. It was daunting at first, because I had a lot to learn. I had taken my last science course in 1976, and this was 1984. A lot had changed, including the foundations of the biotech industry. As a result, I got to deal with some monumental discoveries, like monoclonal antibodies. I couldn't believe I was getting paid to learn such cutting-edge stuff. Within a year, I was working on a trial before the International Trade Commission.
In 1999, you became the cochair of the IP litigation group at Heller Ehrman. That must've been an exciting time.
It was a dream job. The firm was already a leader in patent litigation for high-tech firms, but I was hired to help develop their life sciences practice.
After Heller, you continued to work in life sciences IP at Orrick and Sidley. Why did you decide to go in-house in early 2017?
I wasn't thinking about moving, but Gilead had just created a new position to supervise global IP litigation. I respected the company and their head of IP and knew she would help me bridge the chasm between what I did and didn't know. It seemed like a great opportunity.
Has it been?
More than I imagined. I can't believe that after so many years at this, I am still getting to learn new things and grow. I currently have matters going on in China, Europe, South America, Canada, and the Cayman Islands, and each jurisdiction has unique patent requirements.
Is that what you like most about moving in-house?
I also get to participate in complex business decisions about healthcare pricing, product innovations, market entries, etc. None of that touched me before. I just handled the lawsuits I was hired to work on, and the clients determined when we settled—or not. And, I love working with super-intelligent scientists who are developing life-saving products.
Do you require new hires to have a background in science?
They don't need to have a PhD, but they do need to be familiar with the basic areas we deal with and be able to understand complicated scientific papers. For instance, we just purchased a company that launched a new cancer therapy, so we all had to do a crash course in immunology. There isn't much time to get up to speed, so everyone has to hit the ground running when it comes to both the legal and scientific demands of the job.
Our lawyers work on many matters simultaneously, so we also rely heavily on our outside counsel. We're fortunate to partner with some amazing firms, including WilmerHale, Bartlit Beck, and Fish & Richardson. I'm so impressed with the integrity and intelligence of their lawyers. We couldn't do what we do without them.
What other differences have you noticed about in-house work?
It is extremely important that everyone gets along and enjoys being part of a team. In law firms, you hire a group of new associates every year, and not even 30 percent of them will be there five years later. Here, we want people to stay as long as possible, so we spend a lot of time vetting new hires.
How do you keep people motivated, given the lack of senior IP positions?
Unlike junior lawyers in most law firms, the people on my team get to actually lead cases, work in multiple jurisdictions, hire outside counsel, and make important decisions on a daily basis. Gilead also offers a wide range of superb training programs to help people advance in the corporate environment.
It always frustrated me not to be able to put junior attorneys on the front lines more, but law firm billing fees and client expectations often made it difficult. I like to see young people do well and grow, so I enjoy the opportunities they get here.
Photo by Rosenberg Photography
Gilead Gives Back
In addition to her IP work, Patricia Thayer has helped launch a company-wide pro bono program at Gilead Sciences. Here she offers a few sound bites on how it has come together.
"My first job after graduating

law school was at the Center for Law in the Public Interest. I've always believed that we have a duty to help those who can't afford legal services."

"When I got to Gilead,

one of the IP attorneys was already providing free assistance to victims of domestic violence. We are now partnering with San Mateo County Legal Services and other organizations to provide an array of services. We work with Kids in Need of Defense (KIND) to help unaccompanied immigrant children. We're also helping veterans understand and apply for benefits."

"We don't get job credit for the work,

like you do in a law firm, but Gilead gives us a small budget to cover court expenses, etc. So far, about thirty employees are participating—and not just lawyers. It's a privilege to be able to help people who otherwise wouldn't have legal services—and to have the support of the company is especially gratifying."
Expertise Spotlight
Gilead partner Bartlit Beck has achieved an unparalleled record of courtroom victories in complex litigation since its founding in 1993. The firm's success stems from an approach to trying cases that is fundamentally different from that of most firms that handle comparable matters: it is a firm of trial lawyers, not litigators. Bartlit Beck's lawyers are in court examining witnesses and arguing to judges and juries on a regular basis.
Bartlit Beck's thriving intellectual property practice covers a variety of technologies—from pharmaceutical products such as Gilead's breakthrough hepatitis C treatments to cutting-edge jet engine design—and the firm regularly tries such cases to verdict.
Bartlit Beck's trial teams are highly experienced, not just at the top but throughout. Cases are staffed with multiple partners, one to two associates, and a handful of dedicated senior staff members. Each trial team is composed primarily of experienced partners with hands-on control over the strategy and development of the case, and every team member is engaged to provide maximum value to the firm's clients. Although not every case goes to trial, Bartlit Beck firmly believes its clients get the best settlements when the opposition is convinced the Bartlit Beck team is not afraid to try the case.
---
Expertise Spotlight
Gilead Sciences partner WilmerHale provides legal representation across a comprehensive range of practice areas that are critical to the success of its clients. Today, businesses face greater scrutiny and more "bet the company" issues than ever before. With a practice unsurpassed in depth and scope by any other major firm, WilmerHale anticipates obstacles, seizes opportunities, and gets cases resolved or deals done—and has the experience and know-how to prevent them from being undone.
WilmerHale is 1,000 lawyers strong, with 12 offices in the United States, Europe, and Asia. The practice includes more than 500 litigators with unmatched trial, appellate, and Supreme Court experience; a preeminent securities law practice, with more than 200 lawyers; a regulatory practice that includes more than 100 lawyers who have held high-level government positions; an intellectual property practice enriched by the experience of more than 120 attorneys and technology specialists who hold scientific or technical degrees; more than 230 seasoned corporate lawyers and business counselors; and lawyers who focus on bankruptcy, environmental, labor and employment, real estate, and tax matters.