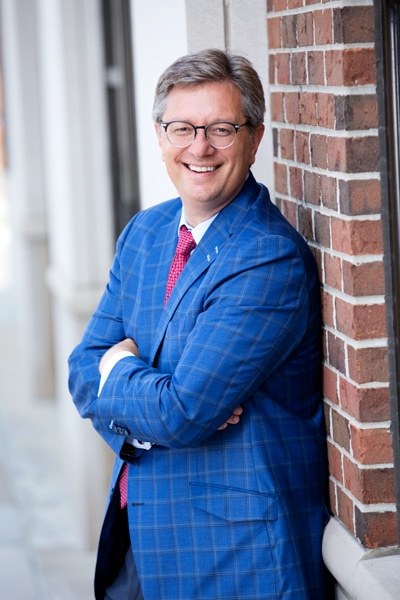 In June 2018, Dow won a trial judgement of approximately $1.5 billion dollars against Nova Chemicals—the result of an eleven-year dispute over violations stemming from a joint venture agreement involving an ethylene facility in Alberta, Canada. Dow had brought the lawsuit in part because it eventually knew it could win, and it knew it could win in large part because of Michael Glackin. "When I became involved in the case, a lot of people didn't understand what was at stake, and they didn't understand whether we could actually win," Dow Chemical Company's assistant general counsel of litigation and EH&S explains. "The biggest thing I did was reshape the case and get the business to believe in the case and be in it for the long haul."
Glackin understood the potential of the lawsuit because of his legal background and his experience and knowledge of litigation, but he also understood its importance to Dow because of his understanding of the business. Having worked for the company in various roles since beginning there as counsel of corporate legal issues and litigation in 2002, he began representing it early on in a variety of M&A cases. But, turning points came in 2008, when he stepped into the role of general counsel for one of Dow's subsidiaries, Union Carbide Corporation, and also in 2012, when he became lead commercial counsel for Dow's most iconic and profitable business units, packaging and specialty plastics.
"In-house lawyers don't really appreciate the opportunity they have to actually understand the business, but this was where I really started to do this, and that's when I learned the importance of understanding the business," Glackin says. In particular, he learned the importance of its innovation pipeline—including manufacturing facilities and which ones were the most valuable—and the competitive advantage that it created for Dow's customers.
The roles also taught him the importance of how the plants were operated, which in turn pushed him to learn more about the litigation issues in contracts with customers and suppliers and why those were important as well. "You learn how the plants need to be run in order for Dow to run its business on a global scale—and how dependent we are on their success in order to deliver that shareholder return," Glackin says.
As he was steadily promoted into higher roles with the company, he also began focusing on how to change its litigation profile. "We were too much in defense and defense work, but I wanted to change that," Glackin says. "I wanted to become more of a profit center." Rather than having mass tort cases as its most critical work, he began pushing the company to protect its innovation pipeline in intellectual property litigation and protect its international investments through commercial litigation.
This led him to a major career accomplishment in 2013: resolving litigation on what was then Dow's largest case, against Petrochemical Industries Company, over a withdrawal on a joint venture with Dow named K-Dow. The case was settled in Dow's favor, with a $2.2 billion payment, just below the arbitration award of $2.5 billion—one of the largest international arbitration awards in a commercial dispute.
This helped strengthen Dow's trust in Glackin, and in his initiative to file IP litigation cases to protect the company's interests, which to date has resulted in $600 million in payments to Dow. "A lot of times lawyers are really good at understanding risk, but they're terrible at managing risk because they're so risk averse," Glackin says. "In my view, the greatest risk is not taking one."
He has also earned trust by being able to show the company that he has an understanding of how it operates—what its objectives are, where it wants to be, and how it delivers return. "If you don't understand the business and what's important to it, you don't understand its strategies," Glackin says. "I can counsel the company better because I do have that understanding."
At the same time, Glackin has earned the trust of his outside counsel partners, too. "Michael is an excellent lawyer and manager," says Michael P. Foradas, a partner with Kirkland & Ellis. "He treats Dow's outside counsel as true partners, and he values our contributions. Kirkland is honored to have collaborated with him on many of Dow's greatest litigation successes."
Kristen R. Fournier, partner and coleader of the complex litigation group for Orrick, agrees. "I've always been impressed by Michael's unique ability to focus on Dow's business objectives, even during litigation," she says. "His approach to litigation is never textbook. It always involves strategic, methodical moves toward an end goal."
As a result of the trust he has gained, Glackin has been able to have a seat at the decision-making table, able to advise Dow about where it's protected and where risk matters, including its innovation pipeline across global areas ranging from China to the Middle East. And, Dow's trust in him is also why he was appointed head of litigation for the case against Nova Chemicals in Canada. "When I was brought in, my job was to look at it to see whether it was still worth an investment for the company," Glackin says. And, when he looked at the agreement and at the facility at the heart of the case, he realized that it was. "I knew that the case had decades of importance in terms of collaboration," Glackin says. "The company had an enormous investment in the operation of the plant."
He was able to win the case successfully through a strategy that involved bringing in US litigators to pursue the case in Canada as if it were a commercial matter in the US. And, while Glackin is proud of that victory, he is most proud that he was able to advise the company when it mattered.
"My biggest contribution to them was in being able to understand how the business was hurt and how the business could recoup damages," Glackin says. "And this was strategic to them not just for today or tomorrow but for decades to come."
Embracing the Future
Artificial Intelligence and "secondment arrangements"—bringing in attorneys for temporary in-house assignments—have both been controversial in the legal field. But, Michael Glackin sees them as important to the future. Here's why:
AI can help lawyers assess risk. "AI can give you better insight into risk or failure, which can help in negotiations," Glackin says.
AI can help lawyers navigate commercial and legal challenges. One good tool, for example, would be an AI that can assess the expected budget of a case over its lifetime.
Secondment arrangements allow lawyers to get insight into a company, how it operates, and how it views risk.
The right secondment candidates could be relationship partners. "A firm recently sent us someone who could potentially be a high-relationship partner for us for years to come," Glackin says.
Expertise Spotlight
Kirkland & Ellis believes that the best litigation results—whether achieved in court or across the bargaining table—occur when the lawyers and client act on the assumption that Kirkland will try the case, and Kirkland is prepared to do so, if necessary. The firm's focus on trial readiness drives successful and more cost-efficient results for clients, as critical issues are identified early, addressed, and used to maximum advantage in the litigation and negotiation processes.
Kirkland represents clients such as the Dow Chemical Company in trial and appellate courts at the federal and state level, before administrative tribunals, and in arbitrations and other dispute-resolution proceedings. The firm also represents clients in connection with proceedings involving government agencies such as the US Department of Justice, the US Securities and Exchange Commission, the Financial Industry Regulatory Authority, the US Federal Trade Commission, and various offices of attorneys general.
Lawyers in all of Kirkland's offices have tried cases successfully to verdict or judgment, in virtually every business segment and substantive area, including accountant liability, antitrust and competition, appellate, class action, mass tort and toxic tort, construction, ERISA and benefits, first amendment and defamation, franchise and distribution, insurance coverage, international arbitration and ADR, product liability, and securities and shareholder litigation.
---
Expertise Spotlight
Orrick is a global law firm focused on serving the technology, energy and infrastructure, and finance sectors from twenty-five offices worldwide. More than a third of the Fortune 100, including the Dow Chemical Company, relies on Orrick's litigators to resolve their highest-stakes disputes. The firm's team of 475 litigators has racked up a string of victories, going to trial twenty times in the past twenty-four months. Orrick combines trial and appellate prowess with deep subject-matter knowledge in mass torts, IP, cybersecurity, white collar, employment law, securities, antitrust, and other areas. Global leaders in the chemical, pharmaceutical, medical device, automotive, and manufacturing sectors turn to the firm for their bet-the-company cases. Orrick successfully defends companies in mass torts involving thousands of plaintiffs nationwide, in some of the most plaintiff-friendly jurisdictions in the country. And the firm is recognized as a leader in the field. Law360 has named it a top-five Litigation Powerhouse, and Chambers & Partners nominated its Product Liability team for a 2018 Award of Excellence.